News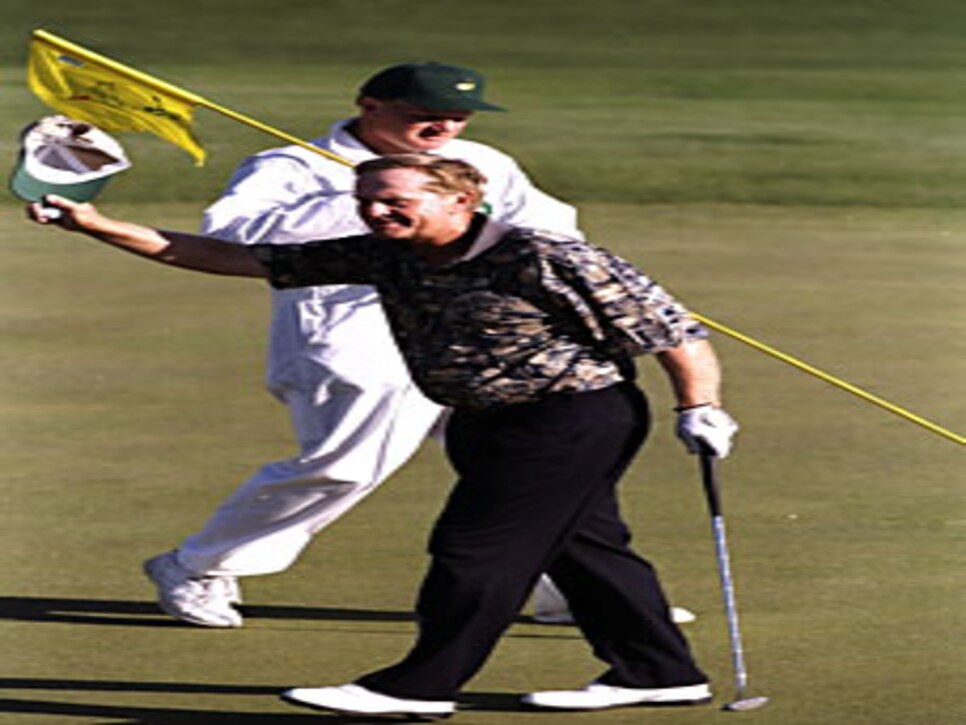 Jack Nicklaus' spirited run in the 1998 Masters was similar to what Tom Watson has managed this week.
Although Tom Watson has gotten everyone stirred up by grabbing a share of the 36-hole lead of the British Open on the Ailsa course at Turnberry, there remains the harsh realization that oldies-but-still-goodies cameos in the majors usually don't have happy endings. Maybe, just maybe, this is when a fiftysomething -- in this case a 59-year-old -- does something about that.
Harry Vardon's hopes of a U.S. Open title at age 50 were blown away with a poor finish at Inverness Club in 1920. Sam Snead, when he was 54 (the oldest major frontrunner prior to Watson), couldn't cash in on the midway lead at the 1966 PGA Championship. When Snead was 62, he finished T-3 in the 1974 PGA, three back of winner Lee Trevino. Jack Nicklaus, at 56, was right there through 36 holes of the British Open at Royal Lytham in 1996 before fading on the weekend. Two years later, Nicklaus tied for sixth in the 1998 Masters, stirring the Augusta gallery to a near-1986 frenzy with some front-nine fireworks in the final round.
The Golden Bear, seeking one last victory that meant something -- and being tantalizingly close to getting it -- came up a couple of strokes short in the 2001 U.S. Senior Open at Salem CC in Massachusetts when, at 61, he was strongly in contention with a few holes left. Among Nicklaus' errors down the stretch was a pivotal bogey after hitting a poor 1-iron, the club he owned in his prime but that let him down when he needed it one more time. Perhaps that was a veto from the golf gods who love to tease the sport's elders before denying them, as they did again with Greg Norman after his spirited bid to win the Open at Royal Birkdale in 2008 at 53.
When Nicklaus, then 60, said goodbye to the U.S. Open in 2000, the year Tiger Woods lapped everyone at Pebble Beach, he was bathed in applause and tribute on his 36th hole, when on the picturesque par 5 he summoned two powerful woods from some reserve that only great champions know how to access. But his golf had not been stirring overall over the two rounds, and when he took questions afterward, I asked what in hindsight must have been at best an ill-timed query given the emotions Nicklaus was feeling as he closed a huge chapter in his professional life.
But, I wondered, did he have any regrets about not retiring years earlier when he was at the peak of his powers? This most gracious of winners (and losers) did not like getting that question at that time, and he let me know it.
Why would he have appreciated it, really? Of course the grand exit for Nicklaus, but a tremendously unrealistic one, would have been -- as he has often acknowledged -- to quit competing after he won his sixth Masters title at 46, the day he made the earth shake at Augusta. There are commercial reasons to stay inside the ropes, but the biggest motivations are inside the man. The potent blend of talent, will and stubbornness that elevates the best to be the best in golf -- a formula they alone know and truly understand, when you get down to it, despite the real and imagined expertise of sport psychologists, swing coaches and sports writers -- is the same thing that sustains their belief they can still summon it decades later.
Great golfers don't have to settle for Old Timers' games when they can still play in the World Series.
For the older Nicklaus, the old Augusta was his fountain of youth, rewarding as it did cunning, local knowledge and exquisite putting touch regardless of a golfer's age. A couple of times in his early senior years Nicklaus popped up on the Masters leader board, and when he played his way into contention in 1998 it was on a terribly deteriorated left hip that soon would be replaced.
Watson still drives down Magnolia Lane each spring but knows the course has been stretched beyond his reach. On a links he loves, though, like Turnberry -- where he recorded an epic victory over Nicklaus in 1977 -- anything is possible. He closed the second round by holing two sizable putts, the kind that typified his heyday.
Younger men may climb past Watson at Turnberry this weekend, and if the form chart of senior golfers in these grand occasions is any clue, he probably will, sooner if not later, help them out. How magical it is, though, only a few months from starting his seventh decade, Watson has played well enough for two days in a major championship that the possibility of his winning it is in the air.
Golf has been under assault at times recently -- some have tried to scurry away from it, worried about guilt by association. The game has been guilty on occasion, of exclusions and arrogance and oversights, but on a wonderful weekend like this one, thanks to Watson's excellence, there is so much right about it. Horse racing is the other notable sport where someone so seasoned can have such a moment. The late Bill Shoemaker, aboard Ferdinand in 1986, was 54 when he became the oldest jockey to win the Kentucky Derby. Under major pressure, a 35-inch putter can be every bit as hard to handle as a 1,200-pound animal, certainly for Watson, who was undone in the 1994 Open at Turnberry by dodgy putting.
Watson would be a full 11 years older than Julius Boros was when he won the 1968 PGA Championship, the majors mark, and seven years older than Snead at the 1965 Greater Greensboro Open, still the PGA Tour record for oldest winner. A Watson victory at Turnberry would for senior golfers what Bob Beamon was to the long jump record with his fantastic leap in the 1968 Olympics.
Viewed to have everything in golf but a PGA championship, Watson told me once of another career disappointment, that he had never shot golf's magic number, 59. But this 59, winning the British Open at that age, would be the most magical number of all, an oversize exclamation point on Watson's greatness that also would punctuate the potential of inter-generational competition that sets golf apart. Win or lose, he already has sent a strong message on both fronts.