News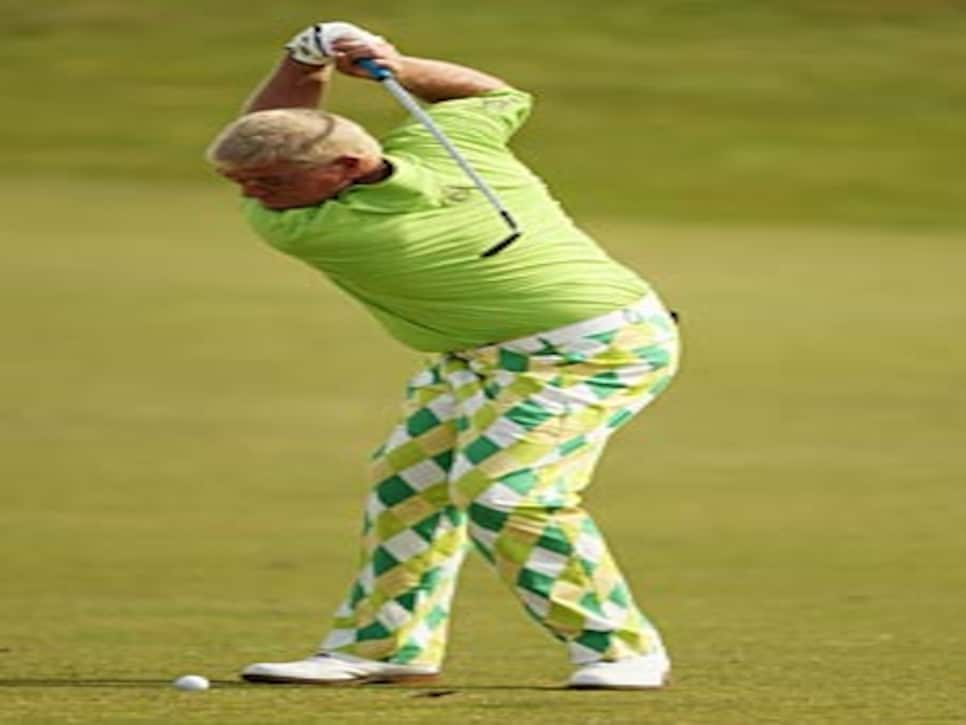 John Daly turned heads with both his clothing and his play in round one, nearly making a double eagle on the seventh hole.
TURNBERRY, Scotland -- The 138th British Open is well underway. Who flourished on Day One? Who faltered? Let's take a closer look with another round of birdies and bogeys ... U.K. edition.
Birdie: Tom Watson -- Before the tounament even began, Watson said he had reason to think he could contend for a sixth Open, and he delivered with a vintage performance in the first round: five birdies, no bogeys, countless lumps in the throat.
Bogey: Greg Norman -- The 54-year-old Shark could have enjoyed a similar vibe this week, back playing a course where he claimed his first Open title in 1986, and with fresh memories from his own spirited run last year at Royal Birkdale. Instead, the golf gods deemed Norman already had his fill. He shot 77, and will have little room for error Friday if he has any chance of making the cut.
Birdie: The bunker rakes -- Honest. Look carefully and you won't see a single one of them near the bunkers at Turnberry, which usually help provide a fortuitous or unfortunate bounce for a wayward shot. That's because each group is assigned a person who carries a rake around all 18 holes, the sole job being to rake the bunker after a player is done in them. It's a strikingly simple idea that other majors might want to consider.
Bogey: Nick Faldo -- The recently-knighted Sir Nick did nothing on the course to warrant the new title, finishing with a 78.
Birdie: John Daly -- Long John showed that his game can be as loud as his pants when his second shot on the par-5 seventh struck the stick and nearly went in for a double eagle. Had the shot dropped it would have been the first albatross at the Open Championship since Gary Evans at Royal Troon in 2004.
Bogey: Tiger Woods -- Raise your hand if you notice a trend. World No. 1 wins his last start before a major, is the undisputed favorite heading into the major, then proceeds to sputter in that major. Compared to his 74 to start at Bethpage Black, Woods' 71 Thursday might have been even more confounding -- or at least considering the abundance of low scores at Turnberry.
Birdie: John Senden -- As fourth alternate, Senden opted not to grab a seat on the charter jet from the John Deere Classic. However upon arriving in Dallas, he found out he had moved to first alternate and decided it was worth the gamble to come over on his own dime. By the time Sended landed in Glasgow, a text message from his caddie was waiting: Jeev Milkha Singh's sore ribs had caused him to withdraw and Senden was in the field. Thursday he made the most of the chance, parring his first 12 holes then making four birdies in his last six for a 66.
Bogey: Peter Ellebye -- The 25-year-old pro from Denmark showed that pros can crack as easily as amateurs under pressure when he hit a stone-cold shank off the 15th tee that was so short and right it came to rest in a fairway bunker on the eighth hole, leaving him a 80-yard bunker shot into the green.
Birdie: Ivor Robson -- Since 1975 Robson and his high-pitched Scottish brogue have been introducing players on the first tee of the Open Championship with a subtle exclamation on the player's last name such as, "From South Africa, Ernie Els!" More impressive, however, is Robson's stamina as he stands under an umbrella-covered podium from the first game at 6:30 a.m. to the 52nd and last at 4:21 p.m. He takes no food, no liquids and no breaks -- not even to go to the bathroom. Forget a birdie -- give that man a double eagle!
Bogey: Anthony Kim -- A quintuple bogey 9 on the second hole put him in a deep hole. To his credit, he dug out a little, finishing three over. Still, a 9? Dude, seriously.
Compiled by E. Michael Johnson and Sam Weinman