News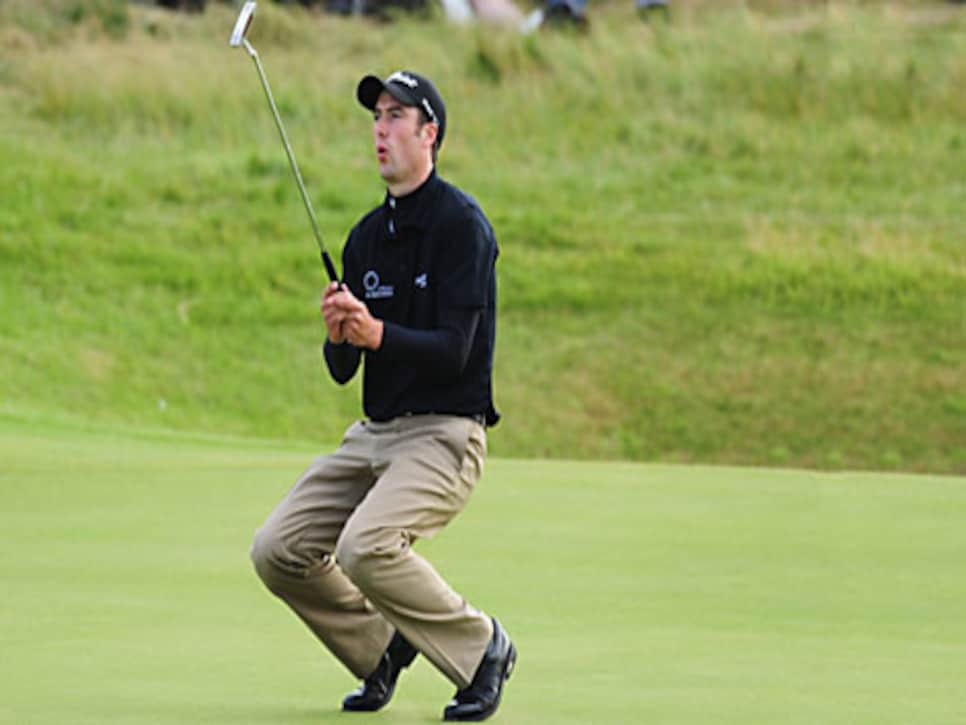 If nationalistic fervor can win a golf tournament, Ross Fisher is an odds on favorite.
TURNBERRY, Scotland -- The hat worn by a male spectator Saturday afternoon on the 14th hole at Turnberry stated what a lot of people were thinking: "Hang on Mrs. Fisher!"
Mrs. Fisher would be the very pregnant Jo Fisher, wife of Ross. Before the Open, Fisher made it clear if Jo called or texted and said the baby was on the way, well, he was on his way, too. But what began as a sweet side story to the 138th Open Championship suddenly became a stunning subplot as Fisher fired an impressive 70 that by day's end left him one stroke behind Tom Watson and in the penultimate twosome with fellow Englishman Lee Westwood Sunday afternoon.
Provided his phone doesn't ring, that is. During the week, Fisher's manager, Conor Ridge, has followed him while staying in regular contact with Jo, making sure a car (courtesy of his sponsor, Titleist) is at the ready to take him to nearby Prestwick Airport where a private jet awaits.
Saturday night, Fisher was asked once again if he would really leave.
"It's something I definitely don't want to miss," said Fisher. "Hopefully she can hang on for one more day and I can hang on for one more day."
For his part, Fisher is holding up his end of the bargain. After a fifth-place showing in the U.S. Open, Fisher said he "could have won this comfortably" if he had holed some putts and went to work on his stroke as a result. Despite taking 33 putts Saturday, some of those strokes started to drop this week, including ones of 18 and 12 feet for birdie on Saturday while several others bruised the hole. Particularly compelling has been his work on Turnberry's closing three holes where he has gone seven under par during the first three rounds.
Westwood wishes he had Fisher's numbers on those holes. That's because if he did he would be seven shots clear of the field. Westwood has played the first 15 holes four under par and the finishing three two over for the week, his bogey on 18 Saturday indicative of his troubles. Despite the late toe-stub, however, Westwood fashioned one of the steadiest rounds of the day, a two-birdie, two-bogey 70 on a day when none of the top 20 had fewer than two bogeys.
The 36-year-old Englishman, fueled by confidence the past two weeks after a second in France and a T-8 at the Scottish Open, also plans to draw from his experience in major championships as well, namely a fourth-place showing at Royal Troon in 2004 and being in the final group in last year's U.S. Open at Torrey Pines with Tiger Woods, who he played the first 36 holes with this week.
"I think the more experiences you have, the more equipped you become to handle most situations and deal with most things that come to you," said Westwood. "Having been in contention at the U.S. Open ... I can carry that on through tomorrow."
If he does, or if Fisher does, they will end England's 17-year drought in the Open Championship (Nick Faldo at Muirfield in 1992 being the last) and revel in the moment of a lifetime.
"I don't think there's a much better walk in golf, certainly for a British golfer, than the walk onto the 18th green in an Open Championship," said Westwood.
If he should be so lucky to make that walk as Open champion, at least Westwood won't have to worry about his phone ringing during that stroll.