News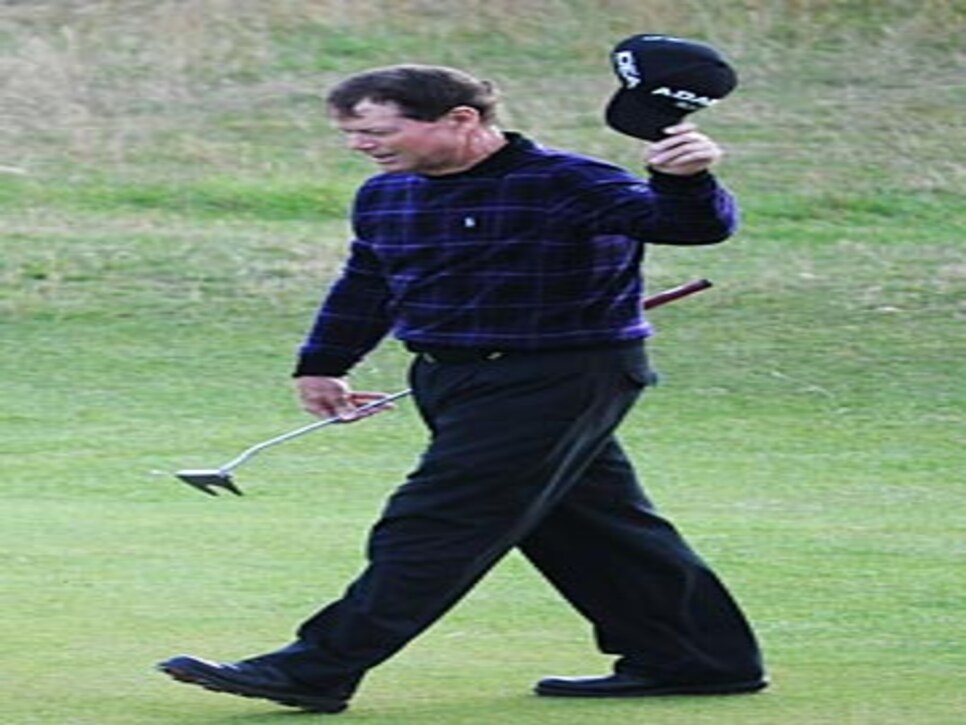 Tom Watson holds a one-shot lead heading into the final round.
TURNBERRY, Scotland -- Tom Watson is old enough to know better, which is probably why with just one round to go, he's somehow leading the British Open. Just two months shy of his 60th birthday, that's beyond Old Tom Morris territory.
Talk about your senior moments.
If there's anyone anywhere close to being older than Watson still in the tournament (there isn't), or anyone left who has won the Open at Turnberry (there isn't), or anyone who knows how to play the course better (there isn't), then that person should stand up and be recognized before the Ailsa Craig turns into a big pile of smoked haddock when Watson actually wins his sixth British Open title on Sunday here on the Ayrshire Coast.
When Watson walked up the 18th fairway in Saturday's early evening, a cool breeze at his back, the fans still left in the grandstands began performing the wave and he raised both his arms to encourage them. The ovation Watson received as he reached the green was as warm as the sunshine not long removed from the day. Watson tipped the bill of his cap, then doffed it to acknowledge the cheers. He appeared completely at ease.
"For some reason, I didn't feel nervous out there," he said. "I guess serene again is the word for it."
Watson's one-over 71 in the third round kept him one shot ahead of Mathew Goggin and Ross Fisher, and what that means on Sunday is abundantly clear. Watson will already be in a place he never expected to be -- still on the golf course. He was supposed to be planted in the ABC booth talking about everybody else, and now everybody else in the broadcast booth will be talking about him.
Here's what they will be saying: He can't win this thing, can he?
Maybe not, but just like last year, when 53-year-old Greg Norman was in contention on the last day in the British Open at Hoylake, Watson is once again making sure all those people carrying their AARP cards don't lose interest. Watson sensed there's been a dramatic shift in the way he's being considered, starting with the first round.
"The first day here, yeah, let the old geezer have his day in the sun, you know, 65," he said. "The second day, you say that's OK, that's OK. And then today, you kind of perk up your ears and say this old geezer might have a chance to win the tournament.
"I don't know what's going to happen, but I do know one thing. I feel good about what I did today."
The trick for Watson, so far, has been solving how to play the shifty crosswinds that blow across the links -- keeping the ball low and bouncing it onto the greens -- and also how to roll the ball into the hole from, oh, the distance of about here to Glasgow. He made two 60-footer birdie putts on the 16th and 18th holes in Friday's second round, and enjoyed the experience so much, he sank a 45-footer to birdie the 16th again in the third round.
He saved par at the 14th by making a 20-footer, but as a prologue, he saved par from bunkers at both the par-4 third and again at the devilish 474-yard par-4 fifth when he made a 15-footer.
Watson said his putting is a matter of good timing.
"Every now and then it works," he said. "It's at the right time now."
When he found the right side of the 18th fairway Saturday, then landed the ball safely on the green and two-putted for his par, Watson smiled broadly. He's been doing a lot of that recently.
This whole thing has been one for the aged. When Watson shot his 65 in the first round, he became the oldest player ever to lead a round in a major. He's automatically the oldest player with a hip replacement to ever lead in a major.
There doesn't seem to be any end to what Watson can do, which brings us to Sunday.
He really can win because he plays smart. He knows every angle of the course and, well, he's Tom Watson and he's done it before. The ball doesn't know how old the player is who's hitting it.
Or something else will happen.
He won't win because the player standing over the golf ball knows exactly how old he is. He can't stand up to the pressure, he hasn't played a tournament since the Senior PGA Championship in May and he can't keep making those cross-country putts.
Jack Nicklaus famously won the 1986 Masters at 46, setting the golden years standard for age and champions, but Watson can change everything.
So just before he left the course and headed for the actual Tom Watson suite at the Turnberry Hotel across the street, he talked about whether he'd be jumpy with all that's going to happen Sunday. He said he's going to be calm.
"The nerves are too fried to feel them," he said. "Yeah, I mean, come on. I'm not even thinking about that."
But what is he thinking about? His five titles, or his 59 years, or his past success at Turnberry, or argyle sweaters or his place in history? Or is it something else, such as this:
"Who knows?" Watson said. "It might happen."
A story like that would never get old.