News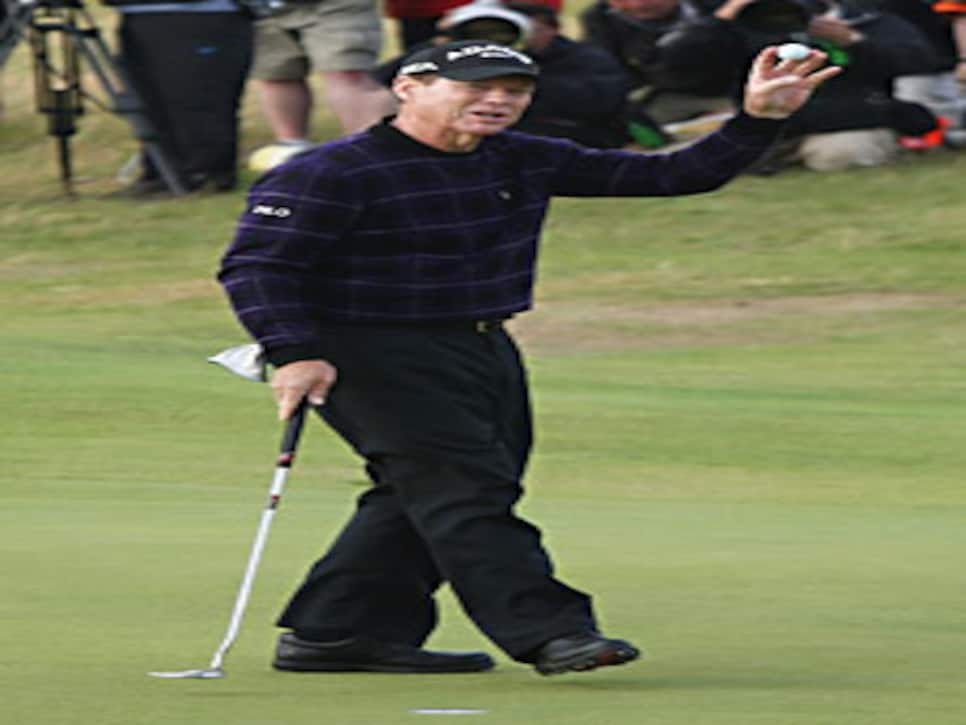 To call Watson's day a biride doesn't do it justice. More like an albatross.
TURNBERRY, Scotland -- The third round of the 138th British Open is in the books. Who flourished? Who faltered? Let's take a closer look with another (U.K.) edition of birdies and bogeys.
Birdie: Old guys everywhere -- At this point it doesn't matter how Tom Watson finishes the week. The point has still been driven home that you can be eligible for senior discounts, play golf on an artificial hip, and still steal the show at the most storied championship in golf.
Bogey: Jack in '86 -- Of course, if Watson does win this thing at 59, what to then make of Jack Nicklaus capturing his sixth green jacket in 1986? What many consider the hands-down, no-questions-asked biggest story in golf history might sound rather ordinary by comparison. Jack winning at 46? Heck, he was just a kid!
Birdie: The U.K. press -- They no longer have Sandy Lyle and Colin Montgomerie around to lob verbal grenades at one another, but they still have a couple of home-grown players in Lee Westwood and Ross Fisher who might actually come away with a claret jug.
Bogey: Historical analysis -- Based on the three previous Opens at Turnberry, the theory was the claret jug should be claimed by the premier player in the game. This week the world No. 1 will watch the final round on his couch, the highest-ranked player in contention is No. 9 Jim Furyk, and the guy leading is ranked 1,374th. So in other words, that theory has some holes in it.
Birdie: Champions Tour: Watch Watson play this week and you'd assume he wins every week on the senior circuit. In fact, his best finish this season is a fourth-place finish, which means the level of competition can't be all that bad.
Bogey: Johan Edfors -- In a land where foursomes regularly get around the golf course in three hours or less, it took Edfors 3 hours and 13 minutes to play Turnberry Saturday as a SINGLE. If he wasn't timed for slow play he should have been. At the very least the club should send him a letter.
Bogey: Sergio Garcia -- Garcia had fed off the positive vibes the first two days here playing alongside Watson and 16-year-old Italian amateur Matteo Manassero, entering the weekend at one-under par and again within reach of his first major championship. But he shot 76 on Saturday to remove himself from contention.
Birdie: Enterprising photographers -- Sure, times are tough, but this is a bit much, no? A pair of photographers who wished not to be identified pitched a tent in the media car park in order to save a night's hotel room. Asked if they planned to do the same thing Saturday night, they replied, "If no one kicks us out."
Bogey: The Turnberry fans -- As Tom Watson finished play the stands directly behind the green were less than half filled. Meanwhile, the lawn area near the food concessions with a large screen TV showing the action was packed with easily 2,000 people. Folks, this is a golf tournament. The excitement is in seeing it happen live.
-- Compiled by Sam Weinman and E. Michael Johnson