News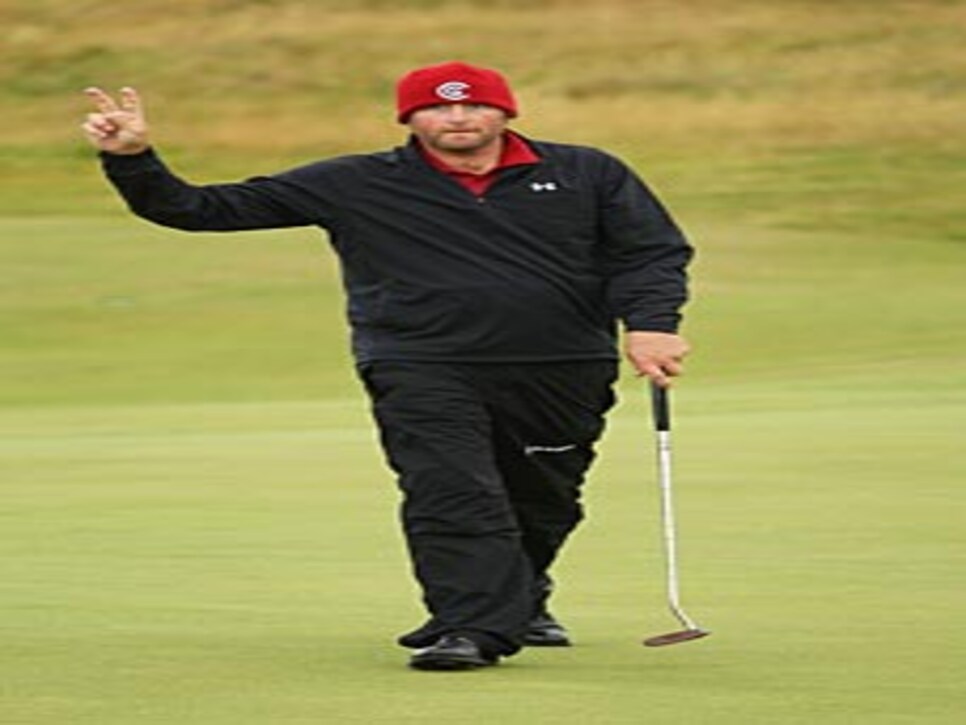 Steve Marino has made a quick adjustment to playing links golf.
TURNBERRY, Scotland -- After lunch in the player dining tent, about three hours after taking the lead of the 138th Open Championship, Steve Marino and his caddie, Gerald Williams, were on the pitch-and-putt course below the Turnberry Hotel. With them was agent Mac Barnhardt.
"Dude," Marino said to Barnhardt on the first tee, looking at a miniature green 30 yards away. "I got up and down from this distance about 10 times this week."
A deluge sent Marino to the hotel for an afternoon of rest and relaxation on his first week to Scotland. He will be on the tee late Saturday afternoon, with no PGA Tour wins, in a pairing with the legendary five-time Open champion Tom Watson.
"I'm excited about it," Marino said in a text message after Watson completed his second-round 70 with two long birdie putts on the 16th and 18th holes. "(I) Played a practice round with him a couple years ago at Pebble (Beach)."
No doubt Watson will remember, because Marino casts a striking presence, with blue eyes, a confident gait and a loose-fitting attitude. If he can stay in that mode, and not drift into the deferential zone, where he starts referring to his playing partner as "Mr. Watson," then the dude from the University of Virginia by way of the mini-tours should do all right.
While he's going up against perhaps the most beloved American golfer ever to play on these shores, early reviews have been positive, but perhaps that's because he comes across as approachable, with a recognizable name ("No, I'm not related to Dan Marino," he said in a Friday news conference) and with a good backstory.
Marino, 29, arrived on Monday missing more than a tour win. He was also without his waterproofs or any long-sleeve gear. Just getting here was a challenge.
Arriving at the John Deere Classic last Tuesday, Marino had moved up to second on the alternate list. The first logistical obstacle: He was traveling without his passport.
Marino handled that with a call to his parents' home in Fairfax, Va. His father, Steve Sr., got on a 6 a.m. flight to West Palm Beach and drove to Steve's new house on the Loxahatchee River in Tequesta, Fla. "He had keys," Marino said. "He didn't have to break any windows." Steve Sr., talking to his wife, Fran, back in Virginia, searched the house before finding the passport on a nightstand.
After driving to a FedEx office, Dad made sure the box was checked for Saturday delivery, then spent the rest of the day killing time until an evening flight back to the D.C. area. "Steve told me to go out to the Dye Preserve to hit some balls, but I didn't have my clubs, and I didn't want to borrow a set, so I decided to do a little cleanup around his house. I tried to turn the TV on but couldn't figure out how to do that. He's got five satellite controls for the TV. I finally figured out how to turn on one."
Steve Sr. watched the Golf Channel telecast of the John Deere before returning to Virginia by 11 p.m. The next morning, Shingo Katayama pulled out of the Open, and his son was on the charter that night out of Sylvis, Ill.
The Marinos started playing golf in Ohio when Steve Marino Sr. was in the Air Force, stationed at Wright-Patterson Air Force Base in Dayton. Steve Sr. is a 1- or 2- handicap but remembers his son beating him for the first time at age 14 during a vacation in Tennessee. Playing off the back tees, Dad shot 74 and lost by five strokes.
There were indications through Marino's development that he wasn't afraid of pressure. Playing the Army-Navy Course in Fairfax when he was 18, Steve saw then-President Clinton at an adjoining hole. Clinton waved to the young kid to hit. Marino drove the green of the par 4, and once in the clubhouse, he told his father, "Dad, I just hit a drive in front of Clinton. It was the best drive my life."
Steve Sr., 56, is now working in a top-secret division of Lockheed-Martin, where he answers to the Department of Defense Chief Information Officer, and before that he was in the missile defense program. He realized 11 years ago that his kid had the stomach for the big moment: "He wasn't afraid of it."
After a college career at Virginia, Marino migrated to the Golden Bear Tour in South Florida, which became the Gateway Tour. In 2006, he shot 59 in the third round of the Gateway Tour Championship and held on to win the $60,000 first prize. Later that fall, he shot 62 in the Q-school finals and earned his card.
Three years on tour have produced more than $4.7 million in earnings and a reputation for being fearless and aggressive. He has two runner-up finishes, including a playoff loss to Steve Stricker this year at the Crowne Plaza Colonial and 13 top-10s in 85 events. The only thing holding him back has been putting. His ball-striking statistics are exceptional, as is his love of the links. His only prior experience was the Links Course at Bear Lakes CC in West Palm Beach.
"They have links courses in the States, but I wouldn't really call them a links--it's not like over here," Marino says. "But it's awesome. I'm really just enjoying it and having fun. I'm having a blast."
Marino's global experience is limited. He played in Canada, Mexico and Japan, but never here. His first rookie mistake, upon arriving in Turnberry, was taking a nap that lasted six hours. He spent the first three days jetlagged--but inspired by the course. With two practice rounds, he shot 69 Thursday in relatively passive conditions. With the forecast changing, it was a good thing Barnhardt was on site. He phoned his office and had an assistant drive into Brunswick, Ga., to buy gear to ship overseas. Then he went through the equipment trailers to fill in what was missing.
Bundled in rainwear and a ski cap, wearing the makings of a beard, Marino went around Turnberry on a tough morning in 68 for the clubhouse lead. "At Virginia, we used to go out in January to qualify," he said. "This kind of reminded me of that."
There are many who tell Marino that he reminds them of a younger Mark Calcavecchia--and the parallels are there. Calcavecchia was 29 when he won the Open at Royal Troon 20 years ago. They both play out of Dye Preserve when they're home, and they were hoping to be paired together.
"He lets it rip," Calcavecchia said. "He likes to go out there and scratch and claw."
Playing with Watson will be an education, as will being part of the final group on a Saturday at a major championship. But unlike some of the one-dimensional power players of his age group, Marino likes to flight the ball, to see shots and play them, so Watson should be impressed.
It's doubtful, however, that he will call him "Dude."