News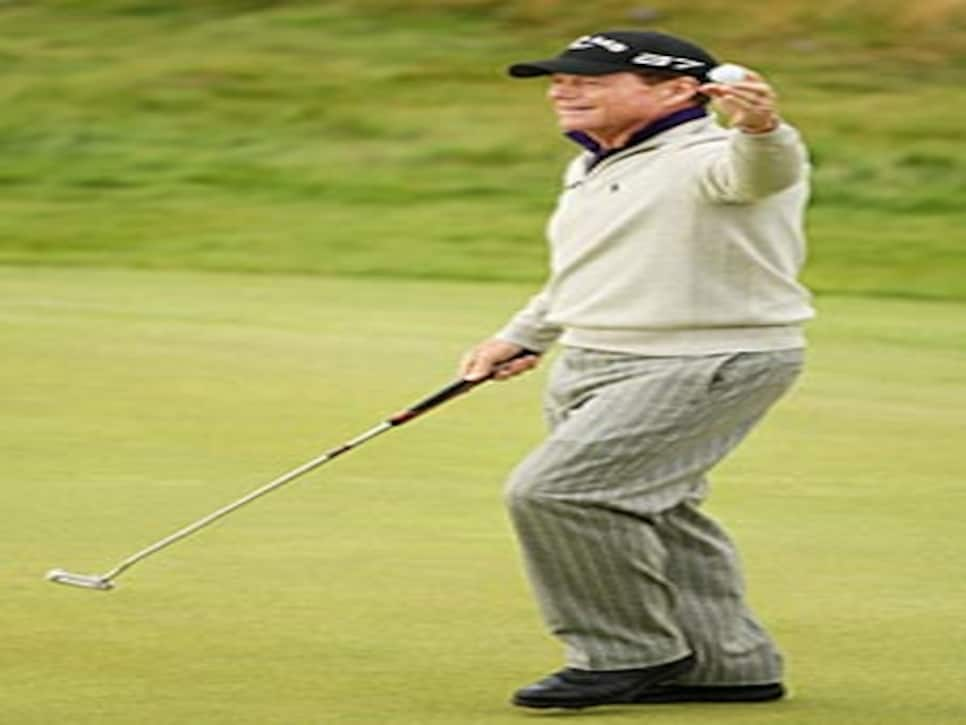 Tom Watson rallied on the back nine to grab a share of the lead Friday.
TURNBERRY, Scotland -- "Come on, old man!"
Those were the tough love words of encouragement offered by Sergio Garcia to Tom Watson as the pair strolled up the eighth fairway Friday at Turnberry where Watson was threatening to run out of lead in his scorer's pencil, coming off a string of four-straight bogeys and five in his last six holes.
"I feel like an old man," Watson said.
Over the last 10 holes, however, Watson didn't play like an old man. He played like the Watson of old. The Watson who has won the Open Championship five times. The Watson who now -- incredibly -- has a legitimate shot at a record-tying sixth.
Steadying himself with a par at the eighth, Watson made birdie at the difficult ninth and gave himself a sorely needed second wind, even though the breeze was blowing 20-plus miles per hour over the links. He then hit one of the best tee shots of the day on the par-3 11th (to seven feet) for another birdie. From there Watson put together a parade of pars until a 60-footer went down for birdie on 16 and then he capped the round with a fairy-tale ending, another 60-footer for birdie on 18 that left him tied for lead with Steve Marino at five-under par and in the last twosome for Saturday's third round.
"It was kind of spiritual," said Watson. "But I never really lost faith in myself, even when I got to four-over par." That wasn't easy on a day Lady Turnberry showed her teeth, aided by a stout breeze and occasional rain. That was just fine with Watson.
"I'd take a chance in a howling gale," said Watson, asked Thursday if he preferred conditions stay benign or toughen up. That attitude paid off as most of the field struggled in the conditions while Watson stuck to his game plan of surviving the front nine (which mostly played into the wind) and then make up ground on the back.
Like Greg Norman last year, Watson now seeks to become the oldest player ever to win a major championship -- by more than a decade should he do so -- in a setting he fondly refers to as, "my office." Ironically, Watson had to give up one job on Saturday to do another. He had been slated to work on ABC's telecast of the Open. "I fired myself," he quipped.
Regardless of whether he can pull off the impossible, Watson is relishing the moment. "The memories are with me," he said. "The people here are showing their respect for me and I'm showing my respect for them. I've been playing links golf for 34 years. It's a fabric of my life."
If he can weave together two more rounds like his first two, they'll be telling the old man to come and get the claret jug.