News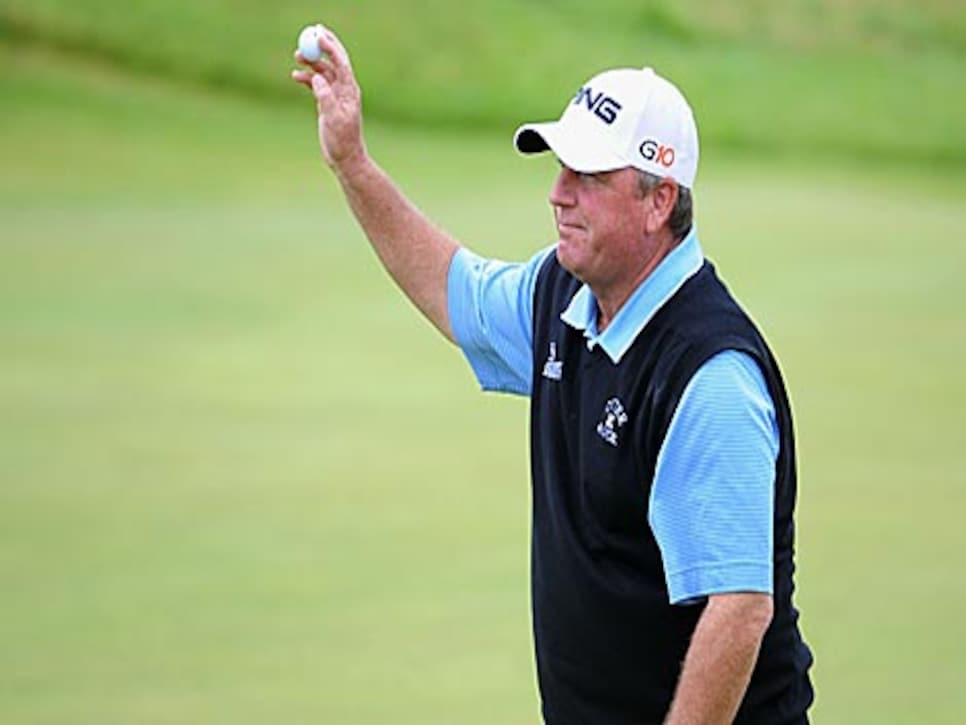 Marck Calcavecchia is just one of the surprising leaders through two rounds at Turnberry.
TURNBERRY, Scotland -- Welcome to "Tales of the Unexpected". Try to follow along. If you can trace the natural progression of events here at the British Open, whose is the next name on the list after Masters champion Angel Cabrera and U.S. Open winner Lucas Glover?
We know it's not going to be Tiger Woods, who missed the cut in a major for the second time as a pro.
But it could be Steve Marino. He's the guy who got in the tournament as the second alternate, who had to have his passport sent overnight to him at the John Deere, had no warm clothes when he got here and had never played a links course until he showed up at Turnberry.
Tom Watson is a five-time British Open winner, so he's hardly an unknown. But he's 59 and a mere 43 years older than Matteo Manassero, his playing partner the first two days. But Watson is tied for the lead with Marino and playing a lot younger than what the numbers say. He might think he's still dreaming in one of the naps he covets.
Might be Mark Calcavecchia. He won 20 years ago at Troon, but at 49 his sore back is aching, and he admits his thoughts about winning again have "gone out the window." But right now, he might be having second thoughts.
Then there is Ross Fisher. He is a certified late bloomer, a 28-year-old, second-year English pro, who was born in Ascot and is somehow in this horserace.
Still close is Kenichi Kuboya. He is playing his first British Open since 2002, hasn't won a tournament in seven years and is ranked 125th.
And don't even think about overlooking James Kingston. He's the 43-year-old from Rustenburg, South Africa, who has one European Tour victory since he turned pro in 1988 and whose last win was the 2002 Royal Swazi Sun Classic on the South African Tour.
There just isn't any easy way to look at the challengers turning up at Turnberry at the midway point of the 138th Open Championship.
Normally, the names Marino, Calcavecchia, Fisher, Kuboya and Kingston, when combined, may not sound like they should be among the contenders in the third major championship of the year.
But there's really nothing normal about who has been winning the majors. Sure, Cabrera had already won a major title, at the 2007 U.S. Open at Oakmont, but it was difficult figuring how he could prevail at the Masters, until he actually conked a tree from the right rough at the 18th hole. Cabrera watched the ball bounce perfectly, take a right turn and land safely onto the fairway. Is that skill, is that luck, or is that something else?
As for Glover's triumph at the U.S. Open, it really wasn't a fluke, it's just that no one saw Bethpage as his coming-out party. Glover has long been considered a talented ball-striker who tended to be overly critical of himself. And he survived at Bethpage, where the many rain delays and weather postponements left a lot of players in the field not just unsure what day it was, but what round they were playing.
So where does all that leave us now, after a soggy third round on the links at Turnberry?
It's definitely unusual when you've got a bunch of guys who sound like a law firm firmly in the hunt for the British Open while heavyweight punchers like Woods and Padraig Harrington and Sergio Garcia are either on the mat or taking a standing eight count.
It's true that some of the slightly lesser-knowns who are making the most of their chances the first two days have had their moments before.
Marino lost to Steve Stricker in a playoff at Colonial in May. Calcavecchia has won 13 times and as recently as two years ago. Fisher was fifth in the U.S. Open at Bethpage last month. Kuboya once won the Munsingwear Open, so winning could be tailor-made for him.
Actually, when you think about it, Marino may be best equipped to figure out what's really happening at Turnberry. He's got a degree in sociology.