News
Can Old Tom Be Young Tom Once More?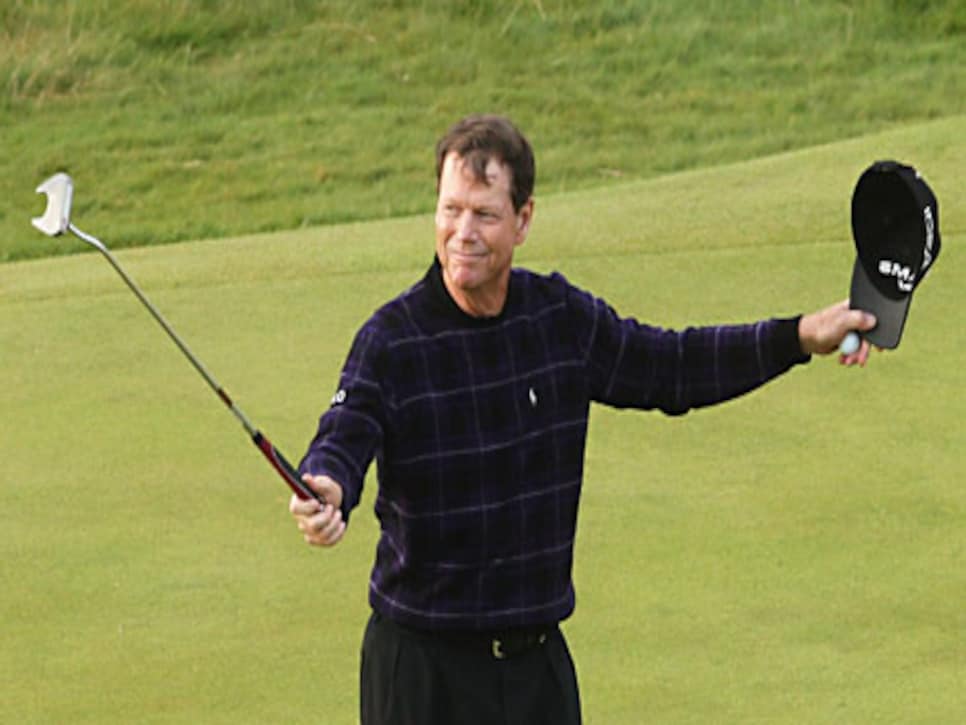 Watson will have the chance to displace Julius Boros, who was 48 when he won the PGA Championship, as the oldest man to ever win a major.
TURNBERRY, Scotland (AP) -- Tom Watson has a plan to win the British Open. It no longer reads like a fairy tale.
Even as he slipped out of the lead Saturday in the testing breeze of Turnberry, the 59-year-old didn't blink except to hold back the occasional tear. He fired off two late birdies co complete another amazing day with a 1-over 71 for a one-shot lead, putting him 18 holes away from becoming golf's oldest major champion.
Can this really happen? Even Watson had his doubts early in the week.
"The first day here, 'Yeah, let the old geezer have his day in the sun,'" Watson said. "The second day you said, 'Well, that's OK.' And now today, you kind of perk up your ears and say, 'This old geezer might have a chance to win the tournament.' I don't know what's going to happen, but I do know one thing. I feel good about what I did today. I feel good about my game plan."
"And who knows?" he said. "It might happen."
It even got the attention of Jack Nicklaus, whom Watson beat at Turnberry in the famous "Duel in the Sun" epic in 1977. Nicklaus, who rarely watches golf on television, saw most of the third round from his home in south Florida.
"Like everybody else ... I had some tears in my eyes," Nicklaus said. "I just really hope he wins."
Watson wouldn't reveal specifics of this game plan, only that he has in his head how many bogeys he can afford to make, and how many birdies he will need to make up for any mistakes.
"So far, it's going well," he said.
The plan has put him at 4-under 206, one shot better than Mathew Goggin of Australia and Ross Fisher, who isn't even sure he will make it to the tee Sunday. His wife is expecting their first child, and Fisher said his priority is to be in England for the birth.
Fisher, who birdied two of his last three holes for a 70, was fifth at the U.S. Open last month, his best finish in a major. Imagine if he had been told that only a 59-year-old man would stand between him and the claret jug.
"Probably would have laughed," Fisher said. "I mean, it's incredible."
Watson will be playing in the final group with Goggin, a 35-year-old who hasn't won in 10 years -- and that was on the Nationwide Tour. Until Saturday, when his 69 was among only five scores under par, his greatest moment in the British Open came in 2003 at Royal St. George's when he was paired with Watson in the third round.
"He's such a great player and such a great champion, especially at the British Open," Goggin said. "And it was also shocking just how good he was. I mean, it was ridiculous. I'm thinking, 'He's getting on in years and not playing so much, and he's just smashing it around this golf course. I was really impressed."
A year ago, 53-year-old Greg Norman had a two-shot lead going into the final round at Royal Birkdale and couldn't hold on.
Watson has much more experience -- and much more company.
Lee Westwood (70) joined Fisher as the only players at par or better all three rounds at Turnberry, escaping with a bogey on the final hole to finish at 2-under 208 with two-time U.S. Open champion Retief Goosen, who had a 71.
Another U.S. Open champion, Jim Furyk, made only two bogeys in his round of 70 and was at 1-under 209 with Stewart Cink (71).
Steve Marino is still in the mix, somehow.
Tied for the lead with Watson going into the third round, he dropped five shots on his first five holes, rallied to get back into contention, then lost a ball on the par-3 15th to make triple bogey and three-putted at No. 16 for double bogey. He birdied his last two holes of this roller-coaster round and shot 76 to fall five shots behind.
Marino was in the group at 1-over 211 that included Masters champion Angel Cabrera, while another shot back was John Daly (72). Among those too far back to contend is Padraig Harrington, whose hopes of a third straight claret jug ended with a 76.
This is Watson's turf, the guy who put Turnberry on the map by winning that wondrous duel with Nicklaus. A victory truly would belong to the game's ages.
The oldest major champion was Julius Boros, who was 48 when he won the 1968 PGA Championship. The oldest player to win a regular tour event, America or Europe, was Sam Snead at 52 in the 1965 Greater Greensboro Open.
The scope of what's at stake seems lost on Watson. He felt no nerves when he walked to the first tee to warm applause amid sunshine and a cool, coastal breeze. He avoided an early collapse by twice making par. From a pot bunker in the third fairway, he blasted out and hit 7-iron to 8 feet. From a greenside bunker on the fifth hole, he hit out to 15 feet and made that one, too.
The wind was the toughest of its kind, playing across the fairways, making it difficult to keep the ball in the short grass. Watson ran into trouble during a seven-hole stretch that began at No. 9, dropping three shots to fall out of the lead.
He managed to find two more birdies, the roars getting louder with each one. He holed a 30-foot putt on the 16th to join the leaders, then hit a hybrid 2-iron that took a hard hop to the left and onto the par-5 17th green, leaving him a 20-foot eagle putt that just missed.
Then came another long salute as he walked toward the 18th green. Watson blinked back tears, especially when caddie Neil Oxman, a friend from Philadelphia, mentioned that Bruce Edwards was surely watching. Edwards, who was Watson's longtime caddie, died of Lou Gehrig's disease five years ago.
Watson nearly thrilled the gallery again with a 60-foot putt that trickled to a stop a foot short of the hole. He waited for Marino to finish, tapped in, and then turned and toasted the crowd.
Someone asked him later if he had pinched himself.
"I don't need to," Watson said, flashing that gap-tooth smile. "I'm awake."