News
Monty Still Miffed By Lyle's Comments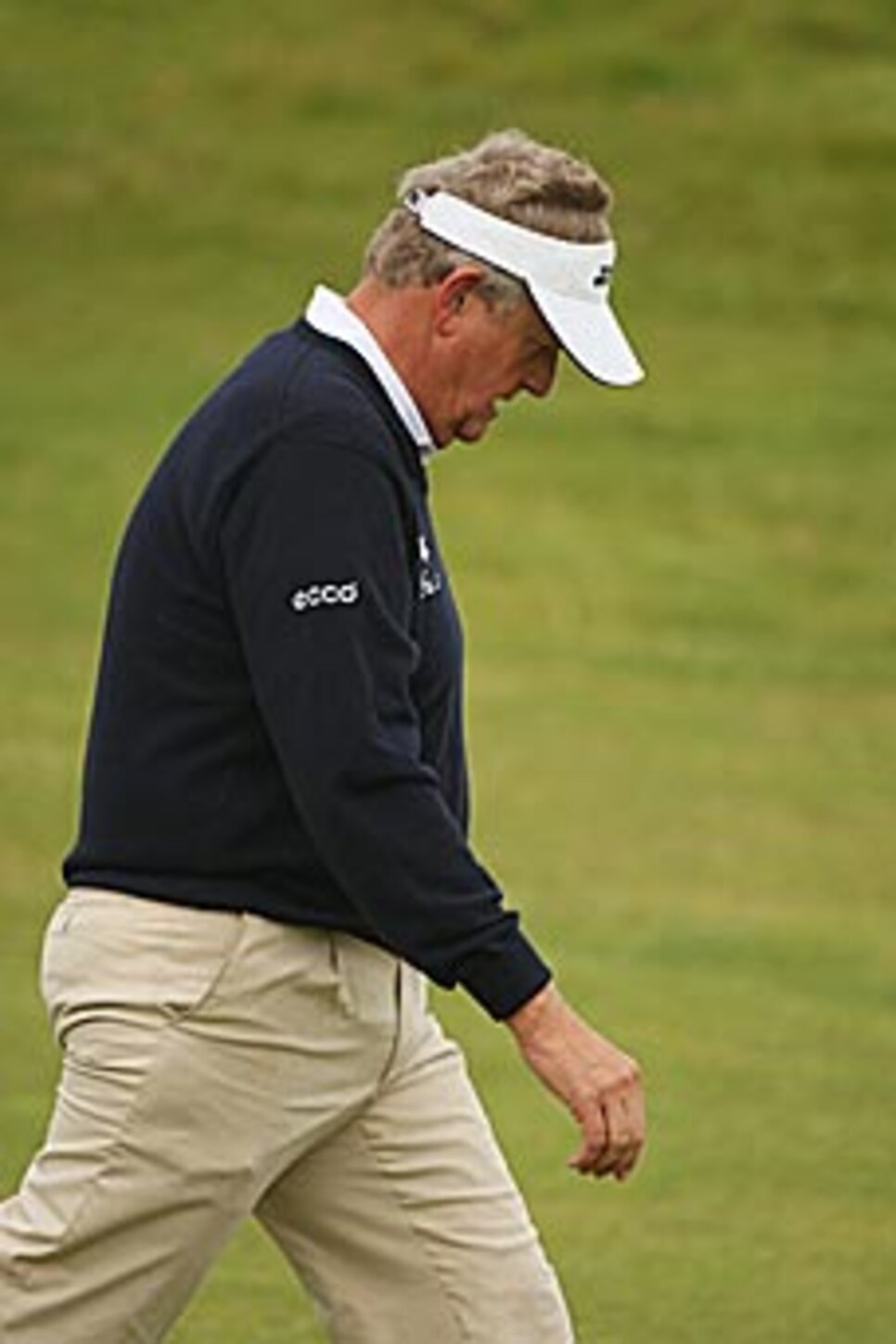 A rough week for Montgomerie has been made worse by accusations he cheated in an event four years ago.
TURNBERRY, Scotland (AP) -- Looks like Sandy Lyle can forget about being vice captain at the Ryder Cup.
On the fifth day of a spat between Scotland's best two players of their generation, Colin Montgomerie said Friday he has been distracted this week at the British Open since Lyle brought up a cheating accusation earlier in the week.
"Very much so, yes," Montgomerie said after a 4-over 74 made it likely he would miss the cut. "I thought that it was rather amusing when he said he hoped it doesn't jeopardize his vice captaincy position. I thought it was very, very funny."
Montgomerie was named Ryder Cup captain earlier this year, even after he recommended Lyle for the job. He was expected to have Lyle, a two-time major champion, be his top assistant at the 2010 matches in Wales.
That was before Lyle brought up the cheating allegations from the Indonesian Open in Jakarta four years ago.
Television replays clearly show Montgomerie replacing his ball in a better lie after a rain delay. The tournament committee cleared him of wrongdoing, although Monty donated his earnings to charity.
Lyle was speaking to three British newspapers, who asked him if he thought his Ryder Cup captaincy bid was derailed by walking off the course at Royal Birkdale last year.
That's when Lyle said it shouldn't have, since Montgomerie managed to get picked despite the Jakarta incident. He referred to the drop as a "form of cheating."
Each time Lyle has tried to explain himself, he has added fodder for British media. Friday was no exception.
"It's been taken probably a little out of context," Lyle said after a 73 to finish at 8-over 148. "I have never, ever tried to sort of stir the pot. I hope he goes out and shoots about a 67 and all will be forgotten."
Even so, Lyle said he did not regret his comments.
"I'm not fabricating anything. It's all been dealt with over the last so many months and years about what happened in Jakarta," Lyle told BBC TV. "I'm just going about my business and sometimes I have to just protect myself as well. I was hassled a lot from the press about the jeopardy of the captaincy of the Ryder Cup, was my walking off the golf course putting me in trouble.
"Monty wasn't exactly squeaky clean, was he? He's had his troubles as well."
Lyle said that he was reluctant to say any more about the conflict with Montgomerie, who has won a record eight Order of Merit titles.
"I feel sorry for Colin in some ways because I don't really want to keep stirring the pan and I keep opening my mouth and keep making the back pages," Lyle said. "I think we have to call it an end and deal with it behind the scenes."
Lyle was asked whether it was bad judgment in the circumstances to refer to Montgomerie on Thursday as a "drama queen."
"He's an emotional sort of person and gets a bit hot under the collar and I suppose with comments like this and the papers it doesn't help," Lyle said. "But he'll get over it. He's a big enough boy and he'll go out there and play golf and I hope he shoots 68 today."