News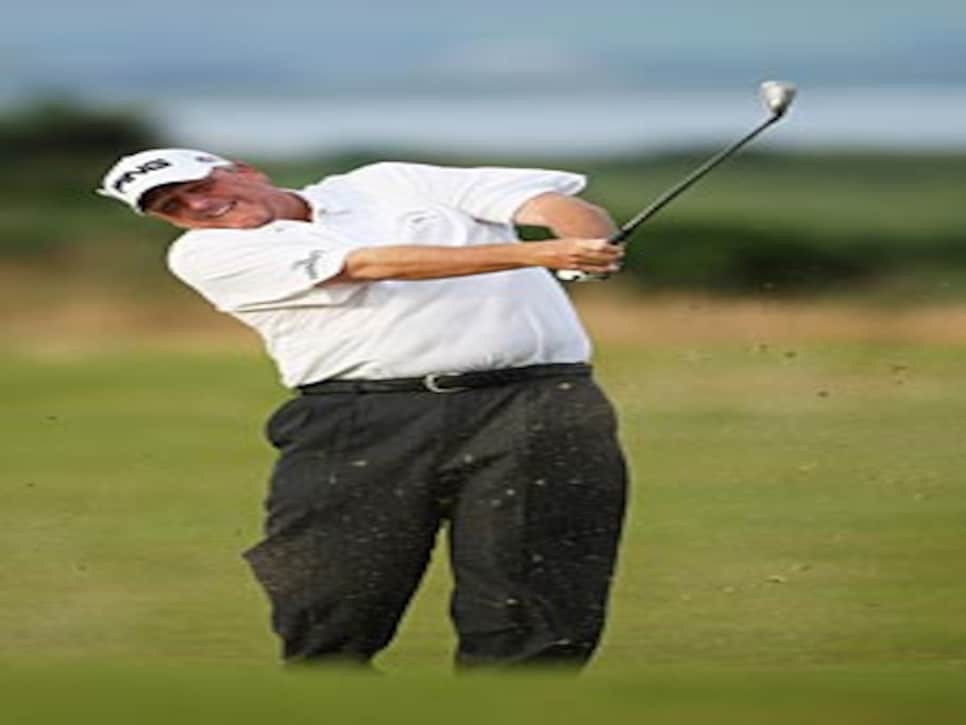 An opening-round 67 has put Mark Calcavecchia in the hunt at Turnberry.
TURNBERRY, SCOTLAND -- Mark Calcavecchia went back to his room at the Turnberry Hotel on Thursday afternoon and took a power nap. That's what 49-year-old men with sore backs do after playing golf at 6:30 in the morning. What they usually don't do is shoot 67 in the opening round of an Open Championship, but that's the score old Calc posted on the 20-year anniversary of his Open title just up the Ayrshire Coast at Royal Troon.
Greg Norman was in that playoff, at the height of his career, along with Australian countryman Wayne Grady. Calcavecchia was 29, leaner in the waistline, fearless then over the 3-footers, still feeling like the golfing gods may have owed him one after Sandy Lyle's up-and-down from a fairway bunker at 18 beat him in the 1988 Masters. That was two or three lifetimes ago, but on the timeline, still part of a career that lists 13 victories, 27 runner-up finishes, and a countless pile of mangled and drowned putters.
While he didn't earn the title Low Graybeard -- finishing two strokes behind 59-year-old Tom Watson and in a tie with 52-year-old Mark O'Meara -- the always-colorful Calcavecchia may have enough Ibuprofen in his travel kit to make it to Sunday. Then it's in the hands of his saw grip.
Asked if he thought he really could win the tournament, Calcavecchia thought back to Norman's run last year. "I'll let you know in three days, or two-and-a half days," he said. "I could. I could."
Calcavecchia wasn't thinking that Sunday night in Sylvis, Ill. He was feeling so bad after the John Deere Classic, that he contemplated bagging the charter flight from the Quad Cities to Prestwick. "Not seriously, but it did cross my mind like if my back's going to feel this bad, why travel all the way over there and put myself through that," Calcavecchia said. "But, you know, once I got done, I took a few more Aleve and a couple of beers and I was OK and got on the plane, and several more beers went flowing down. The next thing you know, we're landing. I felt pretty good on Monday."
So good he walked to the merchandise tent and took the rest of the day off. Tuesday, he was up early, out before the Tiger Woods dawn patrol; but after Woods and O'Meara joined him for the last 14 holes, he was done preparing for the opening round. This is called a veteran move. "It's a long way to go, but I'm here and I'm here because I love playing this tournament. It's my favorite tournament."
Part of the reason is the atmosphere, which includes "some rather suspect accommodations you end up with sometimes." Part of it is being able to play the courses of the Open Championship rota without a bazooka off the tee, as Tiger Woods pointed out after shooting 71 "And you look at a lot of the guys out there who are playing well, mostly some of the older guys," Woods said. "They understand how to play this kind of golf. Mark is up there -- both Marks, Calc and O'Meara, and obviously Tom, so three Open Championship winners. They obviously understand how to play this kind of golf."
In Calcavecchia's case, part of the love affair is that it makes him feel like the old days of shooting pool at the original Duffy's along the railroad tracks in North Palm Beach. There's plenty of liquid to wash down the Aleve. "The beer is very tasty," Calcavecchia admits.
And so was the scene in the "Duel in the Sun" pub at Turnberry on Wednesday night, the bar food washed down with the pints -- it's the atmosphere both on and off the golf course that gets the mind right and the adrenaline flowing again. "It's almost like I've become better friends with Lucas Glover and Boo Weekley and Matt Kuchar int he last three days and 10 or 15 other guys that have been in there than at home," he said.
Sitting across from him was wife Brenda in a dress and high heels. She had on the caddie uniform and sneakers Thursday morning, a year after the wicked weather at Birkdale sent Calcavecchia searching for a replacement. "She wasn't feeling well anyway," Calcavecchia explained. "But I didn't want her out there in that. It was nothing more than that. The weather last year was probably more than a lot of professional caddies can handle and she didn't need to be out there in that.''
Articles were written, criticizing the Calcavecchias, and Brenda took it personally. "She'd go 36 a day if she had to; she's pretty fired up." Instead of waking up to rain pelting on his window, Calcavecchia awoke to perfect scoring conditions, and made four birdies to tie another former Open champion at 67, his practice partner from Tuesday morning, O'Meara. Afterward, he talked about the Ping hybrids he was using for the first time, replacing the conventional 2-iron and 3-iron in his bag.
There was also a discussion of how much more golf was left in his body that has been fighting aches and pains for a decade. "I'm not physically in good enough shape," he said. "If I was stronger, my core and all that other stuff we talk about; losing a little weight will certainly help, but that doesn't seem to be happening."
Laughter erupted, and with it a sense the Champions Tour can't come quick enough. He plans on playing the British Open until the 60-year-old age limit, but not much PGA Tour golf after using up his two exemptions off the all-time money list -- when he needs them. Next year's British Open at St. Andrews and Senior British Open at Carnoustie are already on his schedule.
The new house on the Loxahatchee River in Jupiter, Fl., is almost complete, and they haven't sold their house in Palm Beach Gardens, so Calcavecchia is hoping to double dip while he can. But like most men approaching 50, they need not only a nap in the afternoon, but a means of transportation while playing their golf. "I'm not sure what the car rule is out there when I turn 50 and how much and I can ride and how much I can walk," he said. "But I can play all day in a cart."