News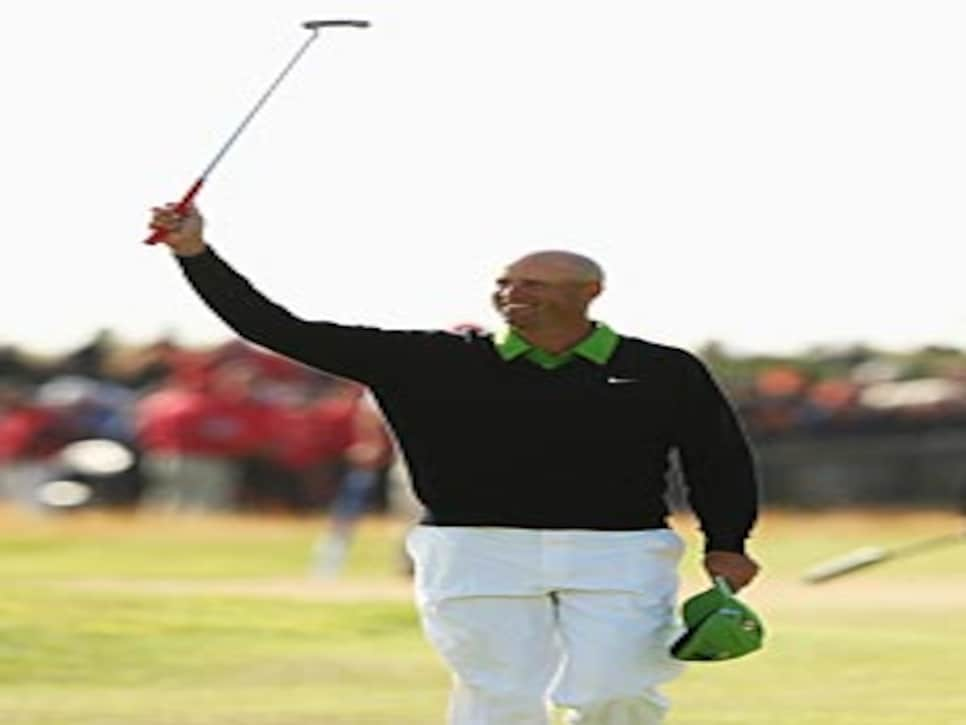 Stewart Cink birdied the 72nd hole to get into a playoff with Tom Watson that he ultimately won.
TURNBERRY, Scotland (AP) -- Tom Watson stood over an 8-foot par putt Sunday evening on the final hole of a mystical British Open, one stroke away from becoming the oldest major champion in history. For the first time all week, he showed his 59-year-old nerves.
The putt never had a chance.
A little more than an hour later, neither did Watson.
Stewart Cink, who made a 12-foot birdie on the final hole of regulation, took advantage of Watson's missed opportunity and overwhelmed him in the four-hole playoff to win by six shots.
Watson stood on the 18th tee one last time, blinking away tears. He wasn't alone in his sadness. Thousands of fans who filled the grandstands for the first time all week sat in stunned silence.
The loudest cheer was for the player who won the silver medal.
Cink, who was never atop the leaderboard all week until Watson missed the winning putt, was flawless in the playoff and finished with two birdies. As he gazed at the fabled claret jug, he paid his due to Watson, the modern day King of the Links.
"I don't even know what to say," Cink said. "My hat's off to him. He turned back the clock. Just did a great job. I speak for all the rest of the people here, too."
"It was almost," Watson said. "The dream almost came true."
Tied with three other players along the back nine on a breezy afternoon, Watson two-putted for par on the tough 16th hole, where his challengers all made bogey to fall back. Then he made an easy birdie on the par-5 17th, giving him a one-shot lead as this unforgettable British Open reached a crescendo.
From the middle of the 18th fairway, Watson hit 8-iron and followed its flight, right at the flag. It bounded through the green, and his putt back up the slope ran 8 feet past the hole.
Watson steadied himself over the par putt, and thousands of fans braced themselves.
All week long, as Watson kept his name atop the leaderboard, there was a feeling that he couldn't hold up over four days and 72 holes. Now, he was 8 feet away from the unthinkable.
The drama ended as the ball wobbled off the blade, obvious that it wasn't struck hard enough. Watson's shoulders slumped.
"I made a lousy putt," he said. "Then in the playoff, it was bad shot after another."
For the first time all week, Watson looked tired. His approach to the first playoff hole, No. 5, tumbled into a pot bunker and led to bogey to fall one shot behind. After a remarkable par save on the par-3 sixth, Watson came undone.
He hooked his tee shot on the 17th into grass so deep it took him two hacks to get back to the fairway. He three-putted for a double bogey, while Cink played safe and smart for a two-putt birdie and a four-shot lead.
Cink, born two years before Watson won his first claret jug at Carnoustie in 1973, captured his first major and sixth career victory. He will move to No. 9 in the world.
"It's been a surreal experience for me," Cink said. "Not only playing one of my favorite courses and a wonderful tournament, but playing against Tom Watson. This stuff doesn't happen. I grew up watching him on TV, hoping to follow in his footsteps, not playing against him."
Rarely does a major championship end like this one -- to polite applause from a gallery of long faces.
Some of these fans were at Turnberry in 1977 when Watson beat Jack Nicklaus in the famous "Duel in the Sun," the signature victory among Watson's eight majors.
He just couldn't beat Father Time.
"It was fun to be in the mix again, having kids who are my kids' age saying, 'What are you doing out here?' It was nice showing them you can still play," Watson said. "I'm sure I'll take some good things from it. But it's still a disappointment."
Watson wasn't alone in that disappointment. Three other players had at least a share of the lead in a final round where fortunes shifted with the sea breeze off the Firth of Clyde.
Lee Westwood of England had a one-shot lead with four holes to play until making back-to-back bogeys. He battled to the end, however, and made a bold swing from a pot bunker in the 18th fairway. The ball cleared the sodden wall by an inch and somehow reached the front of the green. One shot behind, with Watson in the fairway behind him, he felt his only hope was to make the 70-foot putt.
He ran it about 8 feet by the hole, then missed the next one and took bogey. Westwood was saddened to see Watson miss the putt for other reasons -- he shot 71 and finished one shot out of the playoff.
"Gone from frustration to sickness now," he said.
Chris Wood, missing only an "s'' in his name to give the weekend some normalcy after Tiger Woods missed the cut, shot 67 despite a bogey on the last hole. He tied for third with Westwood, finishing nearly two hours before Watson missed the decisive putt.
Mathew Goggin, who played in the final pairing with Watson, also was tied for the lead and had a chance to seize control until badly missing an 8-foot birdie putt on the 13th. He followed with three straight bogeys and shot 73, two shots behind.
Then there was Ross Fisher, not even sure he would play Sunday if his wife had gone into labor. He birdied the first two holes and was two shots ahead until he chopped away in high grass on both sides of the fifth fairway and took a quadruple-bogey 8. Fisher didn't make another birdie the rest of the day and shot 75.