News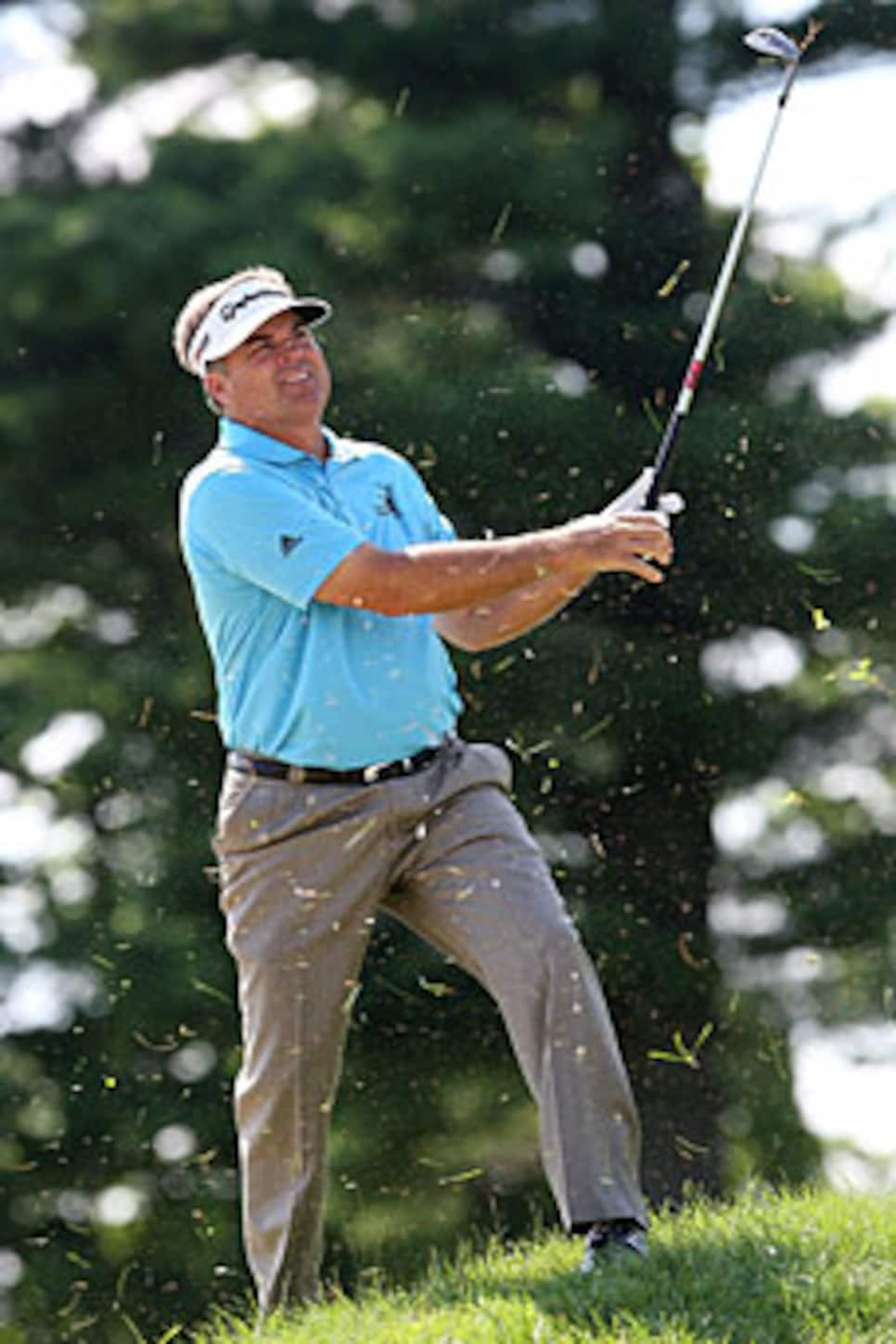 applying painful lessons: Avoiding defensive golf that cost him at Augusta, Perry stayed aggressive in the final round, shooting a 63 to win by three shots.
Redemption Is a difficultword.
No concept across the human condition is more full of hope, satisfaction and rebirth, yet compounded by regret, uncertainty and fear.
In the end, it implies a repayment of sorts, but for a debt not really owed, to a collector no one can see. The only question is whether time and opportunity will supply enough to square your account.
Twelve Sundays from a Masters defeat that might haunt for a lifetime, let alone a career, Kenny Perry made good on a promise 22 years in the making to a Connecticut family that has been his home-away-from-home for the Hartford tour stop since his rookie year of 1987. At the same time, he took a giant step toward a redemption he didn't really need but wanted so badly just the same.
In a tournament that had all the subtlety of a drag race and nearly just as many fireworks, Perry blazed home with a final-round 63 to win the Travelers Championship by a cozy three shots, erase the competitive doubts left behind by his Sunday evening Masters debacle and elevate himself to favorite-son status at an event that like its new champion has been reenergized in its later years.
"I've been fighting each year to try to do something special here, and it finally showed up today," Perry said after his second win of '09 and his fifth in 28 starts. If you're counting, that's more wins in the last 13 months than any player on the PGA Tour, and it also elevated him to first on the 2009 money list. "This is unbelievable," said Perry, who missed but two Hartfords (2000, 2004) in 23 years. "To say you want to win something and then to actually achieve it is a great feeling. I just hate that it took me so long."
Perry's recent hot streak might have been derailed by his bogey-bogey finish and subsequent playoff loss to Angel Cabrera at April's Masters, and while he says he was over that disappointment in a matter of days, there is a sense that he still had some personal accounting to take care of.
"Everybody kind of asked about the Augusta hangover deal," Perry said. "I guess I shoved that aside a little bit [today]. So that makes me feel pretty good."
But Perry acknowledged that there was a lingering effect to his near green jacket experience. Thinking you've won before you have and then not doing it tends to leave a mark, especially on a 48-year-old constitution. Recovering from past mistakes is the difference between what winners call "experience" and the rest of us know as self-doubt.
"That deal taught me a lot today," he said. "I knew I had to keep making birdies, so I wasn't going to let up. I wasn't going to play defensive golf. I learned something from that mistake."
It helped that the setting for his redemption was as familiar as the downstairs rec room. Literally. Perry has stayed with the same Wethersfield, Conn., family in all of his 21 trips to play at the TPC along the Connecticut River, dating back to the days of the Canon Sammy Davis Jr. Greater Hartford Open.
"He walks in the front door every year, drops his bags and says 'I'm home,' " said family matriarch Martha Kirsche, who along with husband Steve has watched Perry raid the family refrigerator, wash and fold his laundry and even mow the front lawn on the family tractor. "It's really like a second home to him."
Perry and his own family have grown up with the Kirsches and their family, and in his acceptance speech he thanked them for all he has learned from them over the years. The Kirsches were his guests at Augusta three months ago, and they watched how he handled the defeat there with the same class and gentleness he has displayed in their home for two-plus decades. The world watched, too, and Perry has in the interim become something of a local hero wherever he goes.
But nowhere is that more the case than central Connecticut, which sounded an awful lot like central Kentucky during Sunday's final round. The ovation at the first tee rang out just as loudly as it did at Valhalla during the 2008 Ryder Cup, where hometown hero Perry led the U.S. squad to a convincing win over Europe in what the now 14-time tour winner has called the biggest victory of his career.
"He definitely has a real connection with the people, and everybody is pulling for him out here, there's no doubt about it," Martha Kirsche said.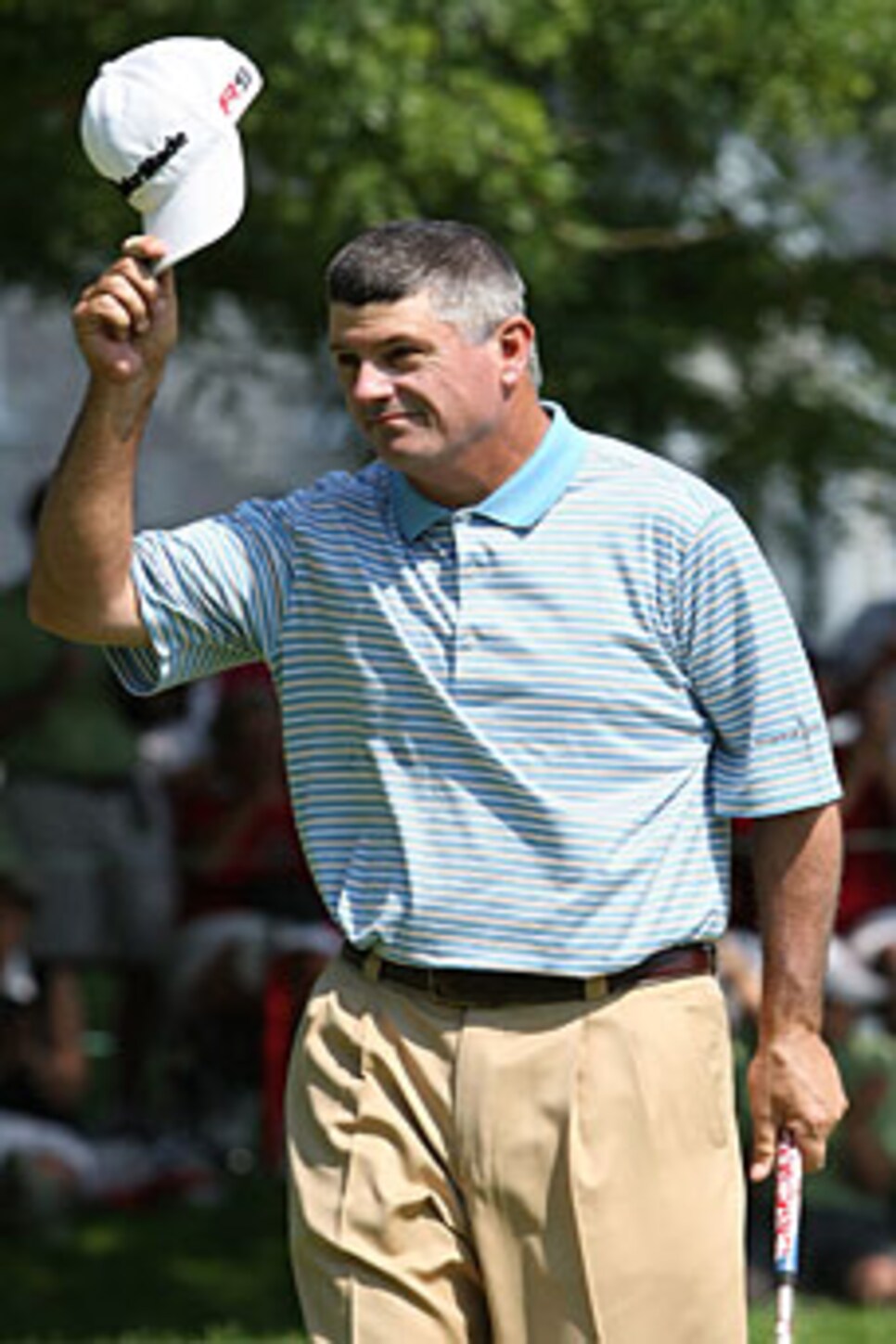 Perry felt the love, too, blowing a kiss to the amphitheater surrounding the 18th hole as he walked up to the final green. "I fed off the energy of the crowd today," he said. "I had so many people pulling for me all over the golf course. To me that's never happened. That Augusta thing, even though I lost, I had won over a lot of fans. My fan base has grown a hundred-fold since all that's happened. It's been unbelievable."
Unbelievable is another word to describe the Travelers Championship itself. Left for dead without a sponsor in 2003, organizers rallied the community and state to keep the tournament alive for a year until Buick added it to its group of tournaments in 2004. Three years later it was nearly dealt out of existence again when Buick dropped out and the PGA Tour wasn't interested in having the sponsorless event, which began in 1952 as the Insurance City Open, occupying a space in the late-season FedEx Cup schedule.
Enter insurance provider Travelers, which took over the event in 2007, raised the purse by more than a third and restored the luster to one of the tour's longest-running events. Organizers consider every angle from sending friendly reminder iTunes cards to players to installing a rock-climbing wall on the old driving range to hold the interest of youngsters and their families. A new practice range is regarded as so good that no less an authority than Vijay Singh called it the best on tour.
Perry set a new tournament record of 22-under 258. He did so on a video-game friendly layout that saw the lowest cut line on tour this year at three under. This ideal scoring came thanks to just enough additional Northeastern rain and storms to soften fairway landing areas and make greens as receptive as the adoring galleries. For the weekend the field scoring average of 68.7 darn near looked like the scoring average at the nine-hole miniature golf layout set up by tournament organizers left of the 18th fairway. The highest final-round score of anyone finishing in the top 10 was a Bob Hope Classic-like 67.
So, in other words, you had to go way low to avoid becoming River Highlands roadkill. There were 14 rounds of 64 or better for the week, including two 63s by runner-up Paul Goydos and Perry's course-record-tying 61 Thursday.
Goydos, who vacillates between bull terrier and hang dog within the same sentence and (you can look it up) is the only player in PGA Tour history to use the word "esoteric" in a post-round press conference, started with a one-stroke lead Sunday but was four back by the 10th hole. A late eagle-birdie-par-birdie run at River Highlands' electric four finishing holes allowed him to post his third top-four finish in his last four starts.
"I wasn't really doing much of anything other than watching Kenny Perry play like Ben Hogan," said Goydos. "But the progression is in the right direction. I just need to finish it out.
"It's a big difference shooting 63 on Saturday and shooting 63 on Sunday. He played the golf tournament to shoot 63 and win."
"I wasn't really doing much of anything [Sunday] other than watching Kenny Perry play like Ben Hogan." Paul Goydos
Perry stared down Goydos' late rally as well as a final-round 65 from David Toms, who was hovering just a shot from the lead after a birdie on the par-3 16th. Knowing the score and not shrinking from it, Perry dead-centered a curling 10-footer for birdie on 15, then lasered a 7-iron from 167 yards to seven feet at 17 for the birdie that pushed his margin to three walking to the 18th tee. Those shots, Perry said, "told me a lot about myself."
Of course, maybe that's the power of redemption. When you've got a score to settle and the world seems to be cheering for you in what amounts to your surrogate backyard, redemption isn't so much a goal or a wish-for or a make-good, as it is a bonus check. You don't need it, but it's nice to have.
"I played flawlessly today, probably one of the greatest rounds of golf I've ever played," said Perry.
As for the Masters memory? "It's time to move on," said Perry. "I learned a lot from that. And I was determined to get back in that winner's circle again."