News
Record Setting Score For Perry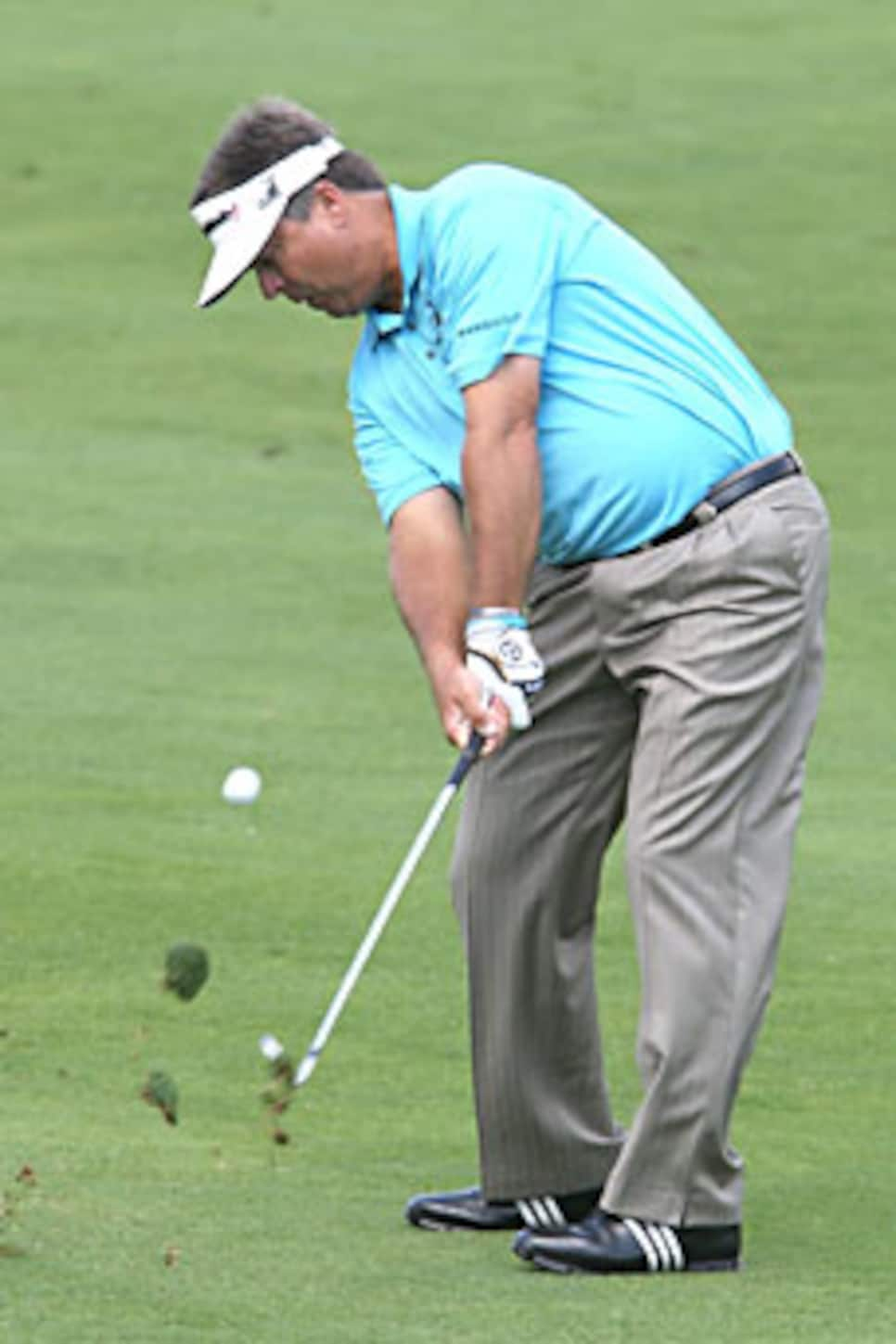 With the win, Perry jumps eight spots to the top of the FedEx point standings.
CROMWELL, Conn. (AP) -- There was no Masters-style meltdown Sunday for Kenny Perry.
The 48-year old Perry, whose bogey-bogey finish at Augusta kept him from winning the Masters in April, tied a course record with a 61 Thursday and led after each of the first two rounds here. But, he trailed by a stroke to Goydos heading into the final round.
He responded by shooting a 32 on the front nine and was up by five strokes heading to the par-4 15th.
Goydos, 45, made a 20-foot eagle putt from the fringe on 15 and birdied 16. But he missed his birdie putt on 17 to the right.
Perry birdied 15, and put the tournament away by making birdie on 17 after hitting a 164-yard approach to within 8 feet.
"Everyone kind of asks about the Augusta hangover deal," he said. "I guess I kind of shoved that aside a little bit. So that makes me feel pretty good."
Perry acknowledged he was thinking about the Masters as he played the back nine, and told himself to play aggressive.
"I knew that I had to keep making birdies," he said. "I wasn't going to let up. I wasn't going to play defensive golf. I learned something from that mistake."
Goydos said he felt he needed to shoot a 63 to win the tournament, but didn't start playing well until the 15th hole.
"I don't want to run and hide from that," he said. "He played like a guy who's won 14 times. I played more like a guy who's won twice, especially early in the round."
Goydos made a 40-foot putt on the seventh hole, but gave two shots back when he bogeyed the par-3 eighth. Perry hit his tee shot to within 3 feet of the pin, and made birdie.
He went four strokes up by sinking a 16-foot birdie on the 10th, while Goydos had another bogey.
Perry takes home just over $1 million with the victory, and has now won five times in just over a year, the most of any player on tour. He has 12 top-10 finishes over that span while making every cut. His 258 is tied for fourth-best 72-hole score in Tour history. It beats the old tournament record of 259 set by Tim Norris is 1982.
The win also moves Perry to the front of the FedEx Cup standings. It was his 14th career victory, and he said he's hoping to get 20 wins before he retires.
"It's a pretty unrealistic goal," he said. I just kind of threw that number out there to see everyone's eyes roll into the back of their heads."
Toms, 42, shot his third 65 of the tournament to finish tied with Goydos at 19-under par. He missed a 12-foot birdie putt on 17, after making birdies at 15 and 16 to put himself into contention.
"I didn't get off to the kind of start that I felt like needed to put pressure on the guys that were ahead of me," Toms said. "I really felt like I needed to get under par pretty quickly to at least give them something to think about and ultimately just got too far behind on the back nine."
Ben Curtis, Ryan Moore and Hunter Mahan all finished two strokes behind Goydos and Toms to tie for fourth at 17-under.
"You'd probably think that anywhere from 15 to 20-under would probably win it. I watched the scoreboard a little bit. You got to kind of focus on what everybody's doing, to see what kind of shots you have to hit."
Scott Verplank shot a round-best 62 Sunday, one off the course record that he shares, and finished tied for ninth place at 15-under par.
"I knew I'd shot 61 here a few years ago, so obviously you know, I can get it going on this golf course," he said.