News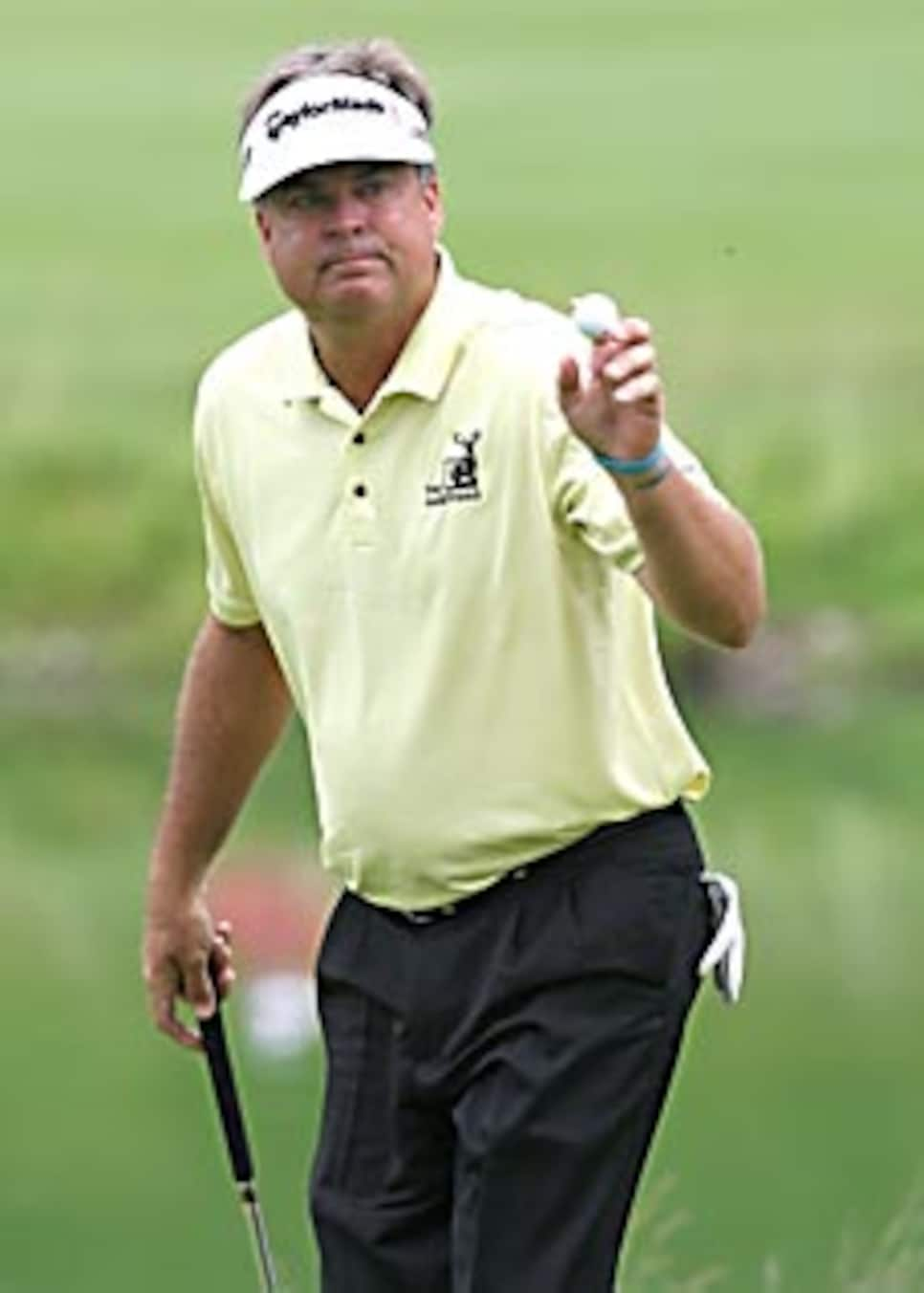 Kenny Perry kept his lead despite struggling on the greens Friday.
CROMWELL, Conn. (AP) -- Kenny Perry followed up his opening 61 with a 68 Friday and held on to a two-stroke lead when thunderstorms halted the second round of the Travelers Championship.
Perry, who tied the course record Thursday, said he actually hit the ball better on Friday, but lost his touch with the putter. He had just three birdies despite hitting 16 greens.
"What I felt was the right speed was always short, and then when I tried to hit it, I couldn't stroke it," he said. "I was hitting the putt, then I was blowing it right through the break."
He and the rest of the morning golfers played through off-and-on showers that slowed already soft greens.
Ryan Moore shot a 65 to move into second place and said conditions allowed him to go for the pin all day.
"That's what I was doing, and that really doesn't happen very much," he said.
The sun came out for the afternoon, but severe weather moved in just before 4:30 p.m. with 73 golfers still on the course. Play was officially called for the day at 6 p.m.
Colt Knost, who was celebrating his 24th birthday Friday, and 26-year-old Aaron Watkins were in the clubhouse at 8-under. They were tied with Anthony Kim, Paul Goydos, David Toms and Spencer Levin, all of whom were playing their back nine when play was halted.
Knost says he's almost fully recovered from minor injuries suffered when he was struck by a drunken driver just before the U.S. Open qualifier in Memphis.
"I could be in bed right now and not playing out here, so I feel very lucky to be playing this game for a living and that's the way I'm just going about it now," he said.
Michael Allen shot a 65, tying him with Moore, Chris Stroud and Brad Faxon for the best round of the day. Allen was one of six golfers at 7-under par.
"I'd like to be 11 under like Kenny but I played quite nicely," Allen said. "Hopefully, I'll have some good things for the weekend."
The cut line was expected to be at 3-under. Faxon finished 1 under and may be heading home.
Matt Weibring finished at 2-under despite hitting the shot of the day. He put his approach on the par-4 fourth hole into the cup from 194 yards out.
Defending champion Stewart Cink was 1 over through 13 holes. Chris DiMarco (2 under), Stuart Appleby (even), and Notah Begay III (3 over) were all expected to miss the cut.