News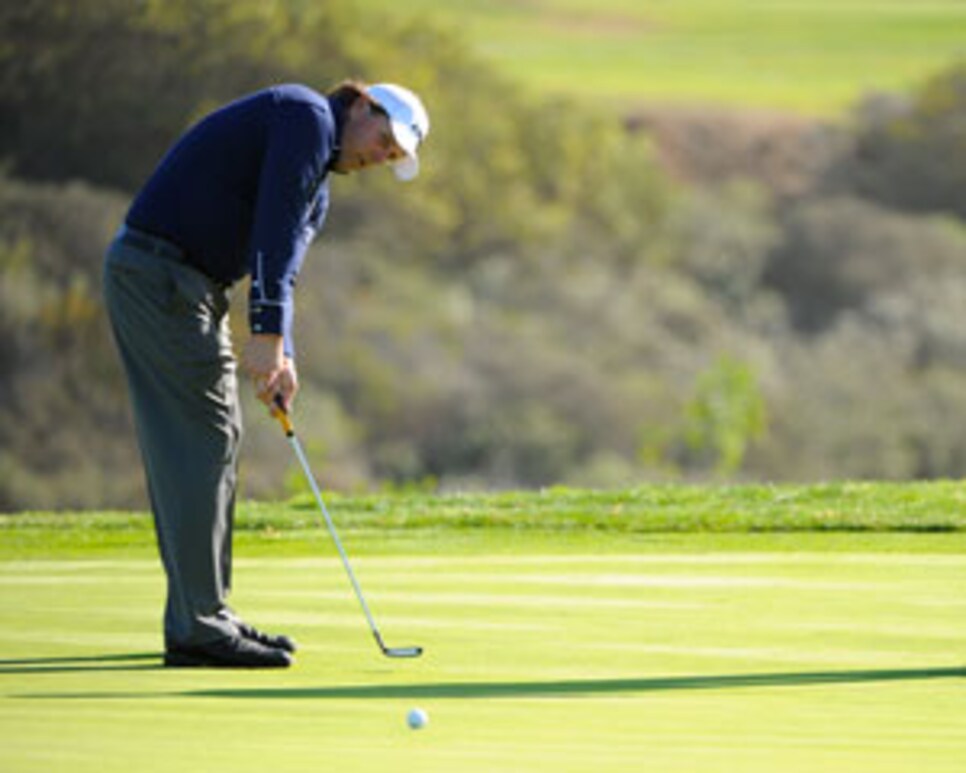 Among Phil Mickelson's disclosures Wednesday was that he will skip the Accenture Match Play Championship next month.
SAN DIEGO, Calif. -- More often than not pre-tournament news conferences at PGA Tour events are intimate gatherings, frequently resembling those Congressional sessions where one or two representatives are on hand and fighting sleep as they listen to someone drone on about something of little importance. But for Phil Mickelson, the atmosphere was more like giving the State of the Union address Wednesday at Torrey Pines on the eve of the Farmers Insurance Open.
This was, you see, Lefty's first appearance before the media since Tiger Woods' life took a nasty turn right out of his Windermere, Fla. driveway on Nov. 27. If there is anyone whose views on the world's No. 1 player would be of interest, it is the world's No. 2 -- the guy who could benefit the most from Woods' indefinite break from competitive golf.
And Mickelson handled the situation -- a dicey one in which he had to try not to appear to be an opportunist looking to capitalize on Woods' break -- rather brilliantly, firing a preemptive shot designed to keep the media at bay. When pushed, he remained calm and stayed on message. What emerged is a reminder that Mickelson remains not only a great player, but a powerful representative of professional golf, and perhaps its most popular personality.
Eight television crews were jammed into the tiny media room at the Hilton Hotel next to Torrey Pines, joined by an equal number of still photographers and a standing-room-only gathering of several dozen writers. By contrast, Gunner Wiebe, who was next up in the interview room, had four writers and a stenographer. The rest of the media hoard followed Mickelson out of the interview room, in what was likely a preview of the way this season is going to play out.
Mickelson, looking about a belt-notch lighter with arms that seemed to have picked up the inch his waistline lost, made an unusual opening statement in which he addressed three issues upon which he said he would take no questions: Tiger Woods, the new grooves rule, and the health of his wife, Amy, and mother, Mary, both of whom are being treated for breast cancer.
The media being, well, the media, and trying to justify those direct deposits made into their bank accounts every two weeks by employers who expect them to do their jobs, deftly pushed on with all three of the matters, and Phil just as deftly fended them off. Most impressively, Mickelson, who turns 40 on June 16 and has three major championships among his 37 PGA Tour victories, predicted great things to come for himself in the year -- and decade -- ahead.
"The game of golf needs him to come back," Mickelson said about Woods. "I mean, it's important for him to come back and be a part of the sport. But right now he's got a lot more important things going on in his life. Amy and I are good friends with both Tiger and Elin, and we care deeply about how this turns out. But I'm going to choose not to talk about it publicly anymore, and I appreciate your understanding on that."
Later Lefty said he has had contact with members of the Woods' family but declined to say with whom, repeating that he felt further comment would be a violation of the personal relationship he and Amy have with Tiger and Elin.
Mickelson, a Callaway player who says the groove rollback by the USGA is "a ridiculous change," will play one 20-year-old Ping wedge this year. "I feel like my Callaway wedges have been the best wedges that I've ever used, so I'm only switching the one," Mickelson said. "What we found in our testing is that the top edge of the groove is what's been changed, and so it's not as sharp."
"As we add loft and create a shallower angle, if you will, into the ball, the top edge isn't catching the ball once we get past 60, 61 degrees of loft," said Mickelson, who thinks about equipment as much as any player. "So what I did was a took a 60 degree i2 wedge and turned it into a 64, and those grooves seem to be catching the ball similar to what my wedge did last year."
As for the health of his wife and mother, Mickelson said both are doing well, but that their health will require some tweaks in his playing schedule this year. He'll play the next three weeks; skip the Accenture Match Play; go to the Waste Management Open in Phoenix; take a week off and then play the World Golf Championship CA Championship at Doral.
"We had a couple of procedures scheduled for this off season that got postponed for various reasons, and we had to move it into March, and this affected some of our family trips," he said. "So how this is playing out is the week of the Tucson Match Play is a week that my kids are out of school and that I'm going to end up skipping this year, not because I want to. But it was the best week for us to have a family vacation that we had to reschedule because, again, of our procedures."
While Mickelson said he may be forced to skip additional events, he said it was highly unlikely any of those would be majors. He also said he expects to play at a high level well into his 40s. Asked if he felt there was an opportunity now for him to move up to No. 1 in the Official World Ranking, he said:
"Well, my whole career I've been trying to get to No. 1. I just haven't had much success. But this year whether or not Tiger is in the field, I still believe that this is an opportunity for me to compete in majors, to challenge him. I've had some great head to head success in the last year or two, and I expect this year with or without him to be one of the best years of my career."
This is the 20th consecutive year Mickelson, a Southern California native, has played the Torrey Pines event -- a tournament that has oddly had four names this year, beginning as the Buick Invitational and ending as the Farmers Insurance Open. One of the things the Torrey stop has had going for it the last few years is that it's where Woods and Mickelson start their season. This year, only one is on hand. But if Lefty's performance on the golf course this year is as good as his effort in the interview room Wednesday, he's No. 2 trending toward No. 1-A -- and perhaps beyond.