News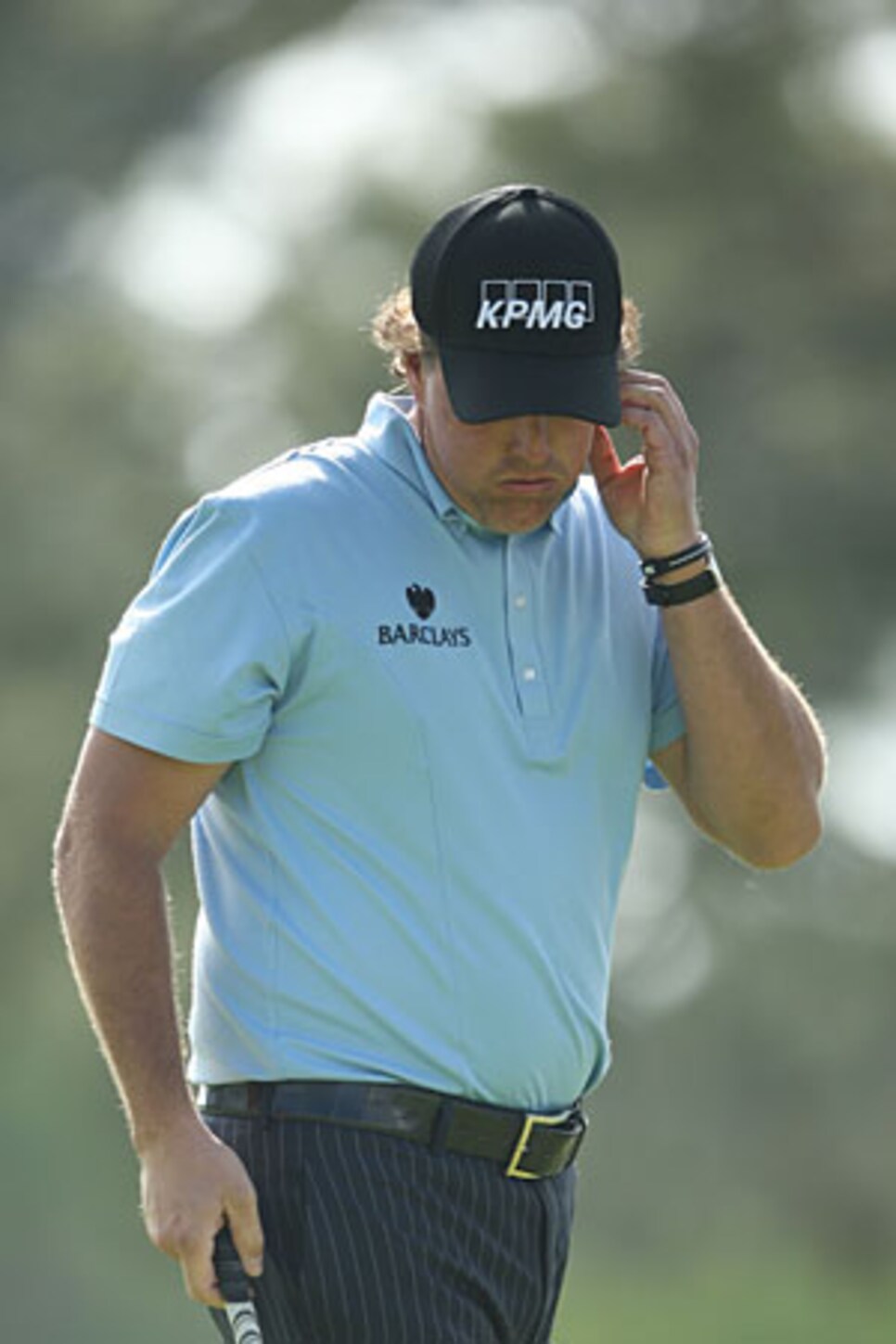 Phil Mickelson's decision to use an old Ping Eye 2 wedge has become a huge story.
"Groovegate", as it was coined in the San Diego Union-Tribune this week, is exactly what the PGA Tour doesn't need right now. Instead of golf, there's another wave of negative news that's putting the tour on SportsCenter, and we're not talking about the Tiger Woods scandal or John Daly's latest quitting act.
Phil Mickelson finds himself in the headlines this Sunday, the central figure in a media firestorm over an old L wedge. He's been called a cheater by another tour player, and has fired back with threats of legal action.
The scope of this story is not the result of a slow news cycle, with Ryuji Imada pulling away from Michael Sim in an attempt to close out his second career victory. The scope is that this was supposed to be Mickelson's debut, a diversion from the dark clouds that have hovered over the game since Thanksgiving.
For image conscious commissioner Tim Finchem, who just put a corporate title sponsor on the San Diego Open, "Mickelson" and "cheating" producing 464,000 Google hits is not exactly good optics.
It's bad public relations -- not to mention public perception. It's bad for Scott McCarron, who in the last two weeks has become golf's go-to guy for the hot quote, and for Mickelson, who brought on most of this himself by electing to use one of his old Ping Eye 2 60-degree wedges in the first place.
Mickelson showed me the two Ping wedges in his carry bag, one there as a back up, and explained his thinking last Sunday in a practice round at Torrey Pines. While the player never said this directly, I got the impression he was considering this not because it provided such a distinct advantage over his Callaway wedges, but that it was his way to prove a point about the ridiculousness of the game's ruling bodies and their attempt to roll back technology.
More than how much spin he imparted with this particular L-wedge --¬ and he made the point several times by hitting shots that braked to abrupt stops -- Mickelson was more enthused about being able to back up 9-irons from wet rough. He explained the grooves Callaway put in their new irons were actually closer to the edge than the clubs he used in 2009. There was actually a "net gain" with spin.
To me, what's surprising is that Mickelson elected to take on the drama at a time when he was totally focused on golf, but he just couldn't help himself.
Now he's sending a message through post-round interviews with CBS and Golf Channel that McCarron should lawyer up. Four times Mickelson used the term "publicly slandered," and said he had people who would take care of that, implying a lawsuit. Those "people" are lawyer Glen Cohen, who doesn't have a soft spot when it comes to protecting Phil's name.
I communicated with McCarron via text and a phone conversation Saturday night. Last week he took Anthony Kim to task for skipping his hometown event (the Hope), for the big bucks of Abu Dhabi, taking a shot at Finchem for being so lax in allowing the player release. There is speculation that he's been reprimanded by the tour and by no surprise, he's been told by the tour not to talk.
What McCarron could offer is that he's tried to reach Mickelson, via text and a letter in his locker at Torrey Pines, but has been told that Mickelson doesn't use his locker at this particular facility. What's interesting is that he's a member of the Player Advisory Council, which meets with Finchem on Tuesday in Los Angeles.
There's an undercurrent coming from players who believe that while McCarron might need a mulligan on his choice of words, the commissioner is also at fault here. "[McCarron] probably should not have mentioned and singled out Phil," said Tom Pernice Jr. "It's not the players that should be calling out other players. Tim should solve the issue. I think he should have flown here to Torrey Pines (Friday) night, been on the air and stepped up and take some responsibility. He needs to solve the issue with the USGA and Ping. He is the commissioner."
On the subject of Daly, the two-time major champion left an imprint this week with more than just this latest in a series of pity parties. He and Dean Wilson were the first to take advantage of this loophole at the Sony Open. Mickelson read about it, went to his garage, and found what represented not only a competitive edge, but a statement against a rule he never agreed with in the first place. Asked by the San Francisco Chronicle if it bothered him that Daly knew about the loophole before he did, Mickelson reportedly smiled and said, "It's surprising."