News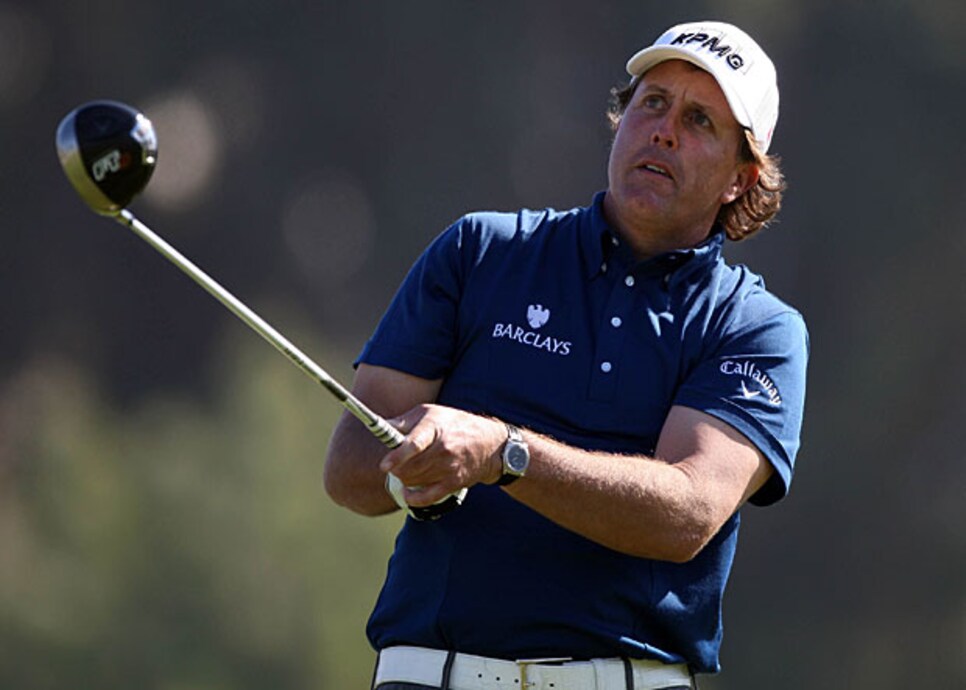 Phil Mickelson's improved putting has also translated into greater patience on the course.
LA JOLLA, Calif. -- With all due respect to the hosts in Hawaii and the people who keep the Bob Hope alive, there was a distinct sense that the 2010 golf season began on Thursday at the Farmers Insurance Open. On the tee at 9 a.m. on the South Course was Phil Mickelson. An hour later Ernie Els made his return to this tournament for the first time since 2005. Combined, they weren't Tiger Woods but there were enough people following them on another Chamber of Commerce day in San Diego to make for what could be considered galleries. There was also a sponsor's name hanging from the clubhouse at Torrey Pines, a welcome sight after Buick left town -- especially knowing Tiger was not part of this year's buy. Farmers Insurance has a four-year option and as Mickelson beamed after his carefully charted 70, "I'm hoping that they enjoy this week so much that they sign up for a long-term deal."
Who's to say how big a bang for the buck Mickelson will provide as he takes on this fair or unfair responsibility as void filler for Woods? Els put it on Mickelson at the Sony Open when he said, "I think there's a new guy we've gotta chase." But as Phil said in his pre-tournament news conference, "Nobody will be able to do -- or to fill the shoes that are voided right now."
Besides, even with 37 wins and three majors, Mickelson has never shown an ability to be a dominant player. His monster seasons have consisted of four wins. By comparison, Woods has won four or more tournaments 11 times in his career—and has over four times the majors. Whether Woods returns for the Masters or doesn't play this year at all, it's not going to dictate how Mickelson plays or whether the putting and short-game lessons from Dave Stockton take him to multiple majors this year.
Long before Stockton and even Butch Harmon, Mickelson stitched together back-to-back majors. With a win at the 2005 PGA and the 2006 Masters, Mickelson was one fatal tee ball from three straight. Since that errant "I'm such an idiot" moment at Winged Foot, he has not stepped to the 72nd hole of a major with a chance to win. There was the wrist injury in 2007 and Amy's breast cancer in 2009 to intercede, but last year's U.S. Open at Bethpage was the closest he's come to a fourth major.
That could change this year. Stockton made the point a couple weeks ago that the golf course would play differently for Mickelson now that he was making putts. That mindset was definitely in place on Thursday, as he started out "a little more cautious," not wanting to make, "too many big mistakes."
This was not the daring Mickelson but actually the conservative Mickelson who played the power cut around Augusta for his first Masters victory in 2004. He never shot lower than 69 that year.
"I had to slow down because I was just so anxious for the year to start," he said. "I knew I needed to be a little more patient."
Then he quoted Jack Nicklaus -- and played like Woods, reaching the last two par-5s in two for two-putt birdies, making the 8-footer at the last to preserve the round. In the back of his mind was personal history: He won the old Tournament of Champions twice at La Costa and the Hope in his openers, but he has also had a number of high rounds, poor finishes and missed cuts to start off. The last thing he wanted to do, in this new role as the game's main character, was to bomb. Now he's got a chance to make up some ground on the North Course Friday afternoon, and be in contention by the weekend. That's what big dogs are supposed to do.
"I want to work my way in the tournament," Mickelson said. "Nicklaus used to talk about that in majors, that he wanted to try to progress as the week went along, and I didn't want to try to come out and win the tournament on Thursday because it's just not possible. I wanted to try to build into it, so I'm hoping I play better tomorrow and shoot a low score on the North, good enough to get myself in contention for the weekend."
The 33 putts were not indicative of how well he putted the ball, or how much better he putted than with the old block stroke. His last putt caught just enough of the hole to drop. Last year he misses. "That was one of those dinner putts," said Jim "Bones" Mackay, the caddie. "Dinner tastes better afterward."
As for the experiment with the Ping Eye 2 wedge, it already showed its teeth. From behind the 15th green, Mickelson opened the blade and stopped a shot that was running away from him, downhill, to simple tap-in range. Moments like that are stress relievers and momentum builders, thus it was no coincidence that he made 2 at the par-3 16th for his fourth of five birdies.
Mickelson went about his business in a chirpy mood with playing partners Marc Turnesa and Ryan Palmer, sharing with them both funny stories and tips. At the 15th hole, he was gabbing away when he stepped up to tee off. Only problem, it was Palmer's honor, coming off a birdie at the 14th. "He was in the moment, so I let him go," Palmer said afterward, knowing the longer Mickelson stays in that moment, the better it is for everybody.