News
America's Top 50 Courses For Women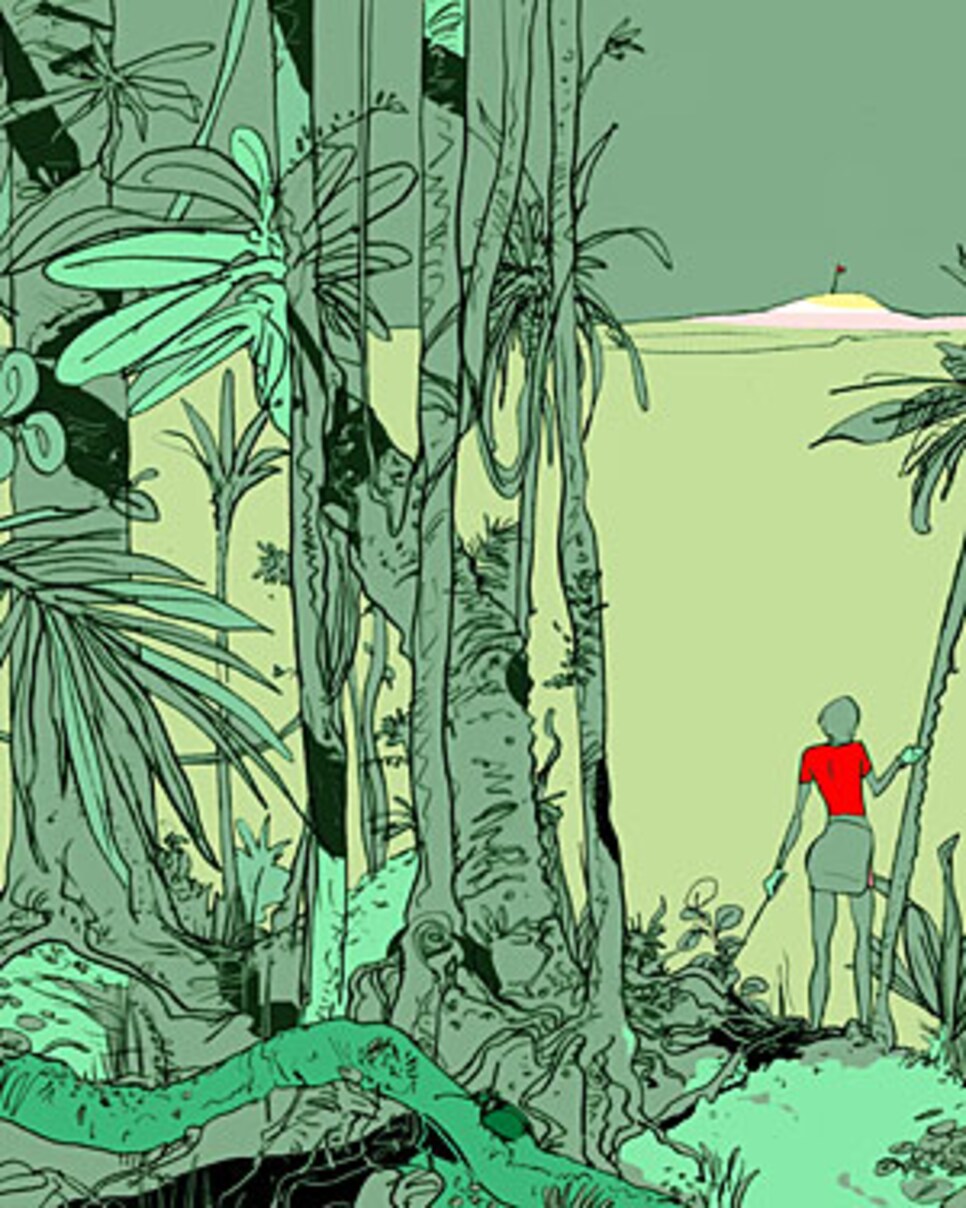 There are nearly 16,000 golf facilities in the United States -- from all-male country clubs to run-down, good ol' boy munys. Finding a course that makes women feel welcome and comfortable can be like chopping your way through the jungle with a machete. But with GDW's inaugural ranking of America's Top 50 Courses for Women, we hope to bring you to a clearing.
We've searched nationwide for the public-access and resort courses that offer the most women-friendly designs, amenities, staff, programs and atmosphere. This list differs significantly from other Golf Digest rankings, such as America's 100 Greatest Golf Courses and America's Best New Courses, which are based on a mathematical formula that compiles the numerical votes of more than 900 Course Rating panelists. In compiling America's Top 50 Courses for Women, we considered nominations by our panel of more than 100 female raters, but ultimately it came down to how well each course met the women-friendly criteria established by our editors. For example, we looked for the best courses that offered at least one tee that plays to 5,300 yards or fewer (with bonus points for courses that have one tee that plays to fewer than 5,000 yards), at least two tees playing to fewer than 6,000 yards, and at least two tees with USGA Slope and Course Ratings for women. Other attributes we valued included a minimal number of forced carries from the forward tees, run-up areas to most or all of the greens, a more demanding challenge from the longer tees for better female players, and beautiful scenery.
Ultimately we found 50 gems -- some famous, some not -- that understand what women want. Our No. 1, Pine Needles Lodge & Golf Club in Southern Pines, N.C., embodies women-friendliness in its design and atmosphere. The famous Pine Needles Golfari golf school for women, in its 46th year, is the model of women-specific instruction and is run by Pine Needles owner/LPGA charter member Peggy Kirk Bell. Women who attend Golfaris receive personalized instruction on and off the Pine Needles course, which was completely restored before the 2007 U.S. Women's Open, the third Open hosted by Pine Needles in a span of 11 years. The course is a favorite of LPGA Tour players and beginners, with a diverse layout that puts good players to the test and offers a fun, stress-free experience for shorter hitters. Ultimately, it's this diversity that makes it the most women-friendly course in the country.
On the following pages are other examples of creative ways courses are appealing to female golfers. The best news of all? Every course on our list is open to the public. So make it a point to play as many of them as you can.
Courses with five or even six tees tend to be the most women-friendly because they usually have a tee that plays to fewer than 5,300 yards, and they lack big gaps between tees, allowing women of different abilities to find a yardage that suits them. But what if there's not enough land to install that many tees? Course designer Jim Engh has adopted a great system for his most recent layouts, including two on our ranking, No. 16 Four Mile Ranch in Cañon City, Colo., and No. 19 Snowmass Club in Snowmass Village, Colo. He builds four tee boxes that are spaced far apart. In addition to those tees, he designates "combination tees" on the scorecard. For example, at Four Mile Ranch the red tees measure 4,652 yards and the white tees 5,373 yards. Between them on the scorecard is the White/Red measuring 4,937 yards, which uses nine red-tee holes and nine of the white. Overall, there are seven real and combination tees, all with a USGA Slope and Course Rating.
"You really have to have at least six sets of tees if you want to hit every ability of golfer," Engh says. "So we said let's cover the spectrum with four sets of tees, including one that goes way back and one that goes all the way up to 4,600 yards. And then we filled in the blanks in between." The combination tees suggest that players use the shorter set of tees on longer, uphill holes and the longer set on shorter holes. "It gives all players the ability to cover a variety of yardages," Engh says.
Engh says this concept could easily be adopted by all new courses, because the USGA has to give them a Slope and Course Rating anyway. "It doesn't take a lot of extra work or money -- it's really just more of a bookkeeping effort," he says. "I wish I could claim it as my idea, but it came from a client at Hawktree Golf Club in Bismarck, N.D. His name is Bill Fleck, so I call it the Fleck System. Everyone thinks I'm saying the Flex System." A suitable name, indeed.
A women-friendly facility considers our wants and needs before and after the round, with clubhouse amenities and locker rooms that are more than an afterthought. At our No. 5, Sea Island in St. Simon's Island, Ga., the marble-floored women's locker room is 1,500 square feet and is designed to make female golfers feel pampered. The large sitting area has easy access to a co-ed exercise room equipped with treadmills, elliptical machines, free weights and basic strength machines. Just past the sitting room are 56 full-size and 72 half-size lockers, and a women's shoe room with an attendant, Dorsea Helton. In addition to shining shoes, Dorsea ensures that the four private bathrooms are equipped with slippers, robes, shampoo, conditioner, bath gel, toothbrushes, hair brushes and other toiletries. "You don't have to bring a single thing when you come here," Dorsea says. "We do everything for you, and our rain-shower showerheads will help you feel like a queen."
Any course with a spa automatically ranks higher in the eyes of most women, and few courses have a better spa than No. 2 on our list, the Boulders in Carefree, Ariz. The 33,000-square-foot Golden Door Spa offers a variety of treatments and fuses feng shui and Zen-like vibes with the natural American Indian elements intrinsic to the area.
Divided into two distinct areas, the spa has a west wing featuring a 2,000-square-foot fitness center and an east wing with 24 treatment rooms, an authentic tepee where a shaman teaches meditation, and a tranquility-inducing labyrinth walk. LPGA teaching pro Judith Roer, who has a degree in golf biomechanics, kinesiology and neuromuscular balance, leads a series of three golf-specific fitness classes. These off-course extras make women feel appreciated.
Ever been to a golf facility where women call the shots? No. 15 SouthWood Golf Club in Tallahassee, Fla., is such a place. General manager Beth Murphy, director of sales Cara Dollinger and director of instruction Becky Sauers provide the leadership and vision that make SouthWood a stand-out experience for women. The course attracts its share of swagger, from long-hitting guys looking to test their skills from the Fred Couples-Gene Bates Signature Course's 7,172-yard black tees to former Governor Jeb Bush, who used to swing by with his entourage on Saturday mornings for a quick nine. But among the staff, there's little testosterone to be found. The golf shop staff comprises mainly women, and the dining room is bustling with female diners and staff.
On the course and lesson tee you'll usually find as many women as men. Sauers, a Golf Digest Woman Top 50 Teacher, runs the popular Lady Links Golf Association, which blends weekly playing time with instruction for beginning golfers. The SouthWood Neighborhood Golf League is a weekly mixed scramble for all skill levels, with golf clinics available for kids while their parents play in the event. In the clubhouse, the bulletin board lists the latest junior golf school and women's outings. And you won't find Murphy or Sauers at their desks during these events; they're playing alongside the locals.
When Murphy came to SouthWood five years ago, women were not as well represented. The 5,228-yard forward tees seemed reasonable, but once you factored in the rolling terrain and elevation changes, you had a layout that many women found difficult.
"The feedback was that the course was too long," says Murphy. "There were par 4s that were always three-shot holes for many of the women." Murphy responded by adding a set of tees at 4,521 yards and a junior set at 2,696 yards to create a course setup that appeals to all players. News of the course upgrades and women-friendly programs spread quickly, and local female golfers -- and their families -- began calling SouthWood their home.
Women with families often find it hard to play golf because they need someone to look after their children. At No. 25 Province Lake in Parsonsfield, Maine, this isn't an issue. Province Lake's co-owner, Carol Porter, is a schoolteacher with more than 30 years' experience in education, and she believes children should be just as welcome at courses as adults are.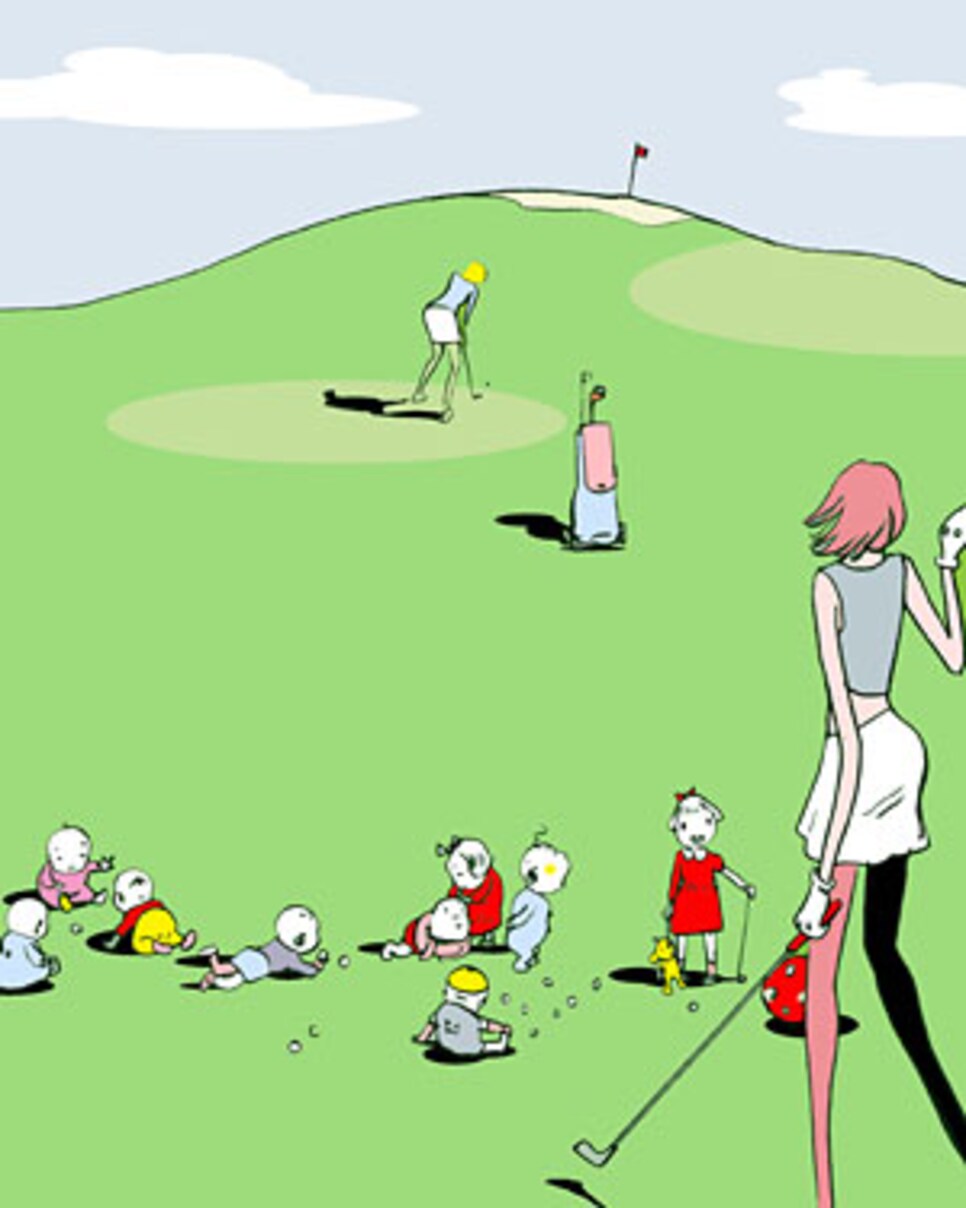 "We don't have an age limit for bringing kids to our course," she says. "We've had children as young as 4 take lessons here, and we have a set of tees for kids 100 yards out on every hole."
This relaxed atmosphere, in addition to junior programs, summer golf camps and youth leagues, makes Province Lake a favorite for families in the area. But if you'd rather play without the kids, that's not a problem, either. With 48 hours notice, parents can leave their children with Province Lake's on-premises childcare service for $4 an hour. "We give Mom or Dad a walkie-talkie so they can check in at any time during their round, and we usually keep their children busy on the practice green or chipping area while they play."
Although childcare programs such as Province Lake's are a rarity in golf, we're pleased to note that junior tees, or family tees, are becoming more and more popular at golf courses nationwide. Four courses on our list -- Province Lake, No. 8, Celebration (Fla.) Golf Club, SouthWood Golf Club and No. 49 Sea Pines Resort on Hilton Head Island -- offer this feature, and we hope more will follow.
For men, easy access to on-course restrooms might sound like a silly criterion when judging a golf course, but to most women, it's an important factor. Women don't have the luxury of stepping behind a tree when nature calls, and we're used to finding on-course restrooms cold, dirty, lacking in hand soap and bathroom tissue and, most likely, with the toilet seat left up. So we're more than a little pleased when we find an establishment like the Golf Club at Newcastle (Wash.), No. 7 on our list, where there are five on-course restrooms, all with heated toilet seats and a variety of toiletries. Meanwhile, Celebration (Fla.) Golf Club has recently installed air conditioning in its on-course restrooms.
"We survey our guests throughout the year, and it was amazing how many women said it would be great if we had A/C in the restrooms," says general manager Gene Garrote. "At first we didn't consider putting it in, but we wanted to make a commitment to becoming a five-star facility, so we decided to do it. And we definitely get a lot of nice comments from the ladies now. Many of them are thanking us for thinking of them."
TIME-MANAGEMENT SOLUTIONS
Because many women find it hard to make time for a full round of golf, we place a premium on facilities that offer nine-hole rates. Most of the courses on our list offer them, but one goes further. No. 32 Blue Ridge Shadows Golf Club in Front Royal, Va., offers four- and five-hole rates, including rental clubs and range balls, for $25 on weekdays and $35 on weekends. "It's perfect for our resort guests and locals who have time for only a one-hour round at the end of the day," says head pro Mike Ahrnsbrak.
A great idea, and one we hope catches on.
-- Additional reporting by Ashley Mayo and Susan Comolli Davis