News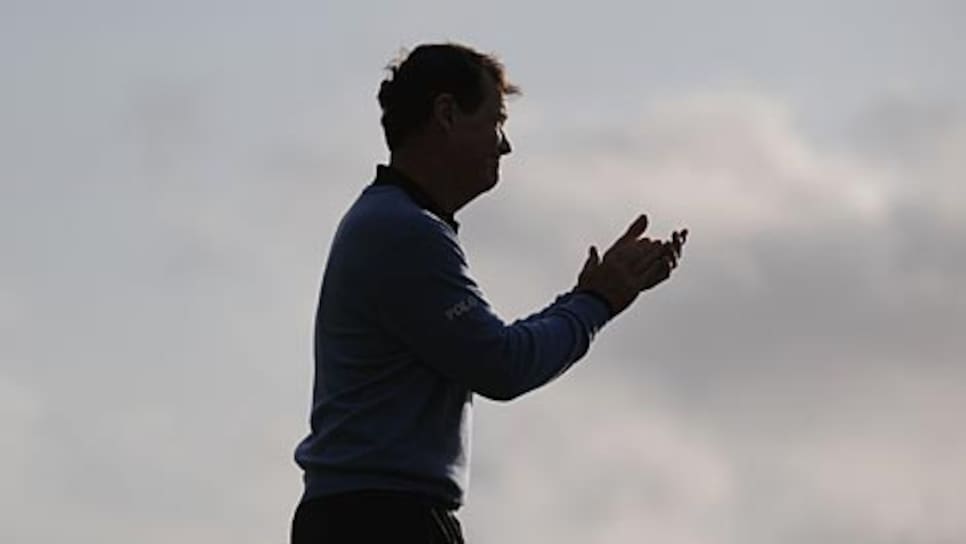 Tom Watson could only applaud Stewart Cink's win in the end, but the 59-year-old's play all week took us back to a different time in golf.
Sometimes what might have been reminds us of what really was, and often in that inspection of the past we gain a better understanding of the present. Such is the case with Tom Watson at Turnberry. His near-miss in the British Open was heartbreaking, but it was also a reminder of a bygone generation of champions far better than those who walk the fairways today.
The breathtaking ball-striking by the 59-year-old Watson before he fell one 8-foot putt short of victory sparked debate about where the accomplishment would have ranked in the history of the game. The feeling in this corner is that because of the relative quality of the competition, a Watson triumph would have fallen shy of the 1986 victory by Jack Nicklaus in the Masters.
That is not to belittle Watson but rather to praise the generation that produced him and the skill he possesses. And it is by way of calling into question the competitive toughness of the guys playing today. When Tiger Woods is off his game -- as he was at Turnberry -- anyone can win. And we have had a lot of anyone's lately.
Among the many debts of gratitude we owe Woods is that he reminds us how great Nicklaus was. Despite all the wondrous things Tiger has accomplished he is still four professional majors short of tying Jack's record of 18. And more and more a case can be made that Nicklaus recorded his victories against a better group of competitors.
A look at the leader board after 72 holes at Turnberry reinforces the argument of those who say that while No. 156 in the field today may be a better player than No. 156 was when Nicklaus played, No. 10 in the field likely is not. The 1986 Masters and the 2009 British Open have one huge thing in common: Tom Watson. And that says a lot.
Now, if Watson had won at the age of 59 -- 11 years beyond the record for a major and seven years past the oldest winner of a regular PGA Tour event -- it would have been one of the great sports stories of all time. But he lost to Stewart Cink. And, oh my, just look at who Jack beat in 1986.
Nicklaus was 46 years old and six year's removed from his last major at that '86 Masters. Both of those numbers pale in comparison to Watson's age at Turnberrry and the fact he was 23 years removed from his last major title. But what Jack accomplished on that Sunday at Augusta National is pretty much unmatched in the history of golf.
Let's forget that Nicklaus closed with a 65. Let's forget that he shot 30 on the back nine. Let's forget that he played 15, 16 and 17 eagle, birdie, birdie. Lets brush that all aside and focus on who he fended off that day.
The next six players behind Nicklaus in the 1986 Masters were Tom Kite, Greg Norman, Seve Ballesteros, Nick Price, Jay Haas and Watson. All except Haas are in the Hall of Fame, and Norman, Ballesteros, Price and Watson all were the best player in the world at one point.
The top-seven at Turnberry were Cink, Watson, Lee Westwood, Chris Wood, Luke Donald, Retief Goosen and Matthew Goggin. Absolutely no comparison. In the '86 Masters, Nicklaus outlasted not only the best of that generation but some of the best of all time.
If time were to stop right now, the last page of the history books would record Ben Hogan, Nicklaus and Woods as the greatest players ever. Hogan won nine majors while Sam Snead was winning seven and Byron Nelson five. Nicklaus won 18 majors while Gary Player was winning nine, Watson eight, Arnold Palmer seven, Lee Trevino six and Ballesteros five.
No one in the Tiger Woods era has won more than three majors, and that list includes only Phil Mickelson, Vijay Singh and Padraig Harrington. Els also has three but one of those came before Tiger arrived on the scene.
Nicklaus won against a group much more adept at winning the big ones. Perhaps that is why he finished second in a major an astonishing 19 times. Woods has finished second in a major five times.
The sense you have about the guys Nicklaus went up against was that they were mentally tougher than the crew Woods faces. A Trevino, for example, knew Nicklaus was the best player in the world, but his attitude was: "If I can get to Sunday with a chance to win, I'll figure out how to get the job done."
Trevino respected Nicklaus but never feared him. The guys who have had the greatest success against Tiger have been players with lower expectations, guys like Bob May, Rich Beem, Shaun Micheel, Chris DiMarco and Rocco Mediate.
What's been missing in the Woods era is a Duel in the Sun epic like Nicklaus had against Watson at Turnberry in the 1977 British Open. The guys who were supposed to play the role of Watson to Woods' Nicklaus just never lived up to the task.
Remember what happened when Woods won the 2002 Masters after going into the final round being chased by five of the top-seven players in the world? Mickelson closed with a 71, matching Woods, but Els shot 73, Goosen 74, Sergio Garcia 75 and Singh 76. Thanks for showing up, guys.
The six guys who finished right behind Nicklaus that day at Augusta National in 1986 all broke par. They applied the pressure and Nicklaus handled the heat. Cink is a nice player and he deserves the silver claret jug, but the only scary competitor he had to stare down was 59 years old.
Tom Watson may not have won the British Open, but he did win a victory for the generation of players he represents. Today's athletes may be younger, stronger, bigger but they aren't necessarily better. And, as Watson proved at Turnberry, they certainly aren't tougher.