News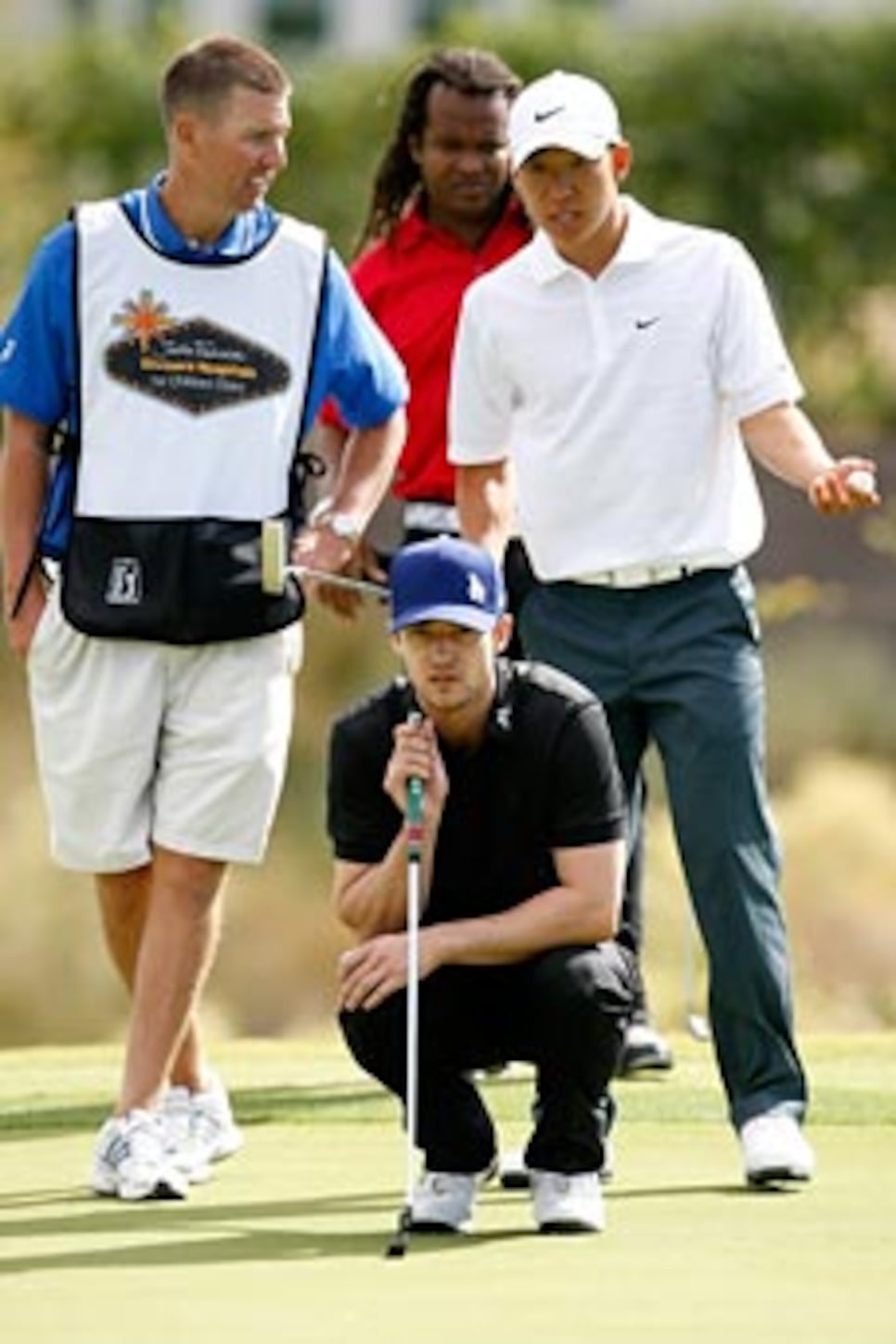 Anthony Kim (right) was lured to Las Vegas by tournament host Justin Timberlake, for whom he caddied in the Golf Digest U.S. Open Challenge.
LAS VEGAS -- Conspicuous by his presence, Anthony Kim turned up in the pro-am as Justin Timberlake's partner on Wednesday at the TPC Summerlin. That's just how he rolls. "He shot me a couple text messages, saying, 'Hey, please come, I'd love to have you at my tournament,' '' Kim said Wednesday. "There was no pressure. Then he called to say I'd play with him in the pro-am."
When J.T. calls, A.K. listens -- but if you listen to those in the circle of concern around golf's problem child, he isn't listening to many people, from Fred Couples and Michael Jordan on down.
At 24, getting a text or a call from the Grammy and now Emmy Award-winner is not that big a deal for a golfing rock star like Kim, who caddied for Timberlake in the Golf Digest U.S. Open Challenge last June at Bethpage Black. What is a big deal is that Kim would throw himself right back into the fire just three days after attempting to put one out.
The Kim exchange with Robert Allenby on Sunday evening at the Presidents Cup is all everybody is talking about, from the caddies and equipment reps to tournament officials and players -- many of them expressing it to Timberlake as he walked the driving range on Wednesday, graciously thanking everyone for their support. Golf's underground rumor mill is buzzing, but A.K. is doing his best to tamp down the flames.
Like when George Lopez caught up with Kim on the putting green after the round. The comedian has never been one to worry about sensitivity training when opening his mouth. "Hey man," said Lopez, about to ask the question everybody wants to ask, "is that stuff Robert Allenby was saying about you true?" Never changing body language, Kim said, "No man, that's B.S.," and Lopez headed off, proving a point in the process.
Whether what Allenby said was true or not, the insinuations are going to follow Kim for probably longer than the current news cycle. The message here: You can't be Walter Hagen in the world of 21st-century media. Allenby put it out there and that has the PGA Tour's media relations department on red alert, which means image-conscious Commissioner Tim Finchem is not happy (note the statement by executive vice president Rick George), and neither can be the folks at Nike and RBC (Kim's sponsors), IMG (his management group) and every U.S. Presidents Cup team member camped out at the Fairmont Hotel in San Francisco -- apparently along with the International squad as well, since Allenby was a member of the International team.
At Harding Park on Sunday, Kim flatly denied the claim that he came back to the hotel at 4 a.m. on the morning of his match with Allenby, or that he was "sideways," as Allenby stated. But in this day and age of Internet immediacy, what's fact or fiction doesn't really matter any more. Allenby put a red flag on Kim, telling reporters gathered around him outside the press tent on Sunday that he lost to "the current John Daly." Those words have already stuck to the blogosphere, and will follow Kim to every post-round interview and pre-tournament news conference until proving that Allenby's words really were "B.S."
The two men issued statements Wednesday, with Allenby apologizing and Kim accepting. Now the hope is the controversy will just go away. Vegas is not exactly the best city in the world to lay low, but in a professional manner Kim turned up to support the tournament host with a new caddie and, he says, a new attitude. "I probably wouldn't be playing the fall if it wasn't for him," Kim said of Timberlake, who lives in a fishbowl and dodges his own share of tabloid controversy in far greater proportions than A.K. will ever face. "He asked me to come last year. I just felt it's supporting a great cause. Justin is one of the most wonderful guys I've met. He's a superstar and you always want to be around a superstar because you always learn something. It's been good to me as far as learning. I feel lucky that he's a friend."
The new caddie is his college roommate, Brodie Flanders. They were on the Oklahoma team that won the Big 12 championship in 2006 and will be together at least through the end of the year as Kim travels from J.T.'s Shriners Hospital For Children Open to Spain for the Volvo World Match Play Championship -- where he could face Allenby -- and New Zealand for the Kiwi Challenge.
Flanders, 25, replaced Eric Larson, who was on the bag for both of Kim's victories in 2008, as well as his 5-and-4 destruction of Sergio Garcia in the Ryder Cup. Hailing from Canada, Flanders said his plan was to go into the commercial real estate business in Alberta, British Columbia, when A.K. made the call. To his credit, Kim has chosen the road on Larson, but noting as all players eventually do that it was time to make a change. "I need to regroup here," Kim said. "Brodie knows me. He knows my personality. You know, (he's) young, (and brings) just a little more energy. I know we're going to make mistakes. We're young, but it will be a good outcome."
Thursday's round did not have a good outcome. In their debut, Kim and Flanders were four under standing on the 11th tee of the TPC, five strokes off the eventual lead. But over those final eight holes, Kim was playing like he needed Phil Mickelson or Jim Furyk as a partner, dropping five strokes, including a double bogey on the par-3 17th, to shoot one-over 72. Friday, he fought back with a 68 but missed the cut by two strokes. This was not the Kim who by appearances had his act together leaving Harding Park. In other words, the MC was no reflection on the caddie change, just as the 3-1 record wasn't an indication of how Kim played in the Presidents Cup.
There were those around the U.S. Presidents cup team -- including captain Couples and Kim's father Paul -- who thought dismissing Larson was a mistake. It goes back to A.K. doing his own thing, not taking too much advice lately -- other than to keep as quiet as possible until this blows over. "There isn't one person who said, 'Good move,' '' said Larson, who is back on Mark Calcavecchia's bag next week at the Frys.com Open in Scottsdale. "Going down the fairway the first day, Phil (Mickelson) said we should stay together. I told him, 'Phil, if you feel that way, you should talk to him.' But he's not listening to anybody."