News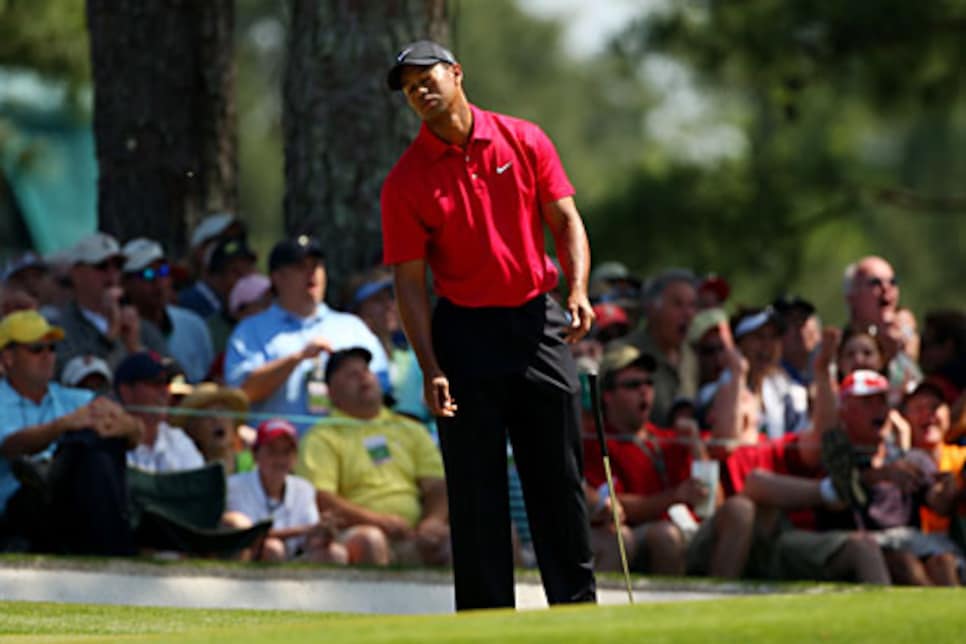 Even before his knee injury, Tiger Woods' light early-season playing schedule may have been a factor in a string of near-misses at the Masters.
Tiger Woods' new Gatorade commercials feature young Eldrick in cartoon form, an ad campaign entitled, "Woods of Wisdom," although we've rarely seen the world's best golfer more animated than he was at the Masters. Despite numerous trips to the pine straw, despite all the fussing, cussing and club tossing, Tiger's high-decibel charge Sunday afternoon would earn him a tie for sixth by week's end.

Not bad when you consider the shoddiness of Woods' play overall. Not good when you realize he sat one stroke off the lead with two holes to play, then went bogey-bogey to finish four shots out of the playoff. In many ways, Tiger's 2009 Masters was a virtual replica of his 2007 performance, when he all but chased down Zach Johnson before his comeback succumbed to mistakes at the 15th and 17th.
In a Masters preview story I wrote several weeks ago, I theorized that changes to Augusta National have made it harder for Woods to win there; the tighter course hurts his cause more than the additional length helps him. With the aid of hindsight and four starts in '09 as evidence, I'm also convinced Tiger needs to play more to reach his peak competitive form. Not because of last year's knee surgery, but to capitalize on a career trend that has defined his success in recent years.
Woods is expected to play next week in Charlotte, then again the following week at the Players Championship -- the first time since March '08 that he has appeared in back-to-back events. Eight months of inactivity has everything to do with that stretch, but since remodeling his swing under coach Hank Haney, Tiger's best golf has come during the second half of the summer, when he's playing frequently and rarely taking more than a week off between starts.
Let's go back to mid-2005, the point at which Woods became comfortable with the Haney method and launched his latest extended period of dominance After missing the cut in Dallas that May, Tiger played seven times over two-and-a-half months, winning twice and finishing no worse than T-4. Not once did Woods skip consecutive tournaments during that run. It was a scheduling pattern he employed with even stronger results the following summer.
From the 2006 British Open through Labor Day weekend, Tiger won five straight events while taking just two weeks off. He did basically the same thing in '07: four victories and a T-2 in five tournaments over a seven-week span of August/September. Here's a number that should grab your attention: 13 of Woods' 20 victories from 2005-07 came between the British Open and the end of the regular season.
No one knows all this stuff better than the guy doing it, but for whatever reasons, Tiger has shown no interest in altering his competitive calendar. He picks up a couple of early-season victories, usually at Torrey Pines and Bay Hill, then plays his sloppiest golf of the year at Augusta National, which kicks off his lean stretch. The Masters, Wachovia, Players and Memorial have become Tiger's toughest trophy hunts -- he has a total of two wins at those events since '05.
The hotter it gets, the hotter he gets, however, and by mid-July, Woods is ready to win tournaments by the bushel. I think it's because his on-course adrenaline reaches a premium level, his confidence becomes indestructible, two traits easily traced to playing more rounds that matter and spending more time in the hunt.
Given that he has claimed just one green jacket in his last seven tries, Tiger should give serious consideration to playing the week before next year's Masters. At the Shell Houston Open, he would find a course very much to his liking and layout specs meant to simulate the conditions at the year's first major. If that doesn't float the guy's boat, Woods should pay a visit to Augusta National a week or two before tournament week, if only for a day, to acclimate himself with the greens and put his supernatural sensory skills to proper use.
Tiger seems to miss more putts at the Masters than everywhere else combined. I don't doubt for a minute that he feels totally prepared for every round he plays there, but facts are facts, and Woods didn't win 14 major titles while living in Fantasyland. Speaking of which, no major venue on earth better suits him than Bethpage Black, site of this year's U.S. Open. He'll be the huge favorite, of course, and if no more than 10 players have the appropriate combination of power, finesse and patience to win on the Mother of all Municipals, Woods' chances of adding No. 15 in June are anything but a lock.
He's a special man, the greatest golfer ever, but you've got to play to win, and if recent history means anything, Tiger needs to play a lot to win a lot. Whether he'll find that in his Woods of Wisdom is anyone's guess.