News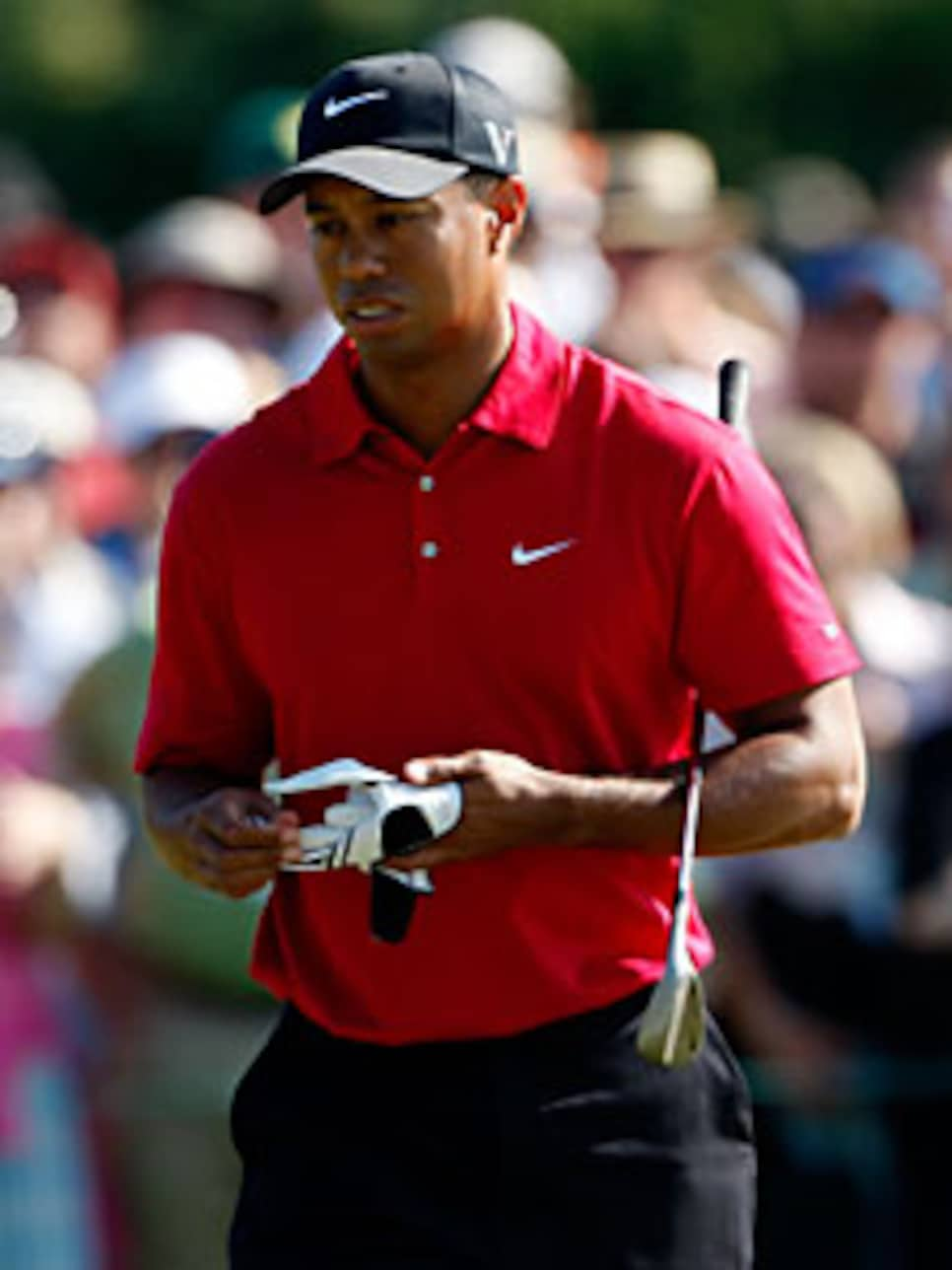 A missed opportunity at the Masters continues to gnaw at Tiger Woods.
BETHESDA, Md. -- Any notion that Tiger Woods has gotten over his disappointing Masters performance was disproved Monday afternoon at Congressional Country Club during a press conference the No. 1 player in the world hosted Monday to preview the third AT&T National, the PGA Tour event he hosts.
Club president Tim Sullivan, clearly nervous, fumbled over his opening remarks in front of about 150 guests, caught himself, and then said, "Yikes, this is nerve-wracking. I know I'll get it back in a second. Just like missing a putt, Tiger."
Woods, shaking his head, knowingly responded, "Done that a lot lately."
The reference was unmistakable. Clearly, Woods was recalling his performance two weeks ago at Augusta National Golf Club. The four-time Masters champion, who was playing his fourth event and first major since undergoing reconstructive knee surgery last summer, finished a disappointing tie for sixth, mainly because of a balky putter.
Woods needed 122 putts on the confounding Augusta putting surfaces, the fourth worst effort among the 50 players who made the cut.
"Yeah, you know, I'm obviously disappointed I didn't win," Woods, clad in suit and tie, said. "I was on the periphery of being in contention and being right there in the mix. I was just a fraction off. I didn't putt well till Sunday, and being a fraction off in that, and I do mean a fraction ... it was just one of those weeks I was just that much away from posting some really good numbers. Unfortunately it didn't happen, and consequently, I didn't win. Hopefully the next tournament I play in, I'll be a little bit sharper than that, and we'll get a W."
When that next start comes, he won't say because Woods adheres to a self-imposed embargo on announcing his commitments until the Friday prior to a tournament. But he made an exception on Monday by announcing his commitment to the event he hosts. He missed last year's event, won by Anthony Kim, due to his knee injury.
"Sorry that I was not able to come up last year. I was on a couch," Woods said with a laugh. "I was watching it, blowing up everyone's phone (at the course) -- (and) players were texting and calling me; just quit calling me. I wanted to find out everything that was going on up here; I missed it so much.
"I can't wait to get out here and play. Just really looking forward to getting onto that Blue Course and, hopefully, win the tournament."
Woods wasn't the only big name to commit early. It was announced Monday that Kim, K.J. Choi, the winner of the inaugural edition, U.S. Amateur champion Danny Lee and former U.S. Open winner Jim Furyk are on the list. So is Ernie Els, who is making his first appearance at the AT&T National. The Big Easy won the 1997 U.S. Open at Congressional.
The Blue Course is hosting the 2011 U.S. Open, so this year's event, scheduled for July 2-5, will be the last at Congressional until at least 2012. Woods will be 36 by then. He's getting older, and though he doesn't feel it, he is starting to sense his transition to another point in the competitive spectrum.
He was asked Monday about Lee and the other youngsters who are starting to make a name for themselves, like Ryo Ishikawa and Rory McIlroy. These teenagers have been directly inspired by and influenced by Woods. The Nike is on the other foot for the game's top player, who still is chasing the major championship record of Jack Nicklaus.
Woods, who will defend his U.S. Open title in June at Bethpage State Park's Black Course, has 14 major titles and trails the Golden Bear by four. He's young enough that he has plenty of time to try to catch Nicklaus, but he's old enough to be a template for a new generation of competitors.
"It's really different, really different for me," Woods said. "Most of the guys that I looked up to and idolized are now on the Champions Tour. For me to be in that same position, it's really different. One, I don't consider myself that old. And then two, it's just amazing how time flies and how many things can happen in such a short span of time."