News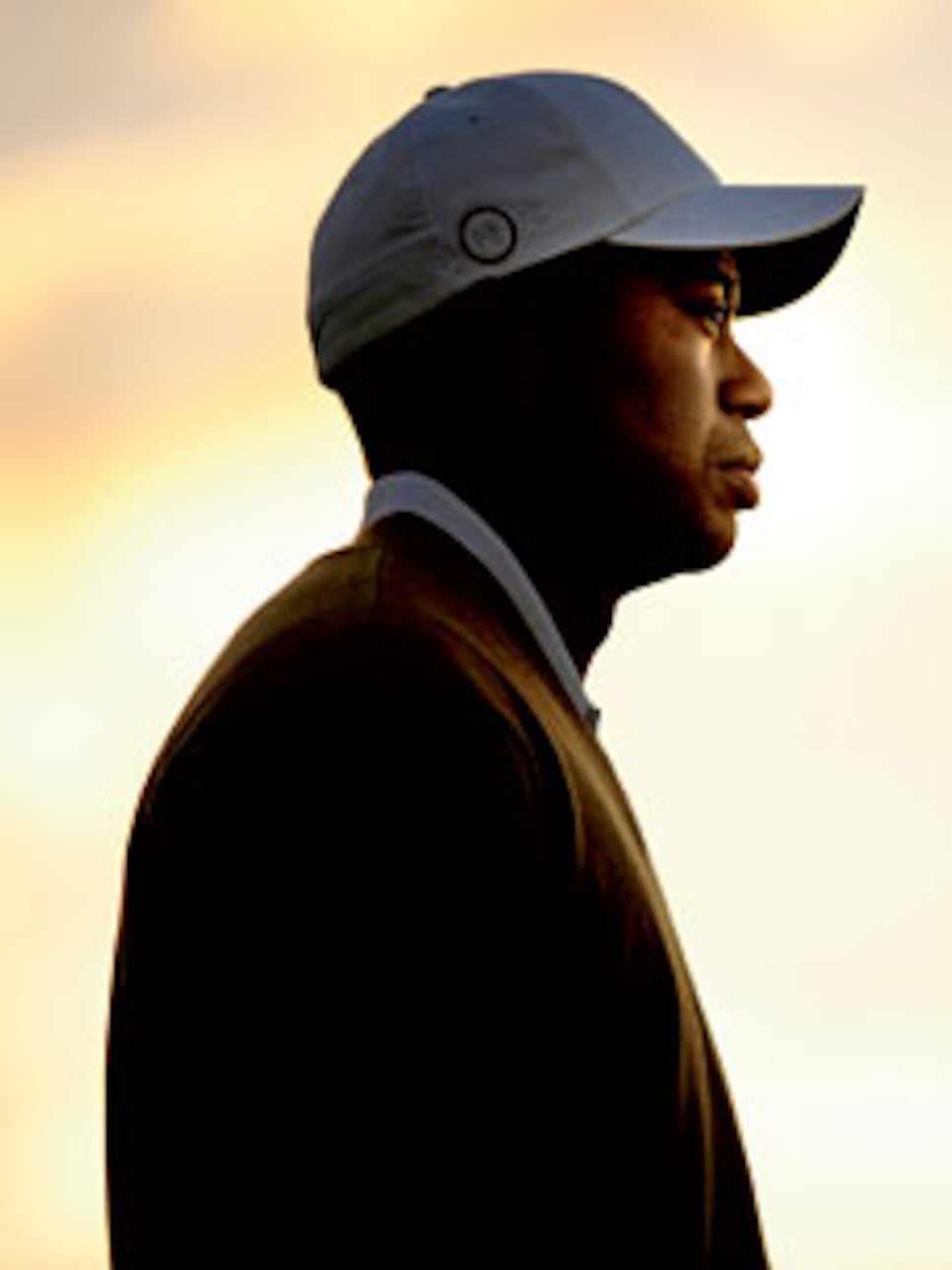 Unanticipated Detour: A Nov. 27 car wreck triggered days of scrutiny about Woods' life that culminated with his Dec. 11 acknowledgment of infidelity. Woods was on top of the world when his 1997 Masters triumph drew record ratings for a golf telecast.
Any jealousy among players when Tiger Woods turned pro in 1996 at age 20 with a staggering $67 million in endorsement deals was buried eight months later beneath two even more remarkable numbers. Woods won the Masters by a record 12 strokes, and the final round pulled a football-like 14.1 TV rating. Two lights went on for even the dimmest bulb on tour: This guy is really good, and he is going to make us all very rich.
Both assessments were correct. Woods has won 14 professional major championships, four short of Jack Nicklaus' record, and PGA Tour purses have climbed from $66 million in 1996 to $277 million this year. Now, two other evaluations need to be made, and the fact they come with no clear numbers attached is extremely unsettling: When will Woods return to competitive golf after disturbing revelations about his private life? And what will be the economic impact while he is gone?
After two weeks of letting others use accusation, rumor and innuendo -- not to mention text messages and one very incriminating voice mail -- to establish a sad storyline that began Nov. 27 when the golfer was hospitalized after a car crash near his Orlando home, Woods announced Dec. 11 he was taking "an indefinite break from professional golf." Just as important, this mulligan apology resonated with more sincerity than his previous attempt as he acknowledged the "hurt my infidelity has caused so many." That was much more specific than the vague "transgressions" for which he apologized Dec. 2.
It is the open-ended nature of Woods' statement that is troubling for all the stakeholders in golf -- the PGA Tour, its television partners, title sponsors, companies who pay millions to Woods for endorsements, his fellow players, the media and fans. No one knows what "indefinite" means, probably not even Woods. But golf does know what life is like without Woods. The Nielsen Company compared network TV ratings for the third and fourth rounds of tournaments played by Woods after the 2007 U.S. Open with those same tournaments in 2008, when he was sidelined following knee surgery, and found his absence sliced ratings in half.
That 14.1 number on Sunday of the 1997 Masters is the highest for a golf telecast; second-best is the 13.3 recorded when Woods completed the Tiger Slam at the 2001 Masters. The highest TV rating over the last 29 years for each of the four majors is a Woods victory. When Phil Mickelson thwarted Woods' quest for a seventh consecutive victory at the 2000 Buick Invitational at Torrey Pines, the final round got an 8.0 rating, besting the NBA All-Star Game, which pulled a 6.9 in a head-to-head match up.
The Torrey Pines tournament, where Woods normally starts the season, is more than a month away, but even the most committed cynic would say that's too soon for him to return -- not if his vow to repair his marriage with Elin Nordegren and "focus my attention on being a better husband, father, and person" is to be taken seriously. The Arnold Palmer Invitational, which begins March 25, might be a more reasonable option. The King himself could welcome him back; Woods could stay at his own home in Orlando; and Bay Hill is a gated community, offering greater refuge from the media than some venues. It would also give him an event to prepare for the Masters.
If Woods' first event back is a major, the Masters (beginning April 8) makes the most sense since it is run by a private club that can restrict media credentials and control how the media operates. No one knows this better than former Augusta National communications director Glenn Greenspan, who now works for Woods. An unlikely return venue would be the British Open at St. Andrews, where the British tabloids would make TMZ and RadarOnline look like Weekly Reader. Is it possible Woods could miss an entire year in which the U.S. Open is played at Pebble Beach and the British Open at St. Andrews, where he has won all three majors he has played at those venues as a pro? "If he is really serious about fixing his life, Tiger could very well take the entire year off," said one high-ranking industry executive who will be hurt by Woods' absence.
In addition to taking a break from competition, Woods will have more time on his hands because his endorsement partners will be using less of it. While Nike, Gillette and Gatorade -- part of Woods' $100 million-a-year stable of partners -- are not likely to drop him anytime soon, they will most likely scale back their use of him in advertising. But Accenture, a global consulting firm that features Woods in ads praising his decision-making, ended its five-year relationship with him Dec. 13, saying Woods is "no longer the right representative" after the "circumstances of the last two weeks." (Golf World's sister publication, Golf Digest, has had a long-standing relationship with Tiger Woods to provide instruction articles for the magazine, and said it does not have any plans to change that.)
Early in his career Woods' greatest strength and weakness were the same: He believed he could pull off any shot at any time. He became a great player only when he learned the hero shot needed to be employed selectively. But that tendency to be reckless and feel invincible apparently extended to his private life. In a stunning series of accusations, the idolized Tiger was demoted in the public's eye to the scrutinized Woods.
Still, he is young -- he turns 34 on Dec. 30 -- talented and one of the world's most recognized celebrities. His return, whenever it occurs, will be a story that spills off the sports pages onto the front pages. "So many folks have followed him because of his stoic professionalism -- his preparation, focus and results -- that I think everyone will watch [his return] to see to what extent all the stuff off the golf course is going to affect his ability to play," says David Carter, executive director of the University of Southern California Sports Business Institute. Carter says that interest will only build if he wins.
Woods has not been seen in public -- except by those at the accident and the hospital -- since the Stanford-California football game Nov. 21. Other pros reacted with concern when initial reports said Woods was seriously injured in a car crash, then shock when more details began to emerge. Finally, they were swept up in the same fascination that plopped Woods on the front of tabloids for days and made him the punch line for late-night comedians.
While the only player openly critical of Woods was Jesper Parnevik, who introduced Tiger and Elin, even Steve Stricker, who has known Woods for 15 years, questioned his handling of the revelations. "I'd like to see him come on TV and just pour it out a little bit," Stricker said. "[But] I don't know if that'll ever happen."
Parnevik was harsher. "I have lost all respect for him, primarily as a man and a father," Parnevik told the Swedish newspaper Aftonbladet. "It doesn't even feel like it matters what he has done on the golf course. We thought better of him, but he is not the one we thought he was."
The PGA Tour followed Woods' apologies with statements of support. And while this is an important year for the tour, with as many as 10 title sponsorships up for renewal (and at least four already saying they are leaving), the biggest immediate impact of Woods' departure is on the PGA Tour's television partners: CBS, NBC and Golf Channel.
"We've obviously done golf tournaments without Tiger before," Sean McManus, president of CBS Sports, told The New York Times, "but we all know how much better they do when Tiger is playing well on the weekend. We'll adjust, but I guess a lot of it depends on what the definition of the word 'indefinite' is."
Twice since Tiger Woods won that '97 Masters and became a global icon at the age of 21 he has rebuilt his golf swing -- despite widespread criticism -- and both times emerged a better player, displaying remarkable mental toughness along the way. Now Woods faces a far greater challenge: rebuilding both his marriage and his reputation amid a firestorm of rebuke and ridicule.
"Is this going to make him stronger?" asked Kenny Perry. "We don't know. We'll find out. Is this going to get inside his head a little bit and really going to mess with him? [Is the crowd] going to verbally abuse him out there on the golf course? I think the sponsors will hang with him. I don't think it's going to change our tour next year at all. [But] you know, only time will tell."
If ever there was a need for Woods to pull off a heroic shot, this is it. If ever there were someone who could do it, it is Woods. One thing we have learned is not to underestimate his ability on the course. Now he needs to be equally great off the course. Winning inspires selective memory in a public that craves athletic stars, as many fallen stars can attest. But what we don't know in this case is when Woods will return to competition and the healing process can begin. For the PGA Tour, it can't come soon enough.