News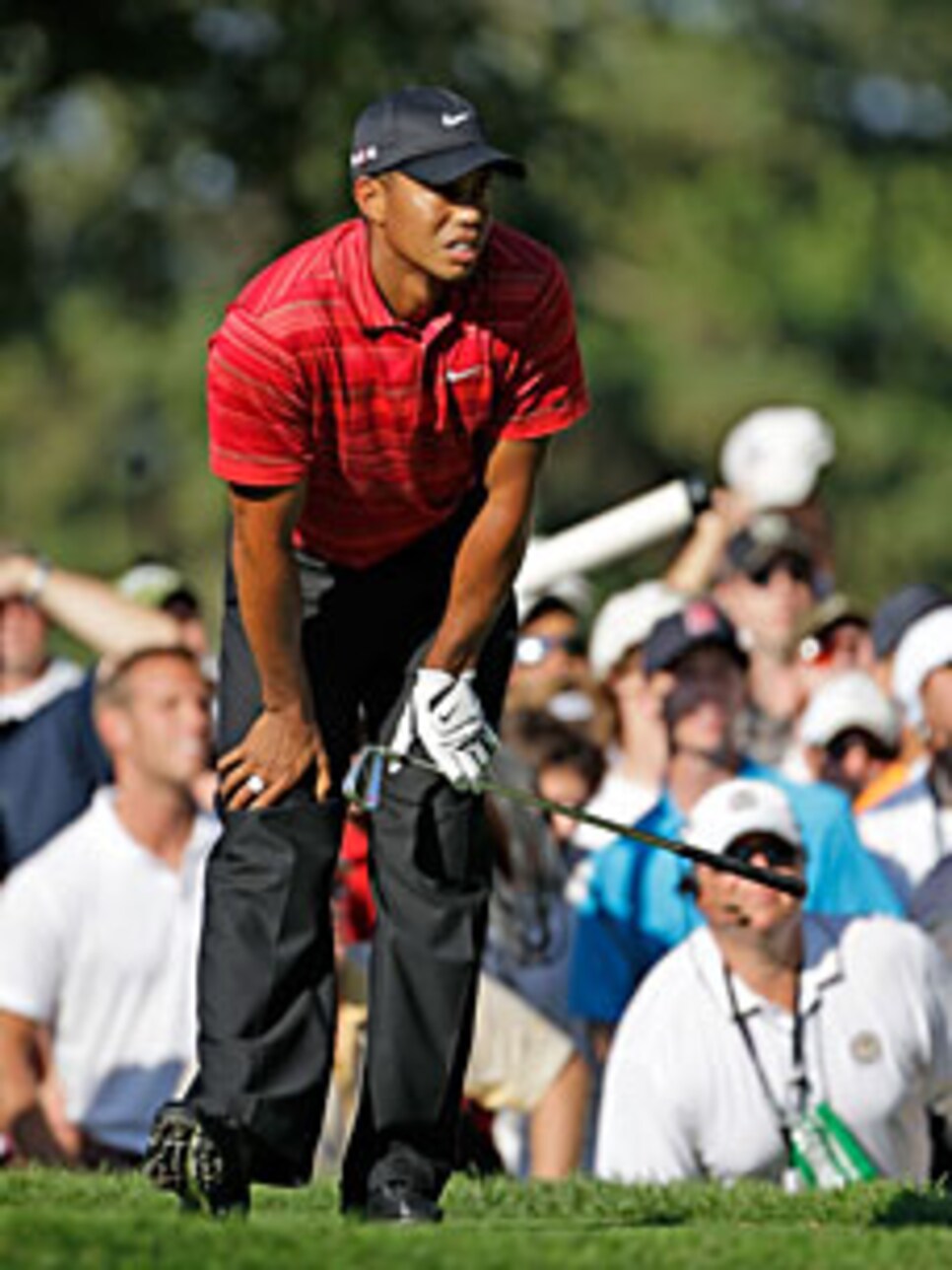 Tiger Woods' final-round performance at the PGA was uncharacteristic, but it may not be an indication of a trend.
The editors wanted something on the death of the Woods Dynasty, on how Tiger's vulnerability was exposed by a little Korean dude named Yong-Eun Yang last Sunday at the PGA Championship. By theory, anyway, Yang's stunning victory will convince anyone with major-title aspirations that Woods is no longer an unstoppable force, that his legendary willpower has limits, that he can be overtaken down the stretch at golf's most important tournaments.
Call me a moron, but I don't see it that way, certainly not in terms of Yang's accomplishment redefining the competitive landscape. Historic? Absolutely. All 14 of Woods' majors had come after he held at least a share of the 54-hole lead, and that streak is over. Surprising? Obviously. Yang trailed Tiger by two strokes entering the final round but still teed off at odds of 25-1 to win, presenting a hefty payoff for anyone smart enough or brave enough to bet against conventional wisdom.
As upsets go, they don't get much bigger. A poll in this week's issue of Golf World ranked Yang over Woods as the most improbable of golf's modern era, although I still think Ben Curtis' triumph at the 2003 British Open was every bit as stunning. Curtis beat Woods, Vijay Singh, Davis Love III and Thomas Bjorn, all of whom were in groups behind Curtis, who posted early and ended up hoisting the claret jug.
We're talking about a first-time winner on foreign soil, a guy ranked 396th in the world who showed up at Royal St. George's that week without a caddie. The strongest argument against Curtis is that he wasn't paired with any of the big names and didn't have to deal with any related pressure down the stretch. I made a lousy case for that upset on this week's "Grey Goose 19th Hole" and both panelists objected to my take, but every shocking result comes with a different set of parameters, which is why the topic can lead to one of those conversations where everyone agrees to disagree.
Yang was 110th in the World Ranking entering the PGA. He'd beaten Tiger in late 2006 at the HSBC Champions in China and picked up his first PGA Tour victory at the Honda Classic in March. He wasn't a total unknown like Curtis or John Daly (1991 PGA), but at age 37, a guy with some big-game experience and at least something on his resume, much like Japan Tour refugee Todd Hamilton, who had won the 2004 Honda before knocking off Ernie Els at the British that summer.
But enough on all that. There is no downplaying the astonishment factor that emerged last Sunday at Hazeltine, especially from the poise exhibited by Yang as he pulled even with Woods, then ahead of him with an eagle at the par-4 14th, then rebounded from a three-putt bogey at No. 17 with a spectacular closing birdie to finish three shots clear of Eldrick Almighty.
It was great stuff from a heavy underdog, but a long-term effect? Don't hold your breath. I can see Tiger winning two or three majors by huge margins in 2010 faster than I can see him becoming an easy target or struggling to cope with the bull's-eye on his back. Only time will tell, but it's funny how the future can end up looking very similar to the past.
The law of averages. About half of the tour's 54-hole leaders go on to win that week, so Tiger's ability to get the horse in the barn 14 straight times in majors (and in 47 of 50 wins overall) registers somewhere between phenomenal and impossible. Any mathematician will tell you probability was bound to catch up with him -- at some point, every prodigious streak becomes a victim of its own excess.
Bigger leads obviously are easier to protect than smaller ones, and in recent years, Woods has not blown away fields to the same ruthless degree as he did at the beginning of the decade. He led Chris DiMarco by three after three rounds of the 2005 Masters but needed that miracle chip-in at the 16th and a playoff to claim major No. 9. In his five big titles since, Woods has matched that three-stroke margin just once ('07 PGA). Sooner or later, Tiger would have to protect one of those leads without his best stuff. Somebody within striking distance would hang around, hit a couple of crucial shots and ride that momentum into history. Somewhat amazingly, it didn't actually happen until last week.
No names, big games. Yang is only the latest example of how Woods' toughest major battles have come from the least likely sources: Bob May at the 2000 PGA, Rich Beem on the PGA's previous voyage to Hazeltine in '02, and of course, Rocco Mediate's epic playoff tussle at last year's U.S. Open. It would be silly to think Woods' competitive intensity fluctuates according to the stature of his opponents, but a change in his competitive mindset, which can be traced to his victory at the 2006 British Open, may stem from the belief that others will make mistakes, and ultimately, clear his own path to victory. Those less talented, or with less experience in the big hunt, are more apt to do the clearing.
Yang proved to be an exception. He wasn't airtight down the stretch, but he was close, and his body language was reflective of a guy totally unfazed by the enormity of the Tiger Atmosphere. For instance, when he chose to putt out on the 16th, Tiger appeared a bit miffed, but Yang was only doing something Woods himself used to do.
No backdown, no compromise. Maybe that's easier to do when you're a nobody whose Sunday tee time is likely to become your one shot at immortality -- and no one's giving you a chance.
The game plan. Since winning that '06 British without a driver -- he hit it once on the back nine of the first round at Royal Liverpool, then didn't use it again -- Woods has fallen in love with the conservative mode on major-championship weekends. We saw it on numerous occasions at Hazeltine, most notably when he chose to lay up after a big drive at the par-5 seventh.
It's a sound strategy when you're making putts, but when you're not, you get Y.E. Yang coming from behind to win by three. Theoretically, there is no reason for Tiger to dramatically alter his safety-first style. This was his failure after a long run of success, but it's hard to imagine him not playing more aggressively the next time he finds himself in control of a major. If there's anything we should remember about Eldrick Almighty, it's that he always comes back stronger. Ain't no reason to believe that will change anytime soon.