News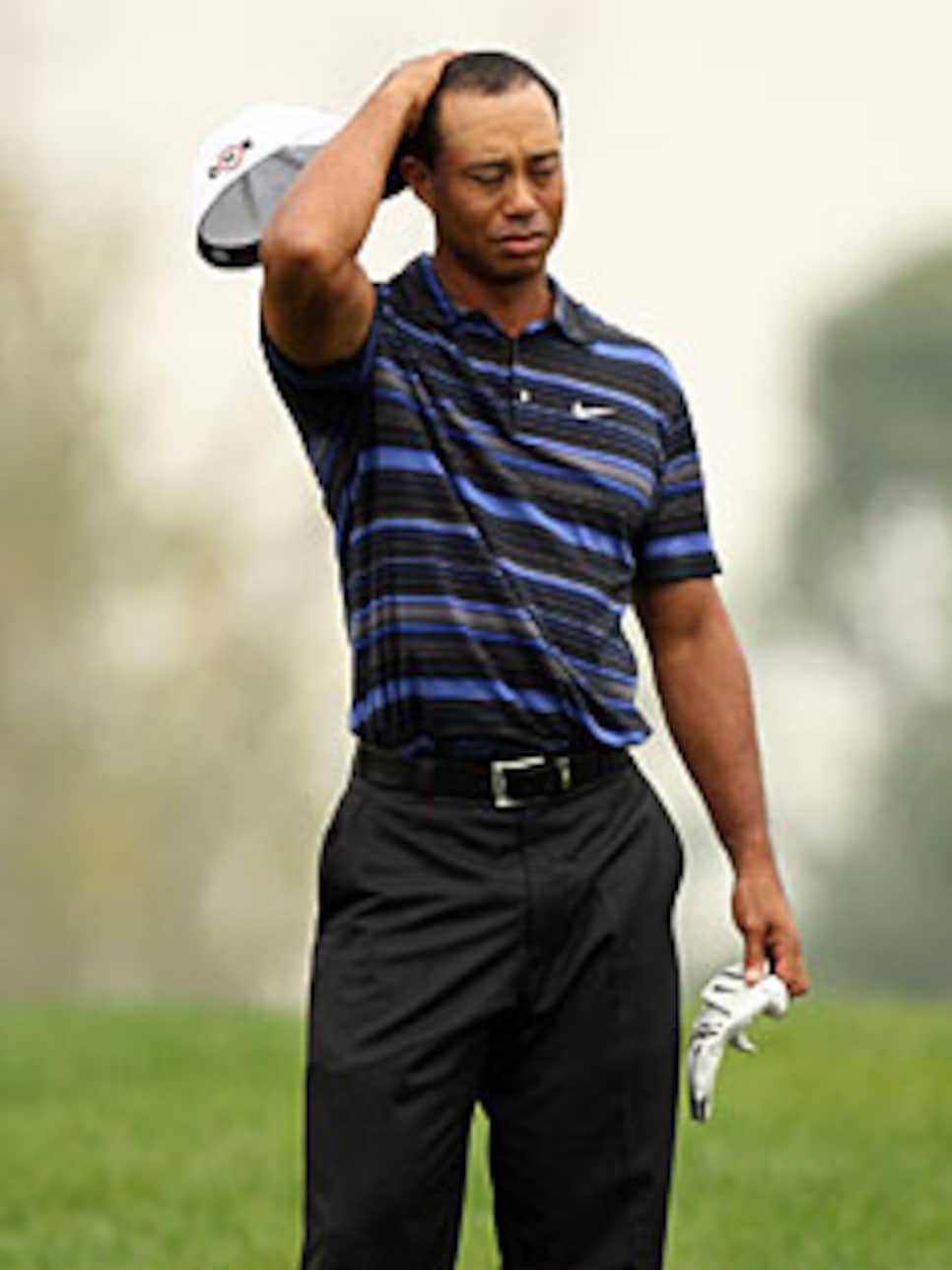 Tiger Woods' hiatus may be bad for golf, but it's still the right thing for the player and his family.
One of the things learned after decades working as a journalist is that when news is announced on a Friday evening, it's never good. The announcement made on Tiger Woods' website that he is taking an indefinite break from professional golf falls into that category. The statement sent shudders through all who care about the game, in large part because it is such an open-ended proclamation.
At the same time, the words posted by Woods on his website serve as a glimmer of hope that he is channeling his ferocious competitive focus toward the challenge of fixing his personal life. The Tiger Woods who returns to the game may well be a better person, and that could help make him even a more remarkable player. The concern of all here, however, should be for the family man and not the touring pro.
The disturbing thing about the announcement is that we really don't know how long Woods will be away from golf. Could he still come back at Torrey Pines? Perhaps. That's a month and a half away. Might it be at Arnold Palmer's event in March near Tiger's home in Orlando? Makes sense. How huge of a story would it be if he returned to competition at the Masters? And what would it mean for the game if Woods took the entire 2010 season off? The point is no one -- probably not even Tiger -- knows how long he will be gone.
But we need to embrace a bigger picture here. For those whose concern is narrowly focused only on Woods the professional golfer, the phrase in his statement "an indefinite break from professional golf" is disturbing and unsettling. But for those who care about Woods as a person there is reason for hope in the fourth statement he has issued from his seclusion since his car found a tree near his Isleworth home.
For the first time, Woods tells us the nature of what until now he only referred to as "transgressions" when he says in the new statement, "I am deeply aware of the disappointment and hurt that my infidelity has caused to so many people." That's the first time he has used the word infidelity, confirming that at least some of the gossip about him is true.
Woods' apology rings a tad more true this time than the one issued on Dec. 2 because it is much more specific. He again pleads for privacy for himself and his family -- a plea that will certainly fall on deaf ears for those media outlets that pay for their news. Again he says he needs to "focus my attention on being a better husband, father, and person."
This time the words carry a greater degree of believability because of the accompanying promise -- to step from the game that has made him famous while he wrestles with the enormous issues confronting his life. Implied in his break from competition is a promise to work on saving his marriage and dealing with the pattern of behavior that got him in this mess.
If there is one thing we know about Woods it is that he is as a fierce of a competitor as anyone has every seen in any sport. This year, I walked all 72 holes with Woods at the U.S. Open at Bethpage and in doing so was reminded of how hard this guy works on the golf course. He was never really in the tournament after a bad finish in the first round, but he never gave up, never quit trying, never hit an indifferent shot.
Clearly, that is a drive for perfection he has not directed toward his family life. Now is his chance. How many times have you seen Woods facing a shot that the wise ones who bring us golf on TV have deemed to be impossible, only to see Tiger pull off the shot? Too many times to count. In a sense, he faces the same difficult lie in his personal life. But if he gives it his full effort, he still has reason to think he'll be successful.
Perhaps it shouldn't come as a surprise that Woods' personal life has been less than perfect. Here is a guy who has been on the world stage since before he was a teenager, and at the age of 20 was given pretty much all the money he would ever need. If anything, it should be surprising that Woods didn't get into trouble sooner. Most 20 year olds with that much money would have. Hopefully, what all this has been is a massive wake-up call for the game's most talented player to try now to become a lot better husband and father.
Maybe there is nothing good about hearing that Woods is walking away from professional golf for an indefinite period of time, but there is hope hidden here because if he tackles his personal issues head on he may emerge as an even better player. Certainly, his skills are not going to disappear.
I know this much from watching Woods for the last 15 years: Never underestimate him. He has reinvented his golf swing twice since I have been covering him, emerging as a better player both times, and he won a U.S. Open on one leg. I saw him win at Pebble Beach when he was seven strokes down with seven holes to play. He can do what can't be done.
Now he needs to perform at such a level in the arena where it matters most. It will mean nothing if, decades from now, Woods is remembered as the greatest golfer ever but a tragically flawed human being. This is the first step toward fixing those flaws. And we have to believe that Woods can pull this off until he gives us a real reason to give up on him.
Tiger Woods' hiatus from professional golf will inflict a short-term hurt on tournaments, the PGA Tour and fans. But if Woods returns a happier, healthy person, it will be better for all the stakeholders in this proposition -- most importantly Tiger, his wife Elin and their children Sam and Charlie. This is an indefinite break from pro golf for Woods but it is a definite sign of a commitment to righting some wrongs.
In his statement Woods says: "It may not be possible to repair the damage I've done, but I want to do my best to try." When I have seen Tiger do his best on the golf course I have witnessed remarkable things. Let's hope we now see the same miracle worker off the golf course. This is a start.