News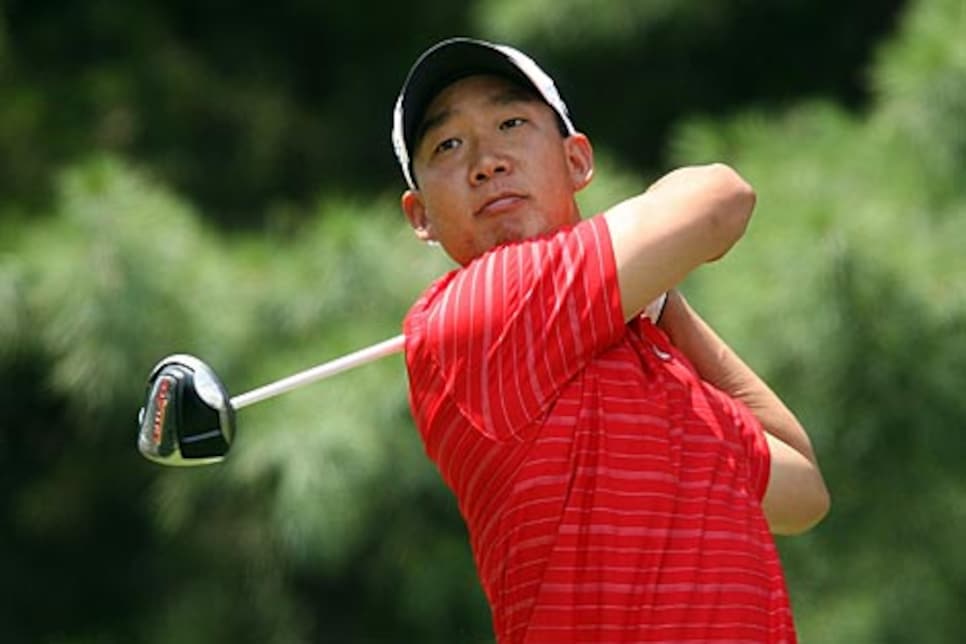 A 68 on Saturday gave Kim a share of the lead at 10-under and put him in the final pairing with Woods.
BETHESDA, Md. -- It's the heavyweight bout everyone wants to see. In this corner, wearing red, representing the establishment, the champion . . . Tiger Woods.
And in the other corner, wearing a cap two sizes too big, representing the youth movement, the challenger . . . Anthony Kim.
Even though they're not that all far apart in age -- Tiger is 33 and Kim is 24 -- they're from totally different generations. Woods caught the tail end of the Nicklaus Era. But when Kim talks about Jack, it's usually in a sentence that ends with 'In-the-Box.'
Tied for the lead after 54 holes of the $6 million AT&T National, Woods and Kim will be paired together Sunday for the first time. Don't think it's going to be the last.
Kim knows what to expect.
"He's going to be wearing a red shirt," he said.
And what color shirt is Kim going to break out?
"Probably blue," he said. "My favorite color."
Woods and Kim aren't the only players who have a chance to win at Congressional Country Club, but it's safe to say they're the two that are going to draw the most attention.
For Woods, that's completely normal. For Kim, he's learning how to be a star; he's growing into the role, and he's going to spend all day Sunday trying to beat the biggest superstar in his sport.
Woods and Kim put themselves on a collision course in Saturday's third round at Congressional, where Kim shot a two-under 68 despite an ugly bogey from the fairway at the par five 9th and Woods shrugged off a double bogey at the pesky par four 11th to finish with a 70. After 54 holes, Woods and Kim are both at 10-under 200, but they're also closely trailed by a scrum of 10 others who are within four shots.
Those names are Michael Allen, Cameron Beckman, Jim Furyk, Rod Pampling, Lucas Glover, Ryuji Imada, Curt Kresge, Ryan Moore, Danny Lee and Bryce Molder. But the two names that matter most right now are Woods and Kim.
"As we all know, AK can play," Woods said. "You know, as time has gone on, we've seen the talent, we've seen him grow as a player, and it's just a matter of time before he starts winning golf tournaments because you just need the experience."
So why is the Tiger-Kim matchup so intriguing? Part of the reason is what they stand for -- Woods is the standard by which all players are measured. Kim is the self-assured new kid on the block only too eager to insert himself into that same discussion.
It's probably natural for Kim to feel some kind of kinship with Woods, but there was a telling moment on the chipping green before the third round of the Masters that showed how Woods treats his would-be rivals. Kim was already there and saw Woods walking over from the driving range on the other side of Magnolia Lane, so Kim faced Woods and waited for Woods to see him. Tiger never looked up. He passed within 10 feet of Kim and ignored him.
It was nothing personal, just a business-as-usual card played by Woods.
Kim said when he was about nine or 10, he used to practice, thinking he was in the final round with Woods, telling himself he had to make a 10-foot putt to win the tournament. Kim remembers it was usually dusk and he was waiting for his dad to pick him up from the golf course.
Woods had a different experience as a kid. His list of pretend foes was strictly old school. Woods said he practiced as if he was playing against Nicklaus, Palmer, Hogan, Snead and Sarazen.
Asked how such a generation differs from Kim's story about pretending to play against him, Woods smiled.
"I'm aging, that's what it means," Woods said.
Kim said he's replayed those practice moments in his head.
"But I have to actually not think about that . . . I just have to be in the moment."
Kim said he's going to have to make sure he keeps his mind on his business instead of Woods: "It's going to be hard not to watch him because he's in my group."
Woods said he would wait until Sunday to get himself pumped up. He planned to watch fireworks with his family, and then get some rest. He would be ready for Sunday when it was time.
"There's no sense in wasting energy."
The energy level Sunday in that Woods-Kim final pairing may be something special.