News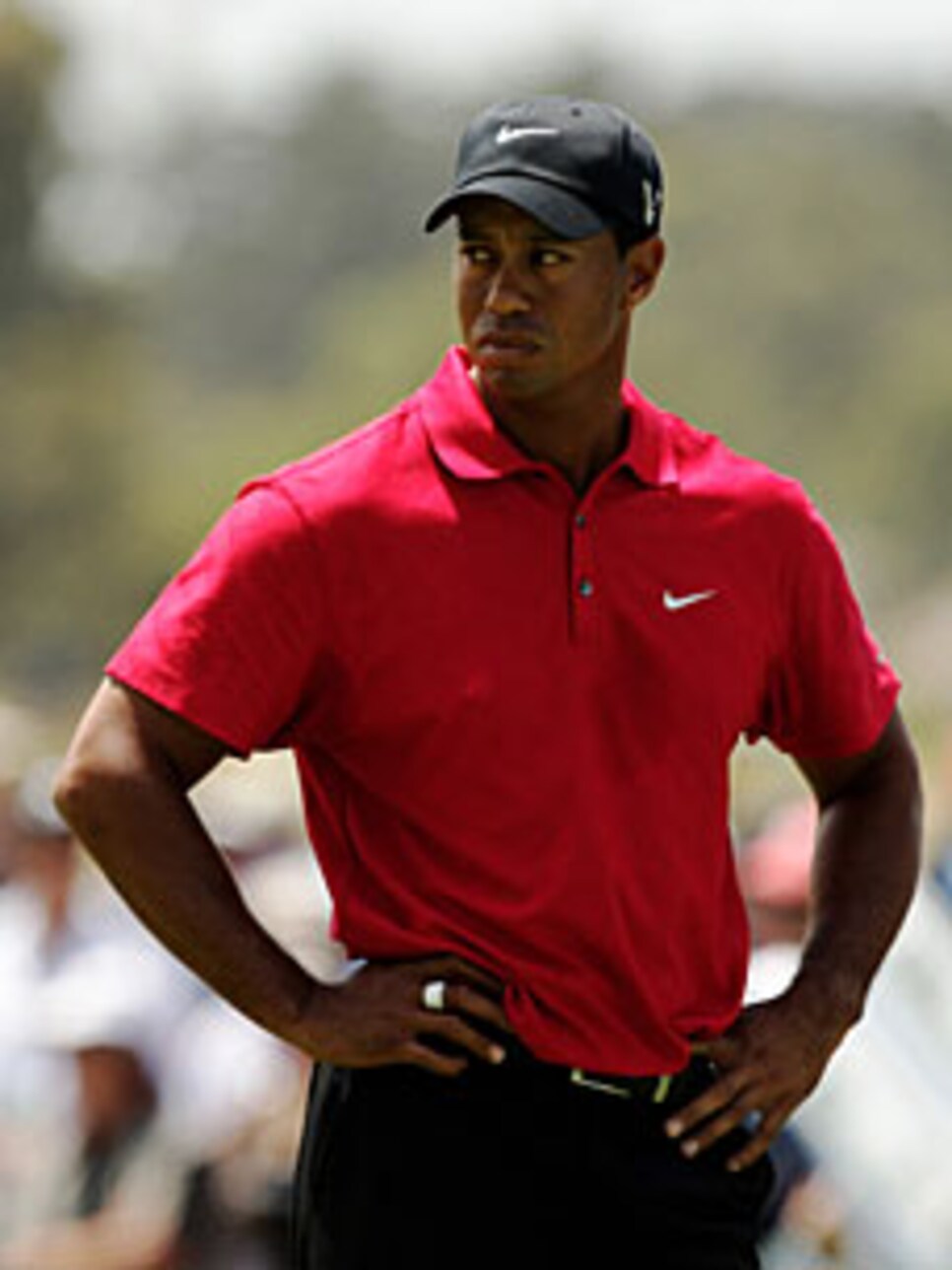 Tiger Woods was scheduled to play and serve as tournament host for his own Chevron World Challenge this week.
Regardless of what Tiger Woods has given us, we have always wanted a little more. Once upon a time, we thought Woods ought to be concerned as much with grand ideals as the idea of a Grand Slam, that he should throw himself into racial and social causes. In recent years the requests have been more modest: that he should step in when his caddie behaves like a constable, or to keep his own temper in check on the course, sparing us the profanity and club-throwing befitting a needs-to-grow-up teen instead of the most famous sportsman in the world.
The old Tigermania, with men in full animal costume and boys climbing trees trying to get a glimpse of their hero, seems positively quaint compared to the Tigermania that emerged last week, a smoldering fire stoked not by adulation but by curiosity -- and one that Woods, two days after his car accident, attempted to douse with a 181-word statement on his website.
"I'm human and I'm not perfect," Woods said in the half-dozen words that seemed most from the heart, and, "This is a private matter and I want to keep it that way," in the baker's dozen that captured his mindset not only in the wake of an embarrassing situation but his life at large.
Woods is chasing the records of Jack Nicklaus, but he has channeled Joe DiMaggio, even naming his yacht for the quality that the late Yankees slugger treasured most: "Privacy." It is common for Woods' physique, buffed by hours in the gym, to be likened to that of an NFL strong safety. When it comes to keeping folks a safe distance from the private Tiger, though, he is more like a halfback in stiff-arm pose. As demonstrative as Woods can be when he is on the course, he is admirably adept at old-school reserve off it, much more likely to be found on page one of the sports section than "Page Six".
Woods is no stranger to great seats at big sporting events, or mingling with stars at Tiger Jam events for his charities, but he enjoys ordering a $5 footlong without a fuss at his local Subway. For many years he has come to Golf Writers Association of America dinner on the eve of the Masters to collect a player-of-the-year award. As with other public appearances, he is to the point and gracious in his remarks. But he doesn't stay for the chicken.
Some time ago I wrote something mildly critical of Woods. It's not unusual for people to write in when the topic is Tiger, who can be a lightning rod for people on either side of an issue, but this reader phoned, concerned that Woods might get upset and stop talking to the press. I had to inform the gentleman that Tiger wasn't in the habit of giving me -- or anyone else, for that matter -- one-on-one interviews. Woods gives pre-tournament press conferences and post-round post-mortems as obliged, and he can be expansive when talking about the game that he has come as close as anyone to mastering. But he prefers to let his play and his life speak for themselves, as DiMaggio and Hogan, among other American sports icons, did.
It is ironic that Woods' driving misadventure diminished, temporarily, state dinner attendees (and reality show aspirants) Tareq and Michaele Sahali from all the cable and internet attention they were getting. Woods is as far removed from having a reality-show mentality as one could get, yet in today's culture, celebrity could not have a looser definition. Once seized by the 24-hour news cycle, everything is equal, achievers and pretenders alike, the more gossipy the better for many of those who create and consume it.
In this American Idol world, everyone has an opinion but knowledge is optional. And as Woods seemed to find out in the 48 hours after his accident, silence is not always golden. Two comments posted within seven seconds of each other early Monday morning on tigerwoods.com staked out the two poles in Tiger World, post-car accident.
"Tiger, take it easy, rest and forget about the media and know that you deserve your private life [sic] whatever anyone else thinks or says. Thanks for all you have given the sport and fans."
That was immediately followed by: "Just tell the truth. You are sounding like a rich brat that is trying to hide something. My opinion is that you are just another rich brat. Just like Paris Hilton. Fess up and take your medicine like a man."
After what happened inside those Isleworth gates, and the frantic reaction outside them, Woods must most of all yearn to be a golfer, off at dawn, when the greens are perfect.