News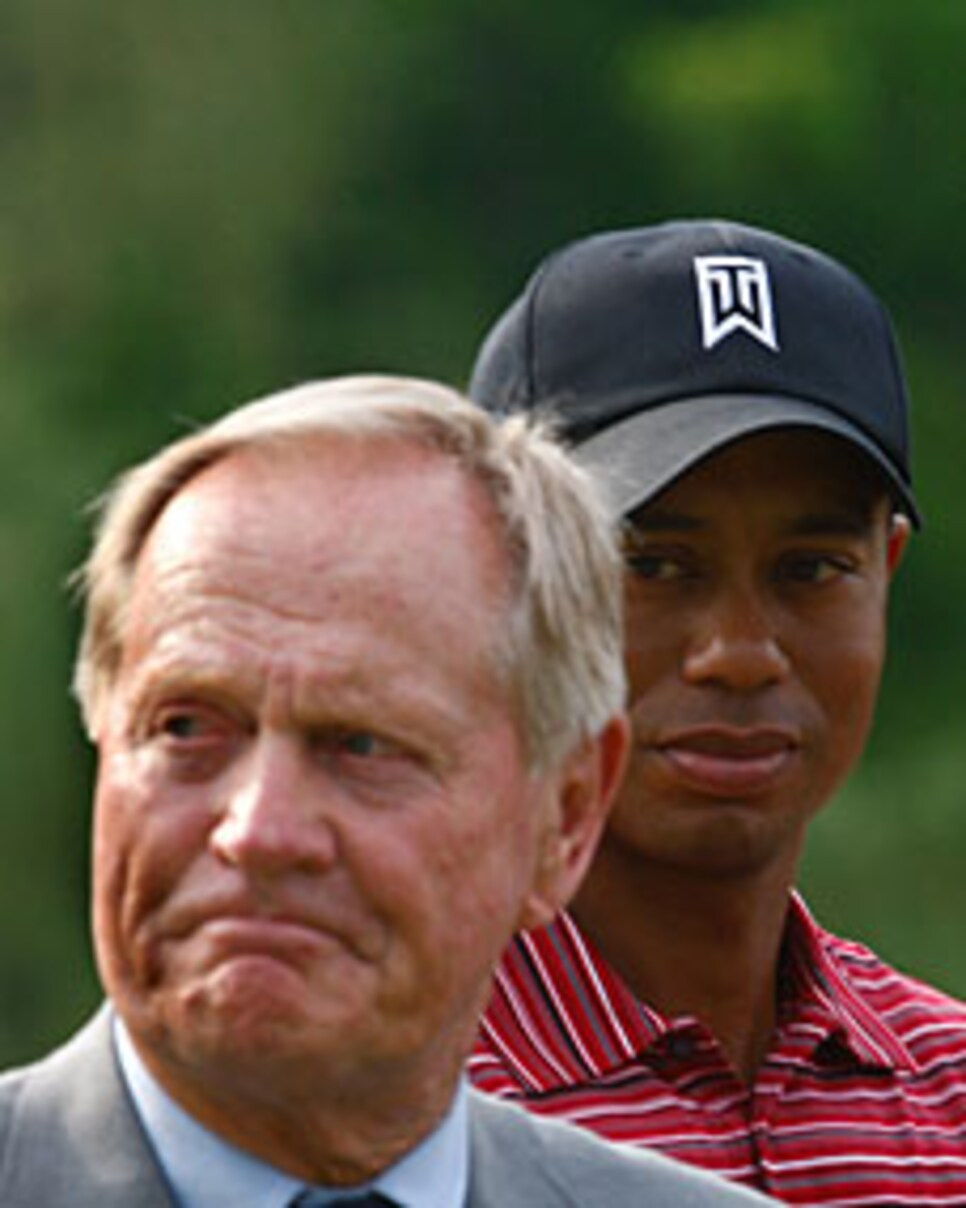 While Tiger Woods may eclipse Jack Nicklaus' major record, he has struggled to enjoy the same stability at home.
Back in the day, Jack Nicklaus hosted what was called a "State of the Golden Bear" news conference at his home in the Lost Tree Village community in North Palm Beach, Fla. There was nothing to hide, no privacy to protect. Granted, the times were different, but so, as it turns out, are the two men linked by the greatest record in golf history.
Nicklaus was always forthcoming on tough questions, elaborative on all points, and gracious as a host. When the writers and TV cameras arrived on those January mornings to break down the previous year and look ahead, Barbara would always greet us at the door and hang with us afterward in the kitchen, serving up something she baked while talking about the photos on the refrigerator.
What I remember is that the Nicklaus estate was more of a home than a palace, although the sweeping views to the south of Lake Worth, toward the Intracoastal, were spectacular. When Jack finally built his game room off the chipping green, you didn't have to duck under the bill of a black marlin he caught off the Great Barrier Reef hanging the length of his living room.
Just south of the Nicklaus Compound, in a marina off A-1-A, are the troubled waters where Tiger Woods docks his boat. There's no secret that "Privacy" is moored here, and until Thanksgiving weekend, Tiger could come and go, do his thing, pop into the Starbucks or the workout clubs, without the paparazzi stalking him. Friends who live inside the gates at Isleworth tell me the same thing; that Tiger could bop around Windermere, pump his gas and lift his weights -- but those days are over with the helicopters overhead and the news trucks parked outside the front gate.
Prior to this latest chapter, Woods was scheduled to move to Jupiter Island, and basically be Jack's neighbor while going through the final stages of his chase of the Nicklaus record. Three years ago, when Woods was coming off back-to-back years of double majors, it was not a question of "if" but "when." Nicklaus seemed resigned to it happening, confessing he wished he worked harder, to make the number higher than the 18 majors that have been Tiger's benchmark since the day Nicklaus' records were tacked to his bedroom wall. Or so the legend goes.
That winter day in 2007, the South Florida press caught up with Nicklaus at the re-opening of a course he renovated with the town of North Palm Beach. It wasn't like his old State of the Golden Bear news conferences, but Jack was still Jack.
Woods had just closed on $44.5 million worth of real estate on Jupiter Island. Elin was pregnant with Sam, about to deliver that June. Tiger had just turned 31, and was on the West Coast getting ready to play Torrey Pines. Jack was in a reflective mood, talking about the years to come. "Tiger's life will change, but I think for the better for him," he said. "He'll have family to share his life. That was great for me to be able to share it with my family."
Woods won his 13th major that year at the PGA, and his 14th on one leg the following summer at the U.S. Open. Charlie Axel, his son, was born Feb. 8 of this year, while Tiger was rehabbing from knee surgery. His life was starting to appear whole. "Sam is very excited to be a big sister and we feel truly blessed to have such a wonderful family," Woods wrote on his website.
Fourteen of Nicklaus' majors came when he had kids. The Golden Bear won his 15th major at 38, his 16th and 17th at 40 and his 18th at 46. He did this with a relatively blissful home life, in between games at The Benjamin School, where Jack II, Steve, Nan, Gary and Michael were actively involved in the sports programs. His only drama was winning the 1986 Masters while on the verge of a financial collapse. While not comparable to family turmoil or loss of image, Nicklaus was able to summon his best golf in the midst of this personal crisis.
Again, different times, different backgrounds, different approaches to fame. While Woods couldn't wait for the 30-minute news conference to end, Nicklaus developed a reputation for being the last to leave the interview area, sharing the personal as well as the professional, without ever looking at his watch. While privacy was never much of an issue for Nicklaus, Woods seemed obsessed by it.
But Jack admittedly never had to carry the sport on his shoulders, never reached $1 billion in earnings and endorsements, and never had the tabloids stalking him. While Nicklaus life was out of the Saturday Evening Post, Woods has been front page of the New York Post since two days after Thanksgiving.
There is a belief that if Tiger had been better on the way up, he might be getting a break on the way down, that he has no "friends," in the media he can trust, or at least turn to. But now it's reached the stage and proportion in the coverage when it doesn't matter; it's the non-golf media that is having a field day with the Tiger story. And they don't care about building trust or relationships, or giving the kid a break.
"I think Tiger has done a pretty good job (with the press)," Nicklaus said in an interview with GolfDigest.com in August. "I don't think he gives as much as maybe I did and I don't mean that in a negative way. He has so much pressure on him that he can't, he just can't do that, It's tenfold what I had. I didn't have that many people, so I could give to people I had confidence in that they weren't going to nail me for something, if I was honest with people, I felt like they would be honest with me. It's a different day. I probably would have had a harder time today, but I'm not today. I liked my time, the period of time I was in. I liked the press. The press always treated me fairly. I always had the philosophy that if I treated the press fairly, they would treat me fairly. I'm not sure if that's the way today."
Whether Woods is able to repair his marriage or not, what drives him and defines him is not the press clips anyway, but the Nicklaus record. He could never deny his competitive instincts "indefinitely" -- but in the veritable prime of his career, could Tiger successfully run down Jack with such instability in his life?
For many observers, the joy in watching a machine like Woods grow into his 30s was seeing him kiss baby Sam in the scoring hut at Southern Hills after dominating in the searing Tulsa heat of August, 2006, or holding Charlie at the Stanford game on the weekend before his world -- and the golfing world -- turned upside down. I knew there would never be a "State of the Tiger" news conference at his Jupiter Island home, but I could imagine Woods, hat on backward, at the Jupiter-Tequesta Athletic Association, just a father in the grandstands or sidelines, while his kids played their sports.
Jack had Barbara and with Barbara came a peace of mind. He also went through his prime more concerned about his children's games than his own, flying home in the middle of tournaments for football games. Therein exists the beauty of his career. Family was always most important to Nicklaus, and as he approaches his 70th birthday with 21 grandchildren, there is not one ounce of him that wishes he did it any other way.
At the height of the media circus pitching a tent around the Tiger scandal, Nicklaus showed up to present the Benjamin boys' team with their medals for winning the state high school championship. The press was invited and without the impersonal buffer of a press release, Jack handled the questions about Woods carefully. The personal stuff was personal. As for the golf, Tiger would figure it out.
I have been told that Jack must secretly love this. His record may just live forever. But Jack was the most gracious of sportsman, and his ego wouldn't override his sense of sadness for what Woods and his family are suffering.
"I've got great respect for him, great respect for his ability and I like him," Nicklaus said in the August interview.
At the Golf Writers dinner earlier in the year at the Masters, Nicklaus made the point that while Tiger only trailed him by four majors, doing it was not as easy as Woods made it look. Although Woods won six times this year on the PGA Tour -- including Nicklaus' Memorial Tournament -- the victory by Y.E. Yang at the PGA Championship only seemed to prove Jack's prophesy.
"The guy's awfully good," Nicklaus said. "I think he'll probably pass my record, but he still has to do it."
Four months later, I go back to Nicklaus' words as a reminder of what this is all about once Woods resumes the chase. There were unknowns then; more unknowns now. He has four majors to tie, his 34th birthday coming up, and what looks like empty houses at Isleworth and Jupiter Island. In other words, nobody to share it with.