News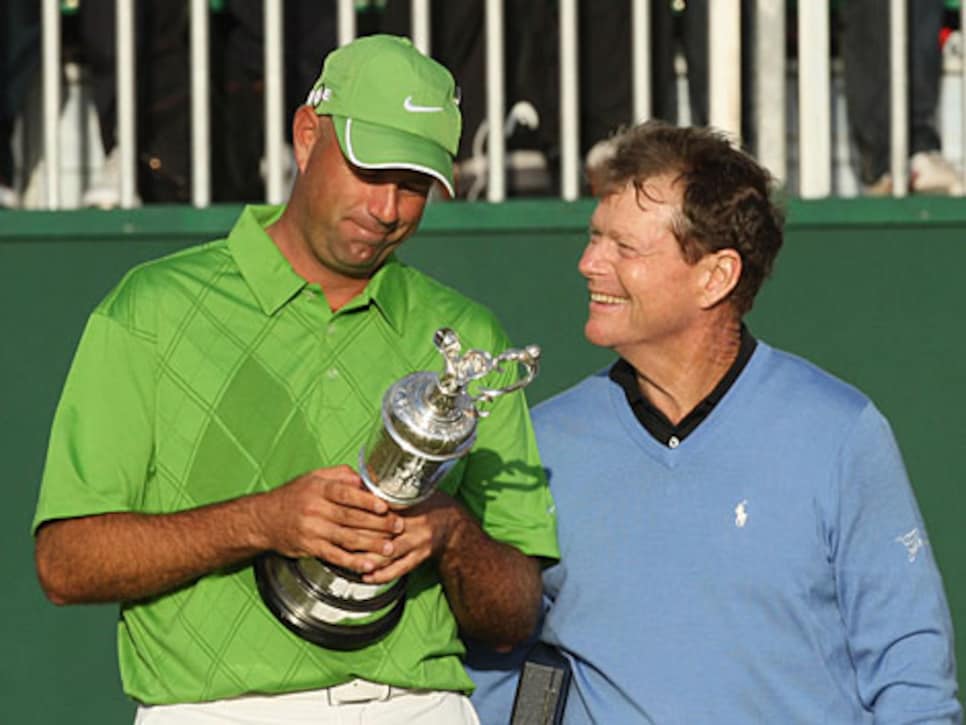 Tom Watson's run and Stewart Cink's eventual victory at Turnberry featured the game at its most riveting.
One of journalism's well-documented occupational hazards is a tendency to dwell too long on the negative. Golf journalism is no different, especially in a year that has been as challenging to the game as this one.
But even in a 2009 that has been blighted by slimmed-down schedules, course closings, and majors seemingly always won by the wrong guy, there is still much to be thankful for. So with a tip of the cap to Dave Anderson, the Pulitzer Prize-winning New York Times columnist and Golf World contributor, we offer our golf-specific round of thank yous.
Tiger Woods, for injecting the game with a much-needed adrenaline shot the moment he first stepped to the tee in Tucson last February. After missing eight months because of reconstructive knee surgery, Woods won seven times including the Australian Masters, put the U.S. on his back at the Presidents Cup, and singlehandedly boosted television ratings whenever he showed up on the screen -- all reminders of the singular hold he has over his sport.
Y.E. Yang, for managing to humanize the game's greatest player, and give golf a new worldwide appeal all in one eventful afternoon. The 37-year-old South Korean's win in the PGA Championship may simply go down as one improbable upset. But, like with countrywoman Se Ri Pak a decade earlier, it could end up being a victory that inpsires an entire population of players.
Tom Watson, for rolling back the clock while rolling in putts from all over the property at Turnberry. No sports story was bigger in 2009 than this 59-year-old man vying for a sixth British Open title, and no runner-up was more gracious in defeat.
Stewart Cink, for deftly handling the awkward dynamic of winning a tournament no one wanted him to win. Cink didn't apologize for his playoff win over Watson at Turnberry -- it was his first major win, after all -- but he also was smart enough not to take widespread disappointment personally.
Major Dan Rooney, for continuing his noble work behind Patriot Golf Day, which benefits the families of soldiers killed or wounded in action. This year, 4,400 facilities raised more than $1.9 million for the Folds of Honor Foundation, a compelling argument that the golf world doesn't exist in a bubble.
Michelle Wie, for finally producing some tangible results to go with the years of hype. After earning full-time status on the LPGA Tour via Q school, Wie played a pivotal role in the Americans' win in the Solheim Cup, then secured her first LPGA win in resounding fashion earlier this month at the Lorena Ochoa Invitational. A bum ankle forced her to withdraw from last week's Tour Championship, but not before she gave the entire women's game a glimmer of hope for 2010.
Loren Roberts, for persisting through a season of personal strife -- losing both his father and his mother-in-law in the span of two months -- to win the Charles Schwab Cup; and then by using his winnings to give back to the game. After hearing of a school district outside of Sacramento that was in danger of losing its golf program, Roberts dashed off a check of $70,000 to keep the teams afloat through 2011.
Fred Couples, for distancing himself from his too-cool-to-care persona and embracing his role as a Presidents Cup captain. Whether he was the mastermind behind a dominant U.S. showing or a mere beneficiary of the play of Woods, Phil Mickelson and others, Couples still established a relaxed but confident tone that became infectious throughout the U.S. team.
Barack Obama, for reintroducing the notion that golf isn't something a President has to apologize for. Whereas George W. Bush gave up the game in an attempt at solidarity with American troops, Obama recognized the distinction between soldiers at war and a Commander-in-Chief occasionally needing to clear his head.
Phil Mickelson, for forging the strongest bond yet with golf fans when the news broke of his wife and mother's respective battles with breast cancer. Once perceived merely as a multimillionaire athlete with an obscene amount of talent, Mickelson was now just a guy trying to steer his family through a painful year. The fact that he returned to play some of the best golf of his career this fall is one of the many reasons we can all look forward to 2010.