News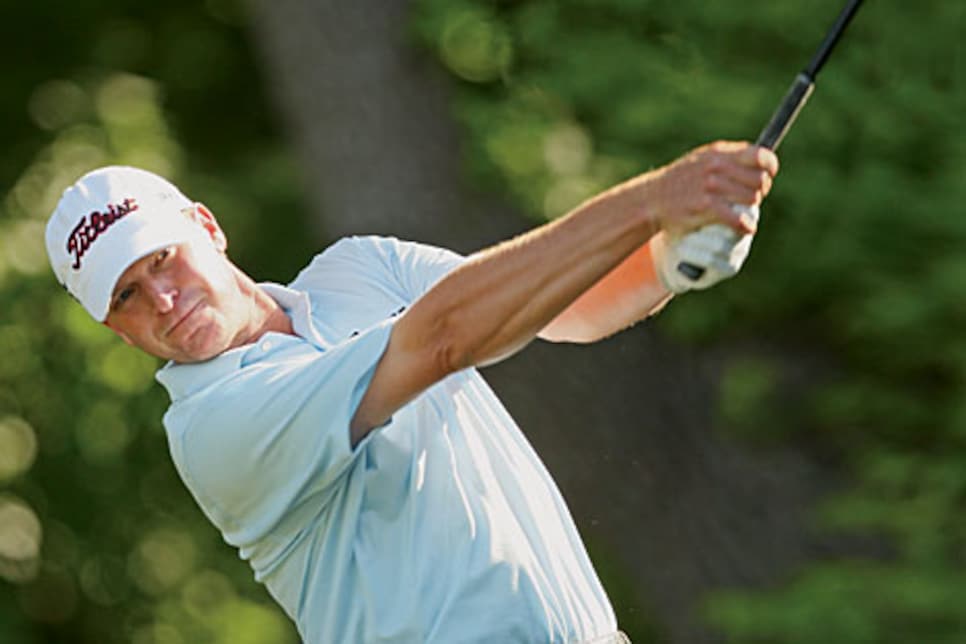 harder than it looks: Stricker, who had to rely on a sponsor's invitation to play at Colonial in 2005, says Woods skews the challenge of winning.
Turning around at Colonial CC without tripping over tradition is difficult. There is the statue of Ben Hogan, forever frozen in his follow-through, outside the clubhouse. The wall of champions reminds those who step onto the first tee of the illustrious list of winners of the PGA Tour event contested since 1946, their names etched in marble. And then there is that danged jacket, something no player would ever buy, but a garment they would all like to win. For the 63rd time, a select field fought to wear that tartan coat, and this year's Crowne Plaza Invitational reminded all who saw it of another tradition that transcends Colonial and hits at the soul of competitive golf: For every person who walks away a winner, a number of hearts—in this case, two—are broken.
Such was the case Sunday when Steve Stricker, a man who knows a thing or two about struggling, made a birdie on the second sudden-death playoff hole to deny Steve Marino and Tim Clark their first tour victory. So draining was the final day that even the winner was stopped short by tears as he remembered how four years earlier he needed a sponsor's exemption to get into a tournament he can now play for life as a past champion. One of the vanquished, Marino, searched for the positives while Clark, who is now 0-for-184 in PGA Tour events, was a man of few words, none of which would do a sport psychologist proud.
Truly, this was Clark's tournament. He started the final round with a two-stroke lead, was still ahead by that margin with five holes to play, then twice missed makable putts to win on the 18th green, first in regulation and then on the first playoff hole. Marino, meanwhile, was the most consistent of the three—he made no bogeys from No. 2 until the second extra hole—and Stricker's round was like his career, an up-and-down ride until it ended in his fifth career victory. When it came time to put things into the proper context, Stricker showed the wisdom and compassion that has sustained him for nearly 20 years as a professional.
"You need breaks to win out here, and that's why I think winning is so special," he said after making a four-foot birdie putt on the second extra hole. "It's so hard to do. There are so many ups and downs through the course of the week, the course of the last round, and things happened to turn my way today."
Actually, they turned Stricker's way after first turning against him—missed putts on Nos. 14, 15 and 16, the last one a five-footer—and with considerable help from Clark. An improbable chip-in for birdie on the 71st hole by Stricker and a bogey by Clark on the 72nd created a playoff at 17-under-par 263, one stroke better than Jason Day and two clear of Paul Casey.
"Sometimes we take for granted what Tiger has done or what Phil has done," said Stricker, who went winless from 1996 to 2001 and again from '02 to '07. "They make it look fairly simple at times. But for the average player out here [winning] is a very difficult thing to do. I can remember trying to win my first event, and I can relate to what Tim was trying to do today."
When Clark used his broomstick putter to sweep in a 23-foot birdie on No. 13 to get to 19 under par, two strokes clear of Marino and Stricker, he was in control. But some tentative play down the stretch—especially a complete lack of aggression with short irons—opened the door for Stricker and Marino.
Clark missed the fairway right on No. 14, drew a terrible lie and made bogey. From 138 yards on No. 15 he hit his approach to only 40 feet and then missed the green on the par-3 16th—but both times managed to save par. A solid nine-foot par putt on 17 after missing the green with a 9-iron seemed to right Clark's ship. But he missed the fairway with a 3-wood off the 18th tee, pitched out, played his third shot from 90 yards to 12 feet and left the winning putt dead in the jar but a foot short.
On the first extra hole, No. 18, Marino missed a birdie from 30 feet, burning the right edge, and Stricker did the same from 16 feet, teasing the left edge. Then Clark pulled his seven-footer for the win, sending the match to the second extra hole. "No, I can't take anything positive from today," Clark said. "Obviously, [judging] from the last hole [of regulation] and the playoff, I have a lot of work to do when it comes to closing out golf tournaments."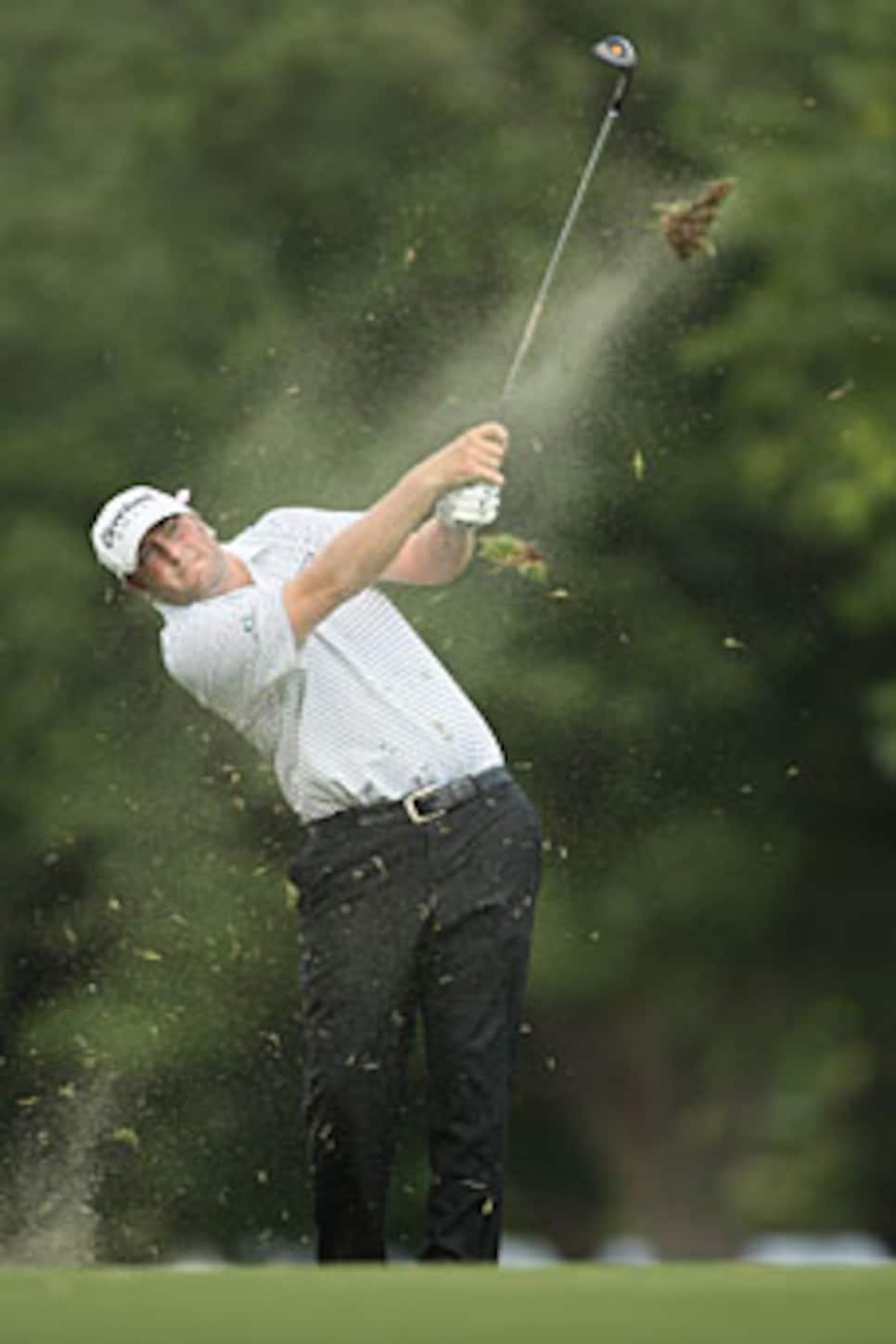 Stricker played first from the fairway on the second extra hole and knocked an 8-iron to four feet. Clark then caught a bad break when his shot from 148 yards hit the flagstick and kicked 22 feet below the hole. Marino, who drove into the left trees, pitched 90 feet short and, after a chip, two-putted for bogey. Clark's birdie putt curled low. Stricker then rolled in the four-footer for the victory.
"I saw how close Steve hit it, and I knew I had to do something like that as well," Clark said. "Bad break or not, the tournament should have ended on the first playoff hole. I didn't make a confident stroke and pulled it."
Stricker was the unlikeliest of the three to make it into the playoff since he was so up-and-down, but a miracle shot saved him. "The chip-in at 17 was really the deal," Stricker said about his shot after missing the green with an 8-iron. "I was thinking about chipping in, and then a guy in the stands said, 'Chip it in' and that made me really kind of think and focus on trying to do that. The shot just came off perfect. You don't expect to chip a shot like that in, especially on the 71st hole."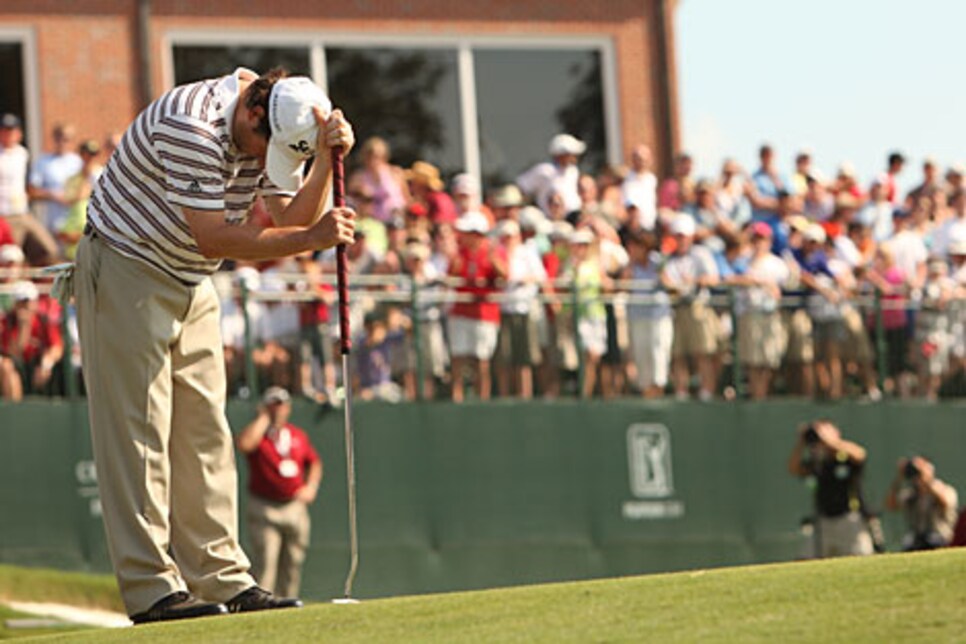 Marino, who said he would walk away from Colonial feeling good about his game, seemed more crushed for Clark than for himself. "He has been playing out here so long, and he is such a great player, and he has never won a tournament," Marino. "I feel bad for Tim." Then he added: "Sundays are different out here."
The talk going into the Crowne Plaza Invitational was about Colonial CC itself. After last year's tournament, when the course played at 7,054 yards and Phil Mickelson won at 14-under-par 266, a renovation was undertaken to improve drainage in bunkers and bring them more into play. Tee boxes were reshaped and leveled to change the angle of attack on many holes—some by as much as 20 yards. The $3 million restoration project also stretched the course to 7,204 yards and seemed to serve as polishing what already was a gem.
"It's one of my favorite courses and probably nearly every guy in the field, if you polled them, it'd be in their top five," said Geoff Ogilvy. "They haven't done anything to damage that by changing the course. A lot of times they change courses these days that can happen."
That was a sentiment with which Jim Furyk agreed. "As a player you are always nervous when they redo [courses] because it seems like more often than not they tend to go the other way," he said. "They tend to make them tougher but not better. I like what they did."
In the first round, played in perfect scoring conditions, 61 of the 124 players broke par with Clark, Stricker and Woody Austin sharing the lead at seven-under 63. But probably the biggest news was the 68 by Ian Baker-Finch, who was playing in only his second PGA Tour event since the 1997 British Open. The other was the 2001 Colonial when he missed the cut. (See Opinion, page 48.)
When Stricker came back with another 63 Friday and broke the 36-hole scoring record by two strokes, it appeared as if Kenny Perry's tournament record of 19 under par would fall. Stricker led Clark by one and Vijay Singh by two with Sean O'Hair three back. Baker-Finch faltered to 78 and missed the cut.
Saturday was a Pink Out as virtually every player and many fans at Colonial wore pink in solidarity with Amy Mickelson's battle against breast cancer, the diagnosis of which a week earlier had prevented her husband, Phil, from defending his Colonial title. Marino made his move Saturday, posting a 62 that catapulted him into the final round tied with Stricker and Day, two strokes behind Clark, with whom he was paired.
Clark, who closed with an even-par 70, needs to pay attention to the lesson of the man whose statue graces Colonial. Hogan, who turned pro in 1930, didn't get his first PGA Tour victory until 1938—and he didn't quit. Clark should also listen to the words of Stricker, who has walked this path. "Every time I get into contention I take it as a positive," Stricker said. "You can't give up, and you just have to keep moving forward."
Stricker said having his name on the wall of champions would be "very cool." Then he remembered when times were not so good. "I needed a spot in 2005, and I got a sponsor's exemption. I haven't forgotten that," he said, his voice cracking. "Funny how it comes back around in a circle."
Perhaps someday Clark and Marino—the two broken hearts without a jacket—will be able to say the same thing.