News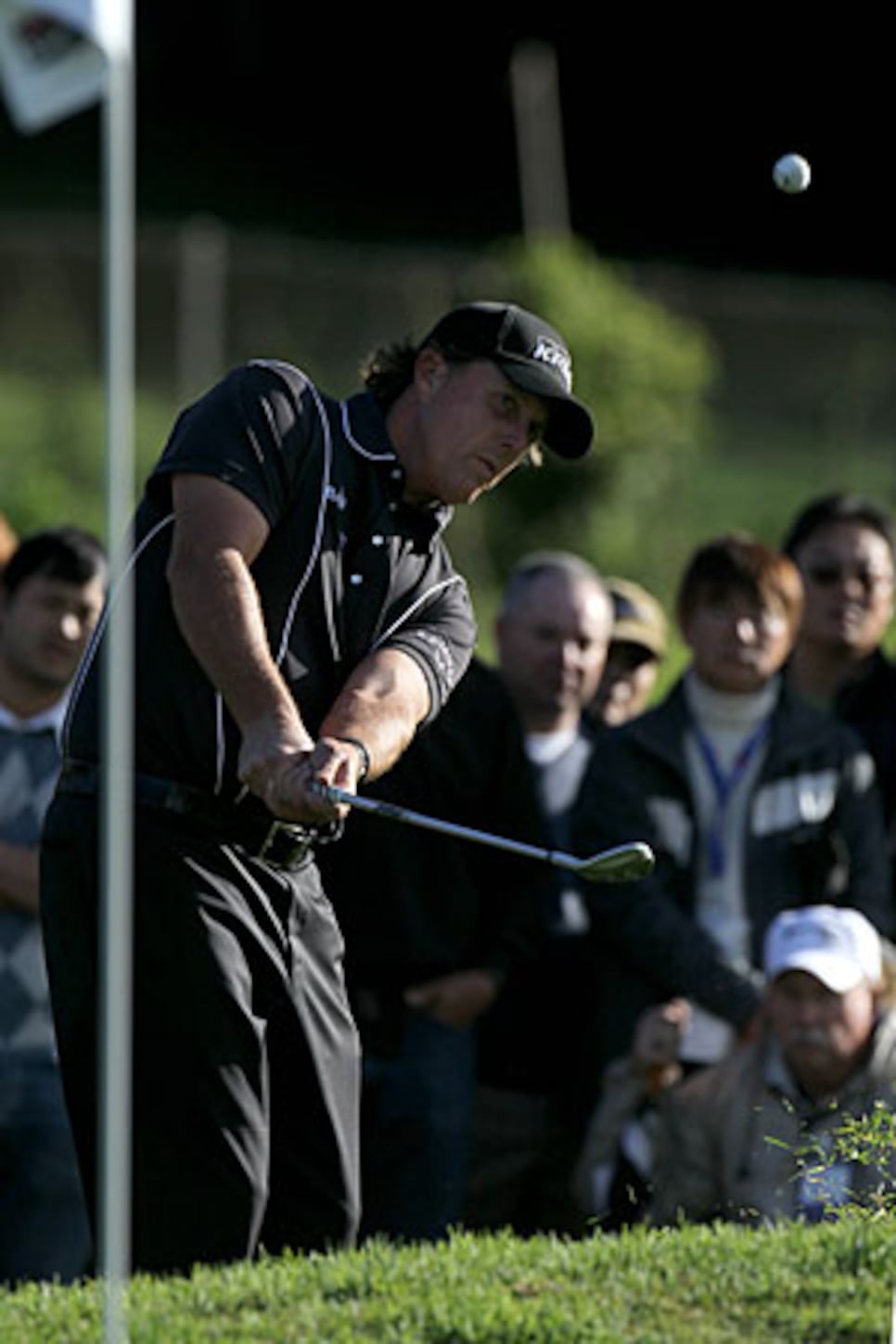 Phil Mickelson had expected better than two listless showings to start the season..
PACIFIC PALISADES, Calif. -- It is not necessarily alarming, given Phil Mickelson's entertaining proclivity toward consistent inconsistency, but it is worth noting that in a year that began with such promise he has stumbled early.
The two-time defending champion, Mickelson tied for 45th at the Northern Trust Open, a week after finishing 19th in the Farmers Insurance Open.
This was to be the year that Mickelson had an opportunity to supplant Tiger Woods as No. 1 in the World Ranking, based on Woods' hiatus and the quality of Mickelson's play at the end of '09, which bred even more confidence heading into '10. The opportunity remains, but a month into the new season, he now has an extra rung to climb to reach the top.
Steve Stricker's victory in the Northern Trust Open on Sunday moved him past Mickelson in the World Ranking, into the No. 2 position.
Stricker has assembled a Tiger-like stretch dating to the John Deere Classic last July. In his last eight tournaments of '09, he won two of them and tied for second in a third. In three tournaments this year, he's had a T3, a third and a first.
Mickelson's performance, meanwhile, has not matched his optimism. His putting prowess was supposed to have been restored through his work with Dave Stockton and he was driving the ball better than he ever had, according to his swing coach Butch Harmon.
His statistics (and again, it's early) tell another story. He ranks 165th on the PGA Tour in driving accuracy (hitting just 48.21 percent of fairways), 117th in greens in regulation (65.97 percent) and 130th in putting average (1.811 putts per hole).
It won't last, of course. Remember this: Mickelson is consistent only year to year, not week to week. In 12 of the last 14 years, he's won two or more tournaments, including the last six in a row.
DON'T YOU MEAN GLEN CAMPBELL LOS ANGELES OPEN?
Anthony Kim appeared on the Jay Leno Show in advance of the Northern Trust Open and referred to the tournament as the Los Angeles Open. As they would say here in television land, D'oh.
Maybe the tour needs to sit its players down for a refresher course on sponsor etiquette in the midst of a recession. Here was a missed opportunity to plug a sponsor on national television.
A week before, Mickelson denied that he was making a statement by playing the Ping Eye 2 wedge in the Farmers Insurance Open. "It's more a trial for me. I want to see if it makes a difference," he said.
On Wednesday at the Northern Trust Open, he said this: "This week I won't be playing that wedge," he said. "My point has been made."
WEDGE ISSUE AD INFINITUM (AD NAUSEAM?)
Grant Spaeth was elected president of the United States Golf Association on the same day that the USGA and Ping reached a settlement of a lawsuit the latter filed over its Ping Eye 2 irons.
What are Spaeth's thoughts about the issue resurfacing 20 years later?
"Isn't that extraordinary?" he said before politely declining comment at the behest of the USGA.
The issue continued to reverberate last week, notwithstanding the USGA's muzzle. Scott McCarron apologized to Mickelson for accusing him of cheating. PGA Tour Commissioner Tim Finchem reiterated a PGA Tour statement issued the week before acknowledging that the Ping Eye 2 wedge is a conforming club and those who use it are not cheating. And Finchem was hopeful that the issue will be resolved in the coming weeks in a manner that would disallow the wedge in question.
Only two players had them in play at the Northern Trust Open, Fred Couples and Hunter Mahan, and no one cared. Couples wasn't a factor and Mahan missed the cut.
Now, can we get back to golf?
'THIS IS THEIR CYPRESS POINT'
It wasn't, in fact, a universally popular decision to bounce Poppy Hills Golf Course from the AT&T Pebble Beach National Pro-Am rotation and replace it with the Shore Course at Monterey Peninsula Country Club.
Poppy Hills has an advocate in Spaeth, a Northern California fixture.
"It's my impression in making the move they were not showing sensitivity to the fact that Poppy Hills is a source of great pride to lot of people in the middle class," Spaeth said. "This is their Cypress Point. To say it's not good enough is outrageous.
"Poppy Hills is a wonderful golf course, though a few things are a little goofy. It's a little bit of a slap to move it away rather than fixing it up."
Poppy Hills was always regarded as the weak link in a rotation that includes Pebble Beach and Spyglass Hill and disfavored by PGA Tour players, who are expected to welcome the addition of the Shore Course at MPCC. The AT&T begins Thursday.
"I played it very early (after the 2004 redesign)," Spaeth said of the Shore Course. "It was too early to be good, but I could see it was going to be excellent."
The most impressive performance last week might have come from Tom Watson at the Omega Dubai Desert Classic. Watson, 60, tied for eighth in a strong field. Among the players he outplayed: Paul Casey (eighth in the World Ranking), Ross Fisher (19th) and Robert Karlsson (17th).
The winner dealt youth a blow too. Miguel Angel Jimenez is 46.
Jim Thorpe's spendthrift tendencies were often offset by his generosity. He always knew where the race tracks and casinos were, but also where a need was. When he won the FedEx Kinko's Classic in 2005, he donated his earnings, $247,000 to his church, Crossing Community, in Heathrow, Fla. A genuine character in a game that has a dearth of them, Thorpe is nearly impossible not to like.
Thorpe's career effectively ended last week when he revealed that the PGA Tour had suspended him in the wake of the one-year jail sentence he received for tax evasion. Thorpe intended to keep playing until reporting to the Bureau of Prisons on April 1, but the PGA Tour hierarchy has denied him that opportunity, sadly.
It sure seems as though the tour is piling on. It is tantamount to a 14-month suspension, when the jail time is factored in. He owes the IRS as much as $2 million that he can't repay without working. Couldn't the tour have suspended him effective April 1?
Thorpe is 61 and his game already had begun the inevitable decline brought on by age. When he returns, he'll be another year older, will have been away from golf for a year, and will be hard-pressed to find enough game to ever again be a factor.
Incidentally, here's what Thorpe said before the Senior PGA Championship in 2005: "I guess you can say I smelled the roses as I went along. Where a lot of guys are going to die with the money they make, I'm not going to die with (anything). I tell my daughters, when it's all over, 'Girls, you have to go to work.' And, you know, it's just that simple."
A peculiar trend has emerged with regard to U.S. Ryder Cup captains. They keep expanding the number of assistant captains.
In 2006, Tom Lehman had two assistants (Corey Pavin and Loren Roberts). In 2008, Paul Azinger had three assistants (Raymond Floyd, Dave Stockton and Olin Browne). In 2010, Corey Pavin will have four assistants (Tom Lehman, Davis Love III, Jeff Sluman and Paul Goydos), as he announced last week.
At this rate, the U.S. will have one assistant captain for each player by the 2026 Ryder Cup.
Why is it necessary to have more than one assistant? The best reason, perhaps, is that allowed Pavin to choose Goydos, whose name and the phrase "Ryder Cup" otherwise might never have appeared in the same sentence. Goydos is smart, witty and was clearly touched by the opportunity to participate in an event for which he's unlikely ever to qualify.
"I think the closest I've gotten is probably 112th on the points list," he said.
When Love said there are 50 players on list of potential team members, he was asked where Goydos was on the list.
"Fifty-one," Goydos interjected.
PGA Tour: The AT&T Pebble Beach National Pro-Am at Pebble Beach Golf Links, Spyglass Hill Golf Course and Monterey Peninsula Country Club (Shore Course). Defending champion Dustin Johnson. Champions Tour: The ACE Group Classic at the Quarry, the Quarry, Naples, Florida. Defending champion Loren Roberts. European Tour: Avantha Masters at DLF Golf and Country Club, New Delhi, India.
The AT&T Pebble Beach National Pro-Am has been revamped in a bid to make it more appealing to tour players, notably Tiger Woods. He might have been expected to play, until his off-course issues resulted in his taking an indefinite leave. It has a new course, the Shore Course at MPCC replacing Poppy Hills, and fewer pros and amateurs (from 180 of each to 156 of each) in an effort to speed play.
An odd rumor (odd in that it emerged, unsourced, from an Australian newspaper, the Melbourne Herald-Sun) surfaced that Woods would return at the WGC-Accenture Match Play Championship outside Tucson next week. Jamie Morton of the New Zealand Herald caught up with Woods' caddie, Steve Williams, at an auto race in New Zealand and wrote this: "Speaking at the Manawatu Saloon Championships in Palmerston North last night, Williams said: 'All that I will say is the story circulating out of a Melbourne newspaper has no fabric to it at all.'" We'll know by Friday, the final day to commit to playing the tournament.
From Joe Ogilvie: "has golf become who is more skilled on the course or who is more skilled on EBAY? USGA costs manufacturers $20MM with new groove rule"
Comment: There are several hundred Ping Eye2 wedges for sale on eBay, one of them marketed this way: "Ping Eye 2 L Wedge 61* USGA Conforming PMick Approved"
"Unfortunately, yes, I do see the resemblance, and pretty much everybody else does, too." -- Kevin Stadler on how much he looks like his father, Craig.
The Northern Trust Open was less than an artistic success for a variety of reasons, none of them having to do with Jerry West, its new executive director.
Attendance for the week was 30,000 for a tournament that has often attracted more than 50,000 on Sundays alone. The weather was a culprit; 3.27 inches of rain fell in the area on Friday and Saturday. A final round played on Super Bowl Sunday contributed as well. The tournament had no control over either.
It did control this, however: The cost of a ticket at the gate was $50, an increase of $20 from the year before. Even in a healthy economy the cost would seem exorbitant.
West, meanwhile, took his appointment to heart and worked aggressively and passionately toward improving the event.
My advice: Keep West and get rid of the cost increase.