News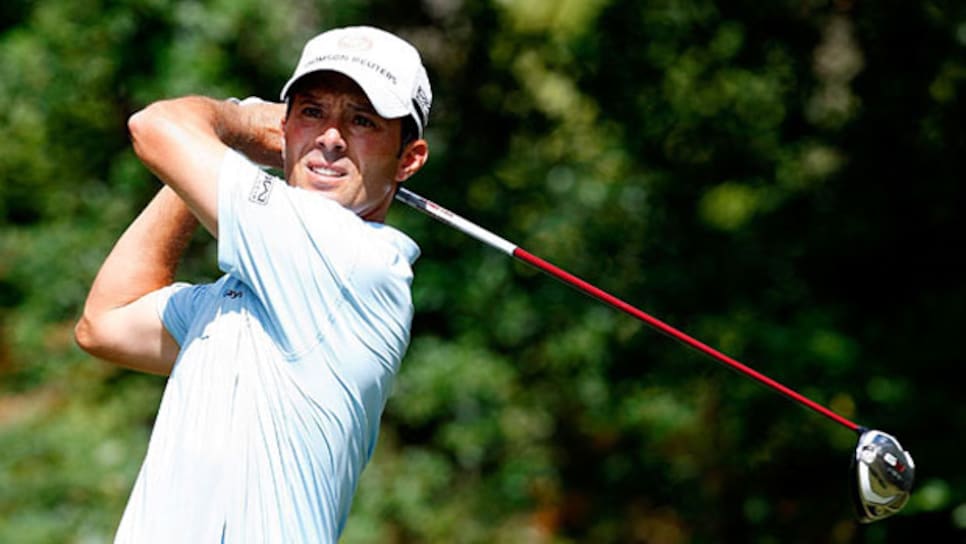 2003 champion Mike Weir is the highest-ranked player in the field this week at No. 37.
LA QUINTA, Calif. -- The signposts don't necessarily point toward oblivion for this tournament, a PGA Tour mainstay since 1960, but direct it to the vicinity. The tournament has no title sponsor, no network television, no stars. It has no Hope, either.
Bob Hope passed away in 2003, though his name remains affixed to the tournament title. The Bob Hope Classic uses stand-ins for Hope now. This time around it's Yogi Berra, an inadvertently appropriate choice. The Bob Hope Classic: it ain't over 'til it's over.
It begins on Wednesday on four courses here, two of them at PGA West, which bills itself as the Home of Western Golf. We'll concede it the assertion, while concluding then that there's trouble on the home front.
The tournament personnel must sense it, too, though perhaps it's only coincidental that the buttons they're passing out here feature a photo of Hope beneath the words, "HOPEing for another 50 years." The buttons seem to infer, again inadvertently, they have only hope that the tournament will proceed indefinitely.
Maybe it will, but it can't do so without a benefactor stepping up. Tournament director Mike Milthorpe is confident that one will.
"We did talk to a number of companies back in the fall," he said of the sponsor search, "but there was nothing we were able to work out, or at least they weren't prepared. We're interested in talking to those companies again after the tournament, if they're still interested. Our goal is to find somebody for our 2011 event. I think we should be able to find somebody, with the economy slowly starting to improve. We're a great hospitality property with the pro-am."
The tournament, meanwhile, will foot the bill itself, a circumstance for which it apparently had prepared. "The tour said to us in the late '90s, 'you need to create a rainy day fund,' and we did," Milthorpe said.
But with a $5 million purse and charitable obligations that run into seven figures (on Monday, the Hope donated more than $1.5 million from '09 revenues), it can't withstand too many rainy days, and the forecast here isn't good. It rained on Monday and Tuesday here, and showers or rain is predicted for Wednesday, Thursday and Friday, too.
When it rains in one of the most arid parts of Southern California, tournament officials must be wondering what else might go wrong.
The quality of the field isn't helping; the Hope has no players in the top 25 in the World Ranking. At 37th, Mike Weir is the highest ranked player entered.
The best it could hope for, perhaps, is that rookie Rickie Fowler, 21, finds his way into contention on the weekend. Fowler resides in Temecula, about 90 minutes from here, and is comfortable and accustomed to playing in the desert.
Others who could inject interest into the proceedings are Australia's Michael Sim, the Nationwide Tour player of the year who by many accounts is on the cusp of stardom; other young talented rookies, Billy Horschel and Jamie Lovemark, the latter a USC graduate; and Sam Saunders, grandson of Arnold Palmer.
Palmer, incidentally, won this tournament five times, including the first one played, in 1960. His victory here in 1973 was the last of his PGA Tour career.
It has that going for it at least, a surfeit of history that, even in the absence of Hope, still provides hope.