News
Allen's Special Invite Paying Off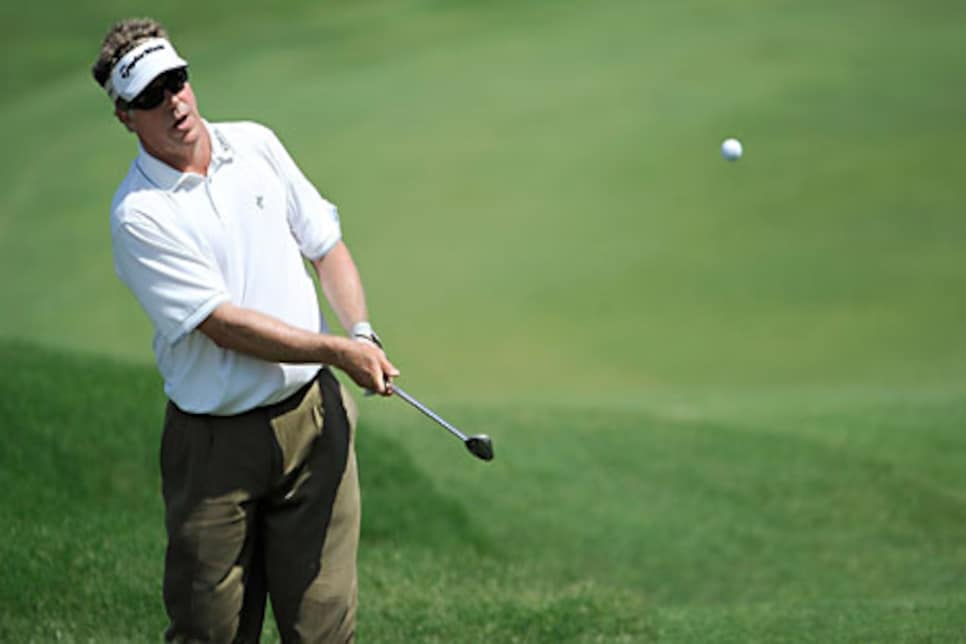 In 20 years as a touring professional, Allen's only win came on the Nationwide tour
BEACHWOOD, Ohio (AP) -- After failing to win in 271 PGA Tour events, Michael Allen figures he's due.
Getting a fresh start in his senior debut, Allen shot a 3-under 67 on Saturday for a one-shot lead over Jeff Sluman and Tom Kite through three rounds in the Senior PGA Championship.
"These guys are great players and they have beaten me for a long time, but maybe it's my turn," said Allen, who stands at 3-under 207 through 54 holes.
Allen, who turned 50 in January, is an unlikely leader in the tour's first major championship of the year. He swore he won't be shaken by the major champions and perennial winners who are chasing him.
"I'm certainly not intimidated. I guess when you're 50 you kind of lose some of that," he said. "Out here I played with most all these guys for years and I know them all pretty well. If there's any intimidation, I'm more intimidated by the factors of winning tournaments than I am playing with the guys."
Sluman had the lead to himself before bogeying the 16th and 18th holes, completing a 70 that left him tied with Kite, who bogeyed the final two holes for a 69.
"Pretty sadistic finish, those last couple of holes," Kite said. "Obviously, it leaves a bad taste in my mouth for a little while. But there's some range balls out there that I'll beat some frustration out on. Then we'll be ready to go tomorrow."
Allen, who turned pro in 1984, deliberated whether to play in this week's Byron Nelson event on the PGA Tour or to make his first foray on the Champions Tour. So far, he's made a wise choice.
"It was a little bit of a tough decision," Allen said. "You got a $6.5 million tournament, that's a big tournament out there. But it was a tournament that really hasn't been great to me over the years. So I thought that this was really a nice opportunity to come out and see how I match up."
In 12 starts on the PGA Tour this year, Allen has made the cut in nine. His best finish was a tie for 22nd at the AT&T Pebble Beach.
He has won tournaments as a professional before, taking the 1998 Nike Greater Austin Open and the 1989 Bell's Scottish Open on the European tour.
His 66 in the second round tied the lowest of the day, and his 67 on Saturday was again the best in the field.
He was even on the day through the first 13 holes before stringing together three birdies.
A wedge to 6 feet set up a birdie at the par-4 14th before he birdied both of the back-to-back par-5 holes on the long and treacherous back nine at Canterbury Golf Club.
The Arizona resident was on the right fringe in two shots at the 15th, chipped to 3 feet and hit the birdie putt. At the signature 616-yard 16th hole, he hit a driver and a 3 wood to the upslope in front of the green, then chipped to 6 feet for another birdie.
Through the first three rounds, Allen leads the field by hitting 76 percent of greens in regulation. The key has been accuracy off the tee -- he's driven into the fairway on 31 of 36 chances.
Two major champions struggled down the stretch.
Sluman, winner of the 1988 PGA Championship and with six wins on the regular tour and two as a senior, was on the left fringe just above the pin in three shots at the 16th hole but three-putted for bogey. He then found trouble off the tee at the closing hole and made another.
"I just have to drive it better. The last two days I just really, honestly, don't know where it's going off the tee," he said. "If I don't find something between now and 10:15 tomorrow, it's going to be a tough day for me."
Kite, who won the 1992 U.S. Open among his 19 PGA Tour victories and has won 10 times on the Champions Tour, had not bogeyed a hole all day until bad drives on the last two holes.
"I'm pleased with my the position. I just wish I hadn't bogeyed the last two holes," he said.
Former Masters champion Larry Mize had an adventure-filled final six holes. He was tied for the lead with Sluman and Kite after nearly holing his tee shot on the par-3 12th, tapping in for birdie from 6 inches.
At the 14th, he hit into the thick, wiry rough on his first two shots and made double-bogey, only to slam-dunk a chip from the back fringe for eagle on the next hole. He then bogeyed two of the final three holes for a 71 that left him another shot back at 209 along with Gil Morgan and Tim Simpson.
Joey Sindelar (69), Bruce Fleisher (69) and Jay Don Blake (71) were three shots off the lead.
Scotsman Ross Drummond, a surprise leader after a second-round 66, needed 13 more putts than the 24 he used on Friday. He lapsed to a 76 and was at 212.
One part of his resume is almost identical to that of Allen's: Drummond never won in more than 20 years on the European tour. He was disappointed by his four three-putts in the third round.
"I really just lost it on the greens," he said. "And that just kind of spilled over into my game."