News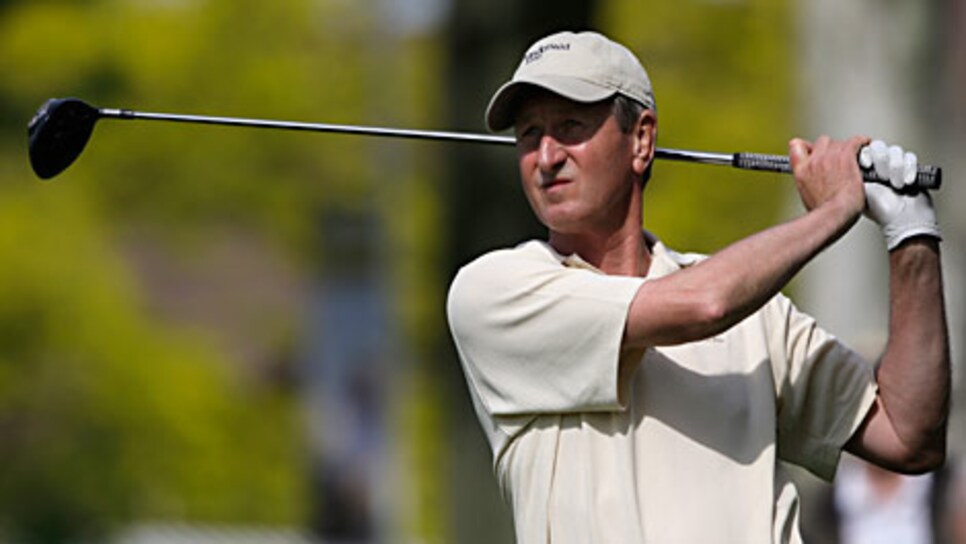 Drummond is seeking to become the first European player since 1947 to win the Senior PGA title.
BEACHWOOD, Ohio (AP) -- The leader midway through the Senior PGA Championship has never won a a tournament outside his homeland, has no sponsors and is more famous for being the subject of a golf book than anything he's done on a course.
Meet Scotland's Ross Drummond, the unlikeliest of leaders at the first major championship of the year for the over-50 set.
"I know it's going to be difficult and I'm going to be nervous, but you just have to draw from that," Drummond said Friday after matching the low round of the tournament with a 4-under 66 to grab the lead by two shots through 36 holes.
"You don't come to these tournaments just to be down at the bottom end of the field," he said. "You really come here to try to be successful."
The 52-year-old Drummond, whose life on the fringes of fame and fortune were told in the popular 1996 book "Four Iron In the Soul," had a 4-under 136 total.
No European player has won the Senior PGA since Jock Hutchison -- also a Scot -- in 1947.
Drummond was asked, why not him?
"Well, to be honest, I don't think I even want to contemplate that," he said. "It would be a dream come true, obviously. It would be an unbelievable achievement and something to be very proud of. But I don't think I can even contemplate that."
The 66 tied the low competitive score at Canterbury Golf Club, which has also hosted two U.S. Opens, a PGA Championship, a U.S. Senior Open and two U.S. Amateurs.
Tom Purtzer, whose 66 tied him for the first-round lead with Scott Hoch, faded to a 72 and was two shots back along with Hoch. Also at 2-under 138 were Jeff Sluman (68), Larry Mize (69) and Bernhard Langer (70).
Drummond's 24 putts were the fewest by anyone in the elite 156-player field that includes eight members of the World Golf Hall of Fame and 23 players who have won a total of 41 major championships.
Drummond labored for 20 years on the European tour without winning, although his most successful year -- 42nd on the Order of Merit -- was the year he was profiled in the book by journalist, author and his caddie, Lawrence Donegan. The book has sold thousands of copies in Europe.
"It's nice when people come up and tell me that they read the book and that they enjoyed the book," he said.
Then he conceded that he has never read the book since proofreading it prior to publication.
In 1996 Drummond finished second to Retief Goosen in the Slaley Hall Northumberland Challenge and third to Jesper Parnevik in the Trophee Lancome. But within a year he had played so poorly that he lost his tour card.
He went through qualifying four times before finally giving up, playing in pro-am tournaments in his homeland for five years before joining the European senior tour.
Although he never won on the European tour, he did capture titles at the Scottish Professional Championship in 1986, '87, '89 and '90. He has played in 13 British Opens, tying for 31st in 1984 and again in 1995.
Still, he has barely scraped by on his earnings and with almost no sponsorship money. He wears a hat from his home course, Dundonald Links in Ayrshire, Scotland, but doesn't receive any money to represent it.
"I would say that I've just squeaked by," said the married father of a 10-year-old daughter, adding that he had a minor sponsor for a couple of years in the mid-1980s. "I've never had any endorsements as such that paid big money. Probably from maybe 1986, I funded it purely by myself."
The lanky Drummond turned in even par for the day and the tournament but then birdied three of the first four holes on the back nine. With a friend and traveling companion from Scotland, Duncan Kerr, carrying his bag, Drummond made an 8-foot birdie putt on the 10th and then hit an 8 iron to 6 feet at No. 11. After missing a 3-foot birdie putt at the par-4 12th, he holed a 40-footer for birdie at the 13th hole.
He added a 15-footer for birdie at No. 16 and then saved par on each of the last two holes from just off the green.
Gil Morgan (68), Tom Kite (70), Jay Don Blake (69) and club pro Chris Starkjohann -- with his wife caddieing for him as he shot a 68 -- were at 1-under 139.
"It's a tricky little golf course (and) it's not going to give up many low scores," Kite said.
Michael Allen also had a 66 Friday and was at 140.
Among those missing the cut of 7-over 148 were Craig Stadler, Fuzzy Zoeller, Nick Price, Ben Crenshaw, Sandy Lyle and Lanny Wadkins.
Former British Open champion Tom Lehman bounced back with a 68 to stand at 143. Multiple major-winners Tom Watson (72) and Hale Irwin (74) led the pack at 144. Greg Norman was 2 under on the day when he shanked his third shot over the green and out of bounds on the 616-yard, par-5 16th hole, ending up with a triple bogey. He had to settle for a 72 that left him at 145.
"I just pulled a sand wedge a little thin and it went unplayable," said Norman, who still easily made the cut.
Drummond was ahead of Norman by nine shots as he tries to capture the biggest win of his life.
"I feel that my game is good enough to make the cut," Drummond said. "But I didn't expect to be in or near the lead."