News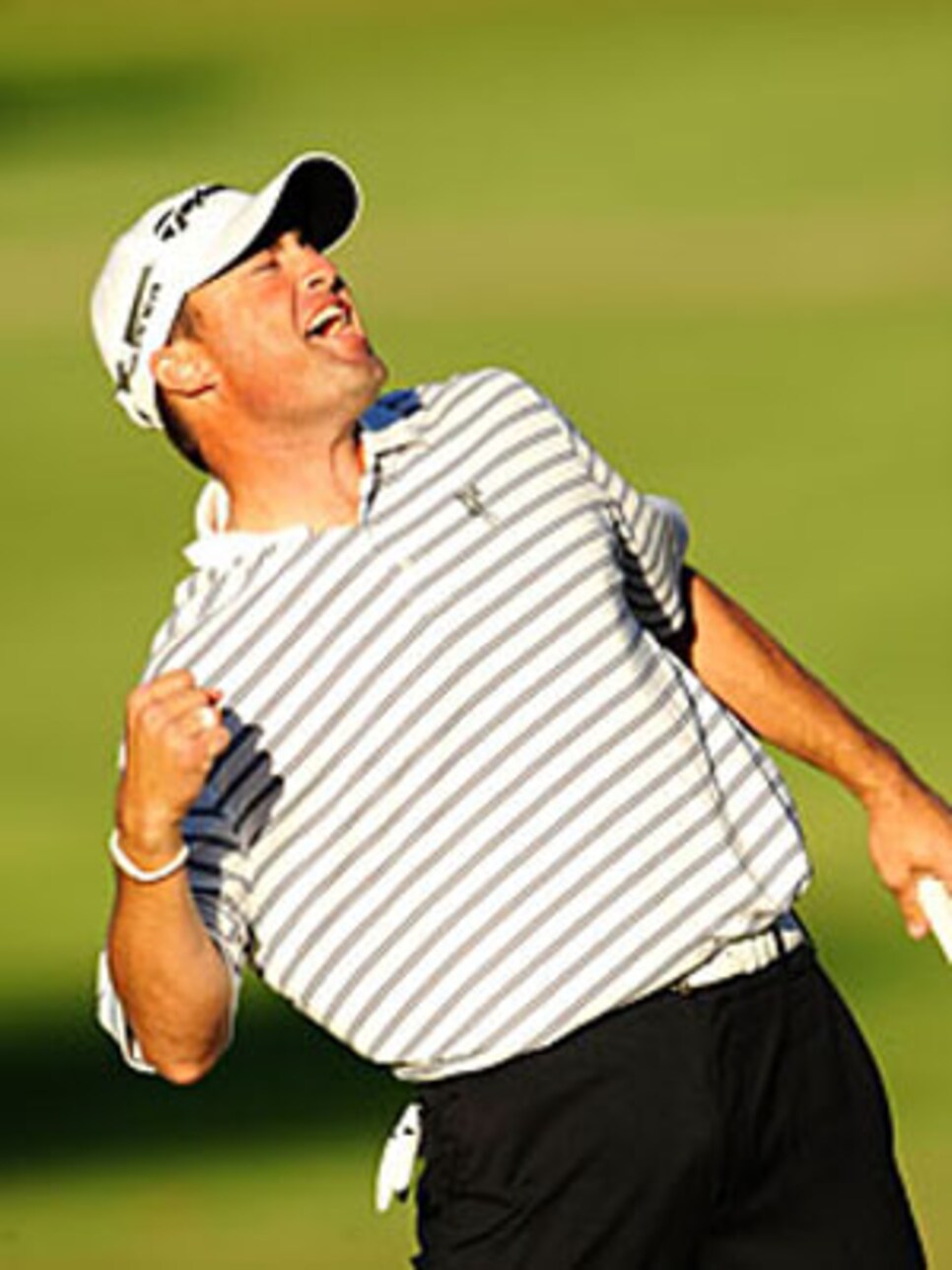 With the win, Palmer is exempt on the PGA Tour through 2012.
HONOLULU (AP) -- Ryan Palmer went from anxious to overwhelmed in the 50 feet his chip shot traveled on the final hole until it struck the pin and settled inches away, leading to a one-shot victory Sunday in the Sony Open.
Palmer, locked in a duel with Robert Allenby to the very end at Waialae, came up short of the green on the par-5 18th and faced a delicate chip. Allenby went over the green and pitched to just inside 10 feet.
Palmer thought his chip was a smidgen too hard, and he tumbled backward in relief when the ball struck the pin squarely. Allenby missed his birdie putt, and Palmer tapped in for a 4-under 66 and his third career PGA Tour victory.
"Lucky bounce," Palmer said. "It was probably going to go by 7 or 8 feet. I still hit a good chip. You need things like that to win."
The victory gave made the 33-year-old Texan exempt on the PGA Tour through 2012, and earned him a trip back to the Masters for the first time in five years.
Allenby was trying to win his third consecutive tournament on three tours, a feat believed to have never been accomplished, and he gave himself every chance. He played bogey-free on the back nine, but he needed one more birdie. His second shot out of the rough on the 18th came out hot and over the green, and he did well to give himself a realistic chance at birdie and a playoff.
Allenby, who won the Nedbank Challenge on the Sunshine Tour and the Australian PGA Championship on the Australasian PGA Tour at the end of last year, closed with a 67.
"I had a couple of chances out there," Allenby said. "It's so easy to look back and say, 'I could have made that, I could have made that.' But at the end of the day, realistically, I needed to make a birdie at the last."
Palmer finished at 15-under 265 and earned $990,000.
Steve Stricker, who also shared the lead briefly on the back nine, had a 65 to finish third, two strokes back. Two-time U.S. Open champion Retief Goosen closed with a 62 and was atop the leaderboard as Palmer and Allenby were making the turn, although his 12-under 268 never looked as though it would be enough.
Palmer went wire-to-wire, which he can attribute to an article he read early in the week about defending champion Zach Johnson and his strategy of not thinking beyond the shot in front of him. Palmer tried to treat each day as though he were starting over, and he wound up with a great start to his season.
Palmer and Allenby figured as long as they shot under par, it would take a great round for anyone to catch them. That came from Goosen, although he started too far behind (seven shots) and failed to birdie the 18th, settling for a tournament-best 62.
About the time Goosen finished, Stricker hit a hybrid from the grassy collar of a bunker onto the par-5 ninth green for a birdie, then hit a good pitch to 3½ feet on the 10th to join Goosen at 12 under. With so many holes left, and Palmer and Allenby behind him, it turned into a three-man race over the final two hours.
Stricker certainly had his chances, although it was an example that even one of the best putters in golf doesn't make everything. He lipped out a 5-foot birdie chance on the 12th and missed from 8 feet on the 14th. He also holed a birdie putt on the 13th that briefly put him in a tie for the lead, and a 25-footer on the 17th that kept alive his hopes.
But he found a bunker on the 18th, and Waialae sand makes it tough to get spin on the ball. His long bunker shot went 20 feet long and high of the hole, and Stricker's birdie putt to join the leaders grazed the edge of the cup.
"I did leave a couple out there," Stricker said. "It's a little disappointing. I hit the ball great today, gave myself a lot of opportunities. All of a sudden, I found myself doubting a couple of reads. I was getting confused a couple of times."
Allenby might have saved his chances early in the round. He had a sloppy three-putt on the fourth, then went through the green on the fifth with a sand wedge. His chip came out hot and ran 15 feet by the hole, and Allenby was so disgusted he kicked at the ground -- with his left ankle, at least -- but then holed the par putt.
Palmer's volatility came with his scores. He had a one-shot lead going to the back nine, then didn't make a par until he missed an 8-foot birdie putt on the 15th hole. He birdied the 10th, 12th and 14th, all from inside 12 feet. He bogeyed the 11th and 13th from bunkers.
Allenby caught him again with a tough shot inside 3 feet on the 15th, and the duel was on.
Charles Howell III, who learned in the offseason his wife is expecting their first child, ended a stretch of 17 tournaments without a top 10 with a 66-64 weekend to tie for fifth with Carl Petterson (66) and Davis Love III, who holed out for eagle from the 16th fairway and closed with a 67.
Johnson, the defending champion and among those three shots back going into the final round, got off to another sluggish start and didn't have enough holes to recover. Three straight birdies led to a 70.