News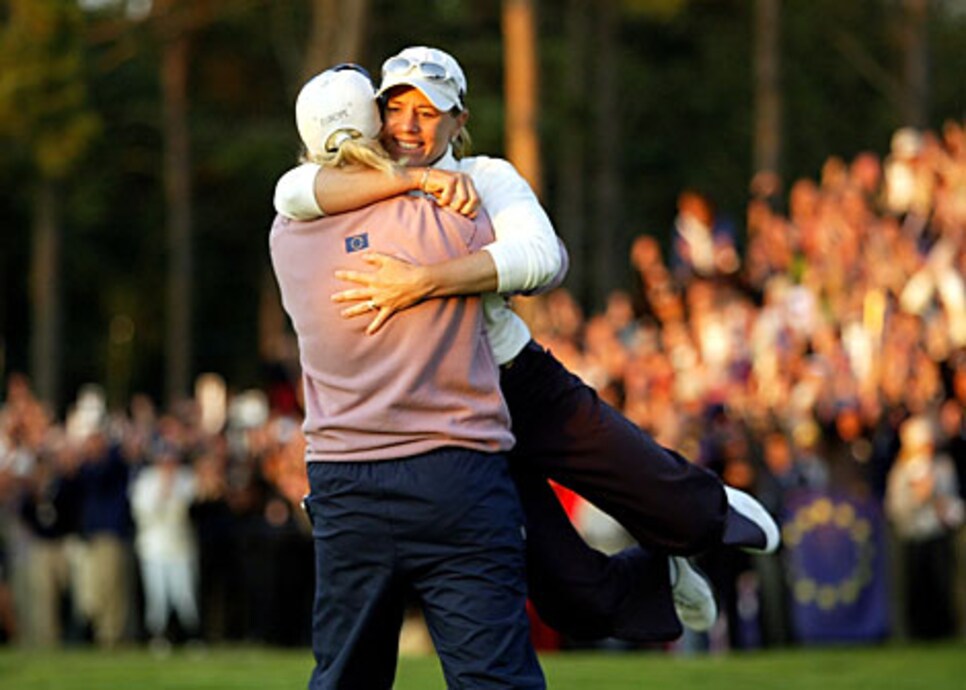 Europe's win in the 2003 Solheim Cup was a benchmark moment in the event's history.
SUGAR GROVE, Ill. -- On a bright, crisp September morning at a golf course clinging to the hills above Oresund, the narrow body of water that separates Sweden from Denmark, the Solheim Cup came of age. That unlikely setting in 2003 -- Barseback Golf & Country Club in a tiny nation of nine million people with a blink-of-the-eye golf playing season -- elevated the biennial competition between the United States and Europe to a new level of intensity. Europe claimed the Cup that year, but the Cup itself was even a bigger winner. Who stands to win or lose in this year's match at Rich Harvest Farms near Chicago?
The morning of the first match at Barseback was an amazing scene. More than 30,000 people were on hand -- as they were for every day of the competition and again each day in 2005 when the United States reclaimed the Cup at Crooked Stick in Indianapolis. Their faces were painted in the blue and gold European Union colors and each player, for both teams, was greeted with a song made up about them on the first tee. The energy, the intensity, the enthusiasm never abated for one moment the entire three days.
The Saturday afternoon four-ball produced one of the greatest competitions in the history of team play, a match so pivotal that at point seven Europeans were clinging to a single golf cart as they rode out to follow the action. Between them that day, Europe's Annika Sorenstam and Suzann Pettersen and Americans Kelly Robbins and Laura Diaz combined for 15 birdies, including a must-make 16-footer by Sorenstam that saw the otherwise mild-mannered superstar toss her putter into the air.
Spurred by Sorenstam and Pettersen, the Europeans would go on to win the next day in a rout. But they haven't won since. The United States won at Crooked Stick in '05 and again at Halmstad, Sweden in '07, both with relative ease and now leads the series 7-3. The U.S. has never lost on American soil. And with Juli Inkster, 49, the only U.S. player over the age of 31, a core group is in place that will be a formidable opponent for years to come. On paper, the U.S. squad appears to be the clear favorite at Rich Harvest Farms. One of the questions is how valid are the numbers on that paper.
Five of the European players are selected off the Ladies European Tour points list and of those five on this year's team only Sophie Gustafson (37) is ranked higher than 93rd in the Rolex Rankings. Three are ranked No. 125 or higher, which means either the LET points list may need to be abandoned as a qualifying path, or the Rolex Rankings need to be revised to give LET events more points. Diana Luna of Italy, No. 3 on this year's LET money list, is No. 196 in the Rolex Rankings.
If Europe loses in another rout, a big loser here could be the LET, which may have to abandon its points list -- which is designed to protect the tour and keep some players at home -- and there will surely be a greater cry to include the rest of the world in the Solheim Cup. Right now, 12 of the top 20 in the Rolex Rankings come from countries not eligible for the competition: Mexico, Taiwan, Australia, Korea and Japan.
For Europe to win, its top players -- Gustafson, Pettersen, Women's British Open winner Catriona Matthew and LPGA Championship winner Anna Nordqvist -- need to play well and they need a surprise point or two from someone like Luna or Tania Elosegui. If you are looking for a possible surprise star among the Europeans keep an eye on Becky Brewerton, who has been an impressive competitor while going 1-1-1.
Among the other possible winners here: Pettersen (8-3-5) is emerging as the best European Solheim Cup player of her generation; Inkster could break her tie with assistant captain Meg Mallow for most points won by an American (16½). Laura Davies (23) could break the all-time points record of 24 held by Sorenstam.
Creamer (5-1-4) could reinforce her credentials as the best American of her generation as she competes for the third time at the age of 23. And Michelle Wie, a Solheim Cup rookie and winless as a professional, will get a chance to shed some of the doubts about her ability to perform under pressure.
But perhaps no one has as much at stake as the two captains. Alison Nicholas needs to take some Mark James-like chances and not be afraid to bench weak players, and she needs to find some winning combinations. Beth Daniel has to convince her players not to believe all the stories that say they are overwhelming favorites.
And, oh yeah, there likely will emerge two other winners here. Rich Harvest Farms should prove to be a most worthy venue for this competition, and the population of Sugar Grove -- listed at 8,484 on the city limits sign -- likely will be tripled each day of the competition. The practice galleries have already been impressive.
Whatever the outcome, and whatever direction this event needs to go when it leaves here, the Solheim Cup will be a winner. It came of age that week in Sweden six years ago and has been growing ever since.