News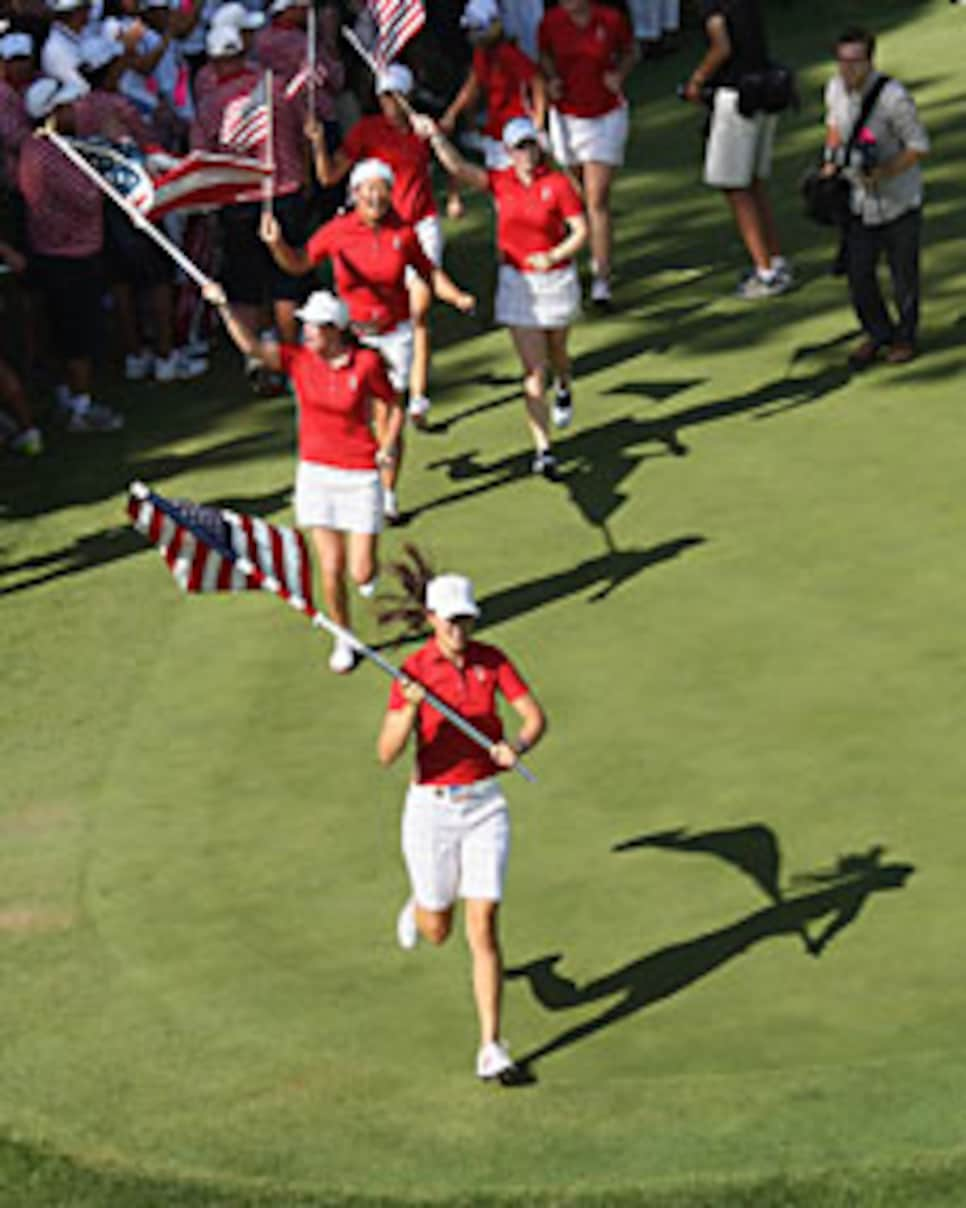 For all that the American team was able to celebrate at Rich Harvest Farms, not everything about the week was a rousing success.
Speaking as the crazy mixed-up kid who publicly predicted that the American Solheim Cup squad would romp to an easy and early victory by at least eight points (a heinous error that has now lost me a £10 bet with the Women's British Open champion), a couple of things have belatedly become clear: the U.S. team isn't as good as I thought it was; and the European side isn't as bad as I suspected it might be.
Still, what is putting a wry smile on the face of this far-off observer are the vast differences in perception between watching the biennial battle on television (in my case on Sky) and the coverage in the newspapers and on the burgeoning number of golf websites.
Via the cathode ray tube, the Solheim Cup was, we were assured over and over, nothing short of magnificent. Played on a peerless course between two wonderful teams captained by two wonderful human beings and full of wonderful golfers, it could have easily have been mistaken for perhaps the greatest golf event in the long history of the sport.
On the other hand, a very different picture emerged, courtesy of the ink-stained wretches paid to tell us what is actually happening rather than what the establishment would like us to believe. Suddenly, the course was a bit of a mess: poorly designed, badly set up and really not very good at all, as most tracks incorporating mechanical swans tend to be. Suddenly, Laura Davies, to name but one out-of-form chopper, couldn't hit her visor with a hybrid, never mind a banjo. Suddenly, U.S. skipper Beth Daniels was making all kinds of tactical errors that were doing nothing more than keeping a markedly inferior European side in contention until the singles.
Anyway, as usual, the matches were not without controversial incident. Like most sane people, this reporter was left incredulous by the explanation of the rules person who informed the world that Michelle Wie was entitled to a free drop from an area on the 18th fairway that really was '"ground under repair" but hadn't been marked because officialdom felt "it was 'between shots' and no one would ever hit a ball there.'"
Say what? The contemptuous look on European captain Alison Nicholas' face surely summed up the feelings of many. This was sheer incompetence at work -- a more cynical mind might argue bias in favor of the home side -- and just as well that Catriona Matthew's subsequent birdie rendered this extraordinary decision moot. Professional golfers quite rightly get their share of stick for a general ignorance of the game's often-esoteric regulations, but we are in real trouble if those charged with administering those rules are found wanting -- as they so obviously were in this case. They should be ashamed of themselves.
The lack of white lines on that 18th fairway -- no doubt because officials did not want any of the course's obvious conditioning shortcomings to be too, eh, obvious -- also reflected poorly on the host venue. From this distance Rich Harvest Farms looked goofy, unimaginative and all but devoid of strategic merit. I mean, how often did a player hit a fairway and suddenly find the route to the green all but blocked by a large tree? Way too often.
Elsewhere, the other big issue was the almost glacial pace of play, especially on the first two days. Six hours-plus is way too long to spend on a round of golf, even one where four balls are potentially in play on every hole. It really is too bad that one of the few times women's golf has an opportunity to showcase its talents was tainted by what slowly -- oh so slowly -- became all but unwatchable.
Maybe more foursomes play is needed, with Matthew and Janice Moodie, leading the way by showing the other competitors that it really isn't necessary to either hold hands or a committee meeting on every shot. The two Scots apparently caused quite a stir by playing "proper" foursomes, one heading back to the tee to drive off while the other waited up the fairway for the ball to arrive. Thus, the driver rarely has to stop walking between tee and green and play fairly zips along. What a concept!
Another factor in the crazy-slow play of both sides was the depressing presence of so much rough alongside the fairways and, in particular, around the greens. Not only did that drag play out, it eliminated any skill involved in short shots. One Sky commentator had the nerve to assert that a chip from Suzann Pettersen would "require great touch." What nonsense. Long grass does exactly the opposite, all but completely negating touch and leaving "hit and hope" as the only viable option.
One other lowlight -- at least some of the time -- was the behavior of Christina Kim. The extrovert American clearly has a big heart and a kind heart given her obvious affinity and loud interaction with the spectators. But there is a line that must never be crossed with this sort of thing. And, at the risk of being portrayed as a bit of a fuddy-duddy, it must be pointed out that Kim, on occasion, veers into a place where opponents are -- however inadvertently -- treated with something less than proper respect. The time to gee up crowds is between holes, not while a competitive situation exists.
For all that, it must be acknowledged that the three days were not without moments, matches and maidens to savor. The star of the show, however, was the magnificent play of Wie. The young Hawaiian's peerless ball-striking was surely a precursor of what we can expect sooner rather than later on the LPGA Tour. It says here that Wie will be the dominant figure in the women's game inside the next 18 months, even with her much-maligned parents back in tow. She has a game none of the others can match, even if Helen Alfredsson's wibbly-wobbly swing hunted her all the way to the 18th green before narrowly succumbing in the final day singles.
The last word, however, must go to the Solheim Cup itself. Many, ahem, informed commentators, including this one, have asserted that the matches need the injection of players from regions outside the U.S. and Europe in order to stay relevant. Based on the evidence of the last three days, that may not yet be necessary. The losing side displayed enough talent and nerve to make the contest just that. Give them one more go in Ireland two years hence and see where we go from there.