News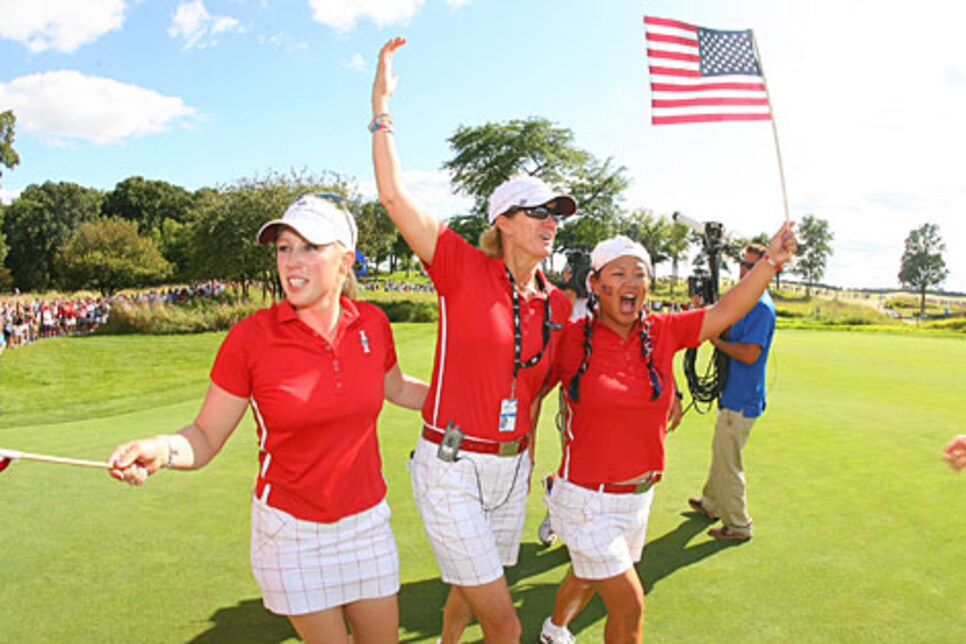 Points well taken: Creamer (below) had reason to shout Sunday: She scored a pacesetting win over Norway's Pettersen. Above (from left to right) Pressel, Daniel and Kim celebrate a banner day west of Chicago.
Rich Harvest Farms is a sprawling bear of a golf course, at 6,670 yards the longest in Solheim Cup history. Mostly, holes exist in isolation, crossing creeks and chasms and cornfields with several quirky designs, such as trees plopped in fairways. But on the back nine there is a cozy corner—a trio of holes close together—and it was in that triangle of American noise an extremely game Team Europe lost its way and succumbed to a superior U.S. side bolstered by a massive singing, chanting, cheering home crowd in Sugar Grove, Ill. The final score was 16-12, the Americans' third consecutive rout as they extended their domination in the biennial competition to 8-3, but if ever there was a case when numbers did not measure the effort—and the heart—of an opponent, this was it.
Six pivotal matches went to the back nine Sunday with Europe ahead in three and all square in the other three. When the dust settled, Team USA claimed four of those six points. If those matches had ended the back nine the way they entered it, Europe would have won the Cup. The Americans' charge through that cauldron of patriotic sound—Nos. 12, 13 and 14, which served as an emotional springboard to the closing holes—was led by 49-year-old Juli Inkster, who rallied from 2 down to halve her match with Gwladys Nocera, and 19-year-old Michelle Wie, whose massive 312-yard drive on No. 15 helped her defeat Helen Alfredsson in what the folks who balance the books for the LPGA hope was a breakout performance, one that will lead to Wie's first tour win. She won 3½ points, matching Nocera for most in the competition.
"I was on the 13th tee helping the players and the caddies with clubs, and that's where it started to turn around," said U.S. captain Beth Daniel. "And that's where it turned around [Saturday] as well, in the afternoon for us. That was kind of our goodluck corner, and it was loud in that corner, too. But I mean, they had to dig deep. They really had to dig deep to win this. I'm so proud of each and every one of them."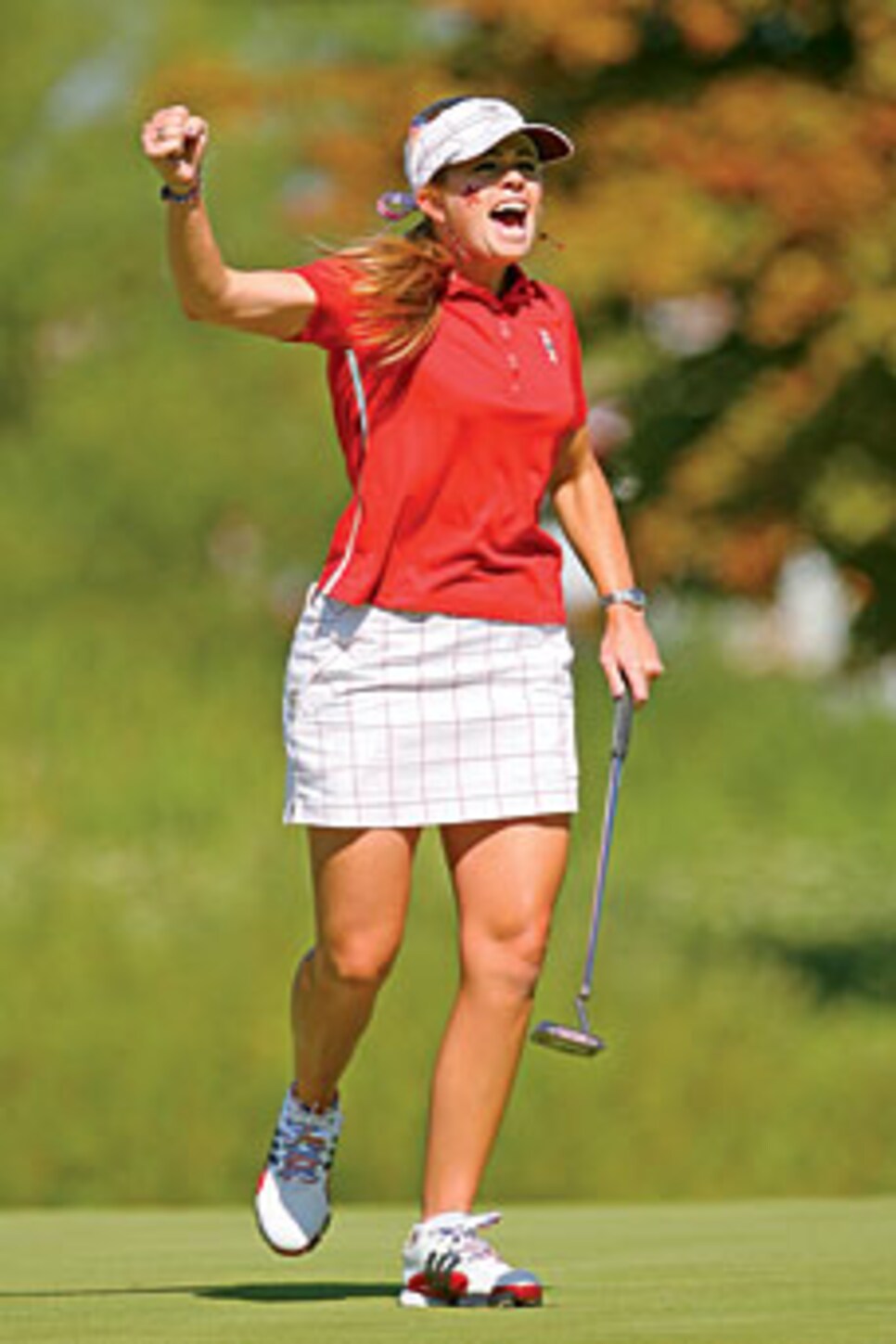 There are a lot of folks who should walk away from this Solheim Cup with a sense of pride—save perhaps whoever drew up the traffic plan for Friday's first day of competition, when some fans needed three hours to negotiate the 15 miles from hotels in Naperville to the course 50 miles west of Chicago and some family members missed seeing their loved ones tee off. Daniel was extremely efficient in her role. Her two captain's picks—Wie and Inkster—combined to win five points. Her strategy of playing no one more than four times and everyone at least three times—capitalizing on the superior depth on the American roster—worked. And her Sunday lineup won four of the first five singles points.
European captain Alison Nicholas, who was in tears after the defeat, also maneuvered her supposedly outclassed roster brilliantly and got to Sunday tied at 8-8. While both sides tried to deny the cold, hard numbers, the fact was Europe had four players outside the top 125 on the Rolex Rankings and the U.S. had no one lower than No. 51. Still, Europe got massive efforts from Nocera (No. 125), Becky Brewerton (139), Tania Elosegui (189) and Diana Luna (196), who combined for 6½ points. What killed Europe was that its three best players—Suzann Pettersen, Helen Alfredsson and Sophie Gustafson—were part of just three wins in the 10 combined matches they played.
"They played their hearts out," an emotional Nicholas said quite accurately. "Unfortunately, the Americans birdied a few more holes than we did. But I can thank [my players] for a great experience. They're a great bunch of girls. They gave 100 percent, and that's all you can do."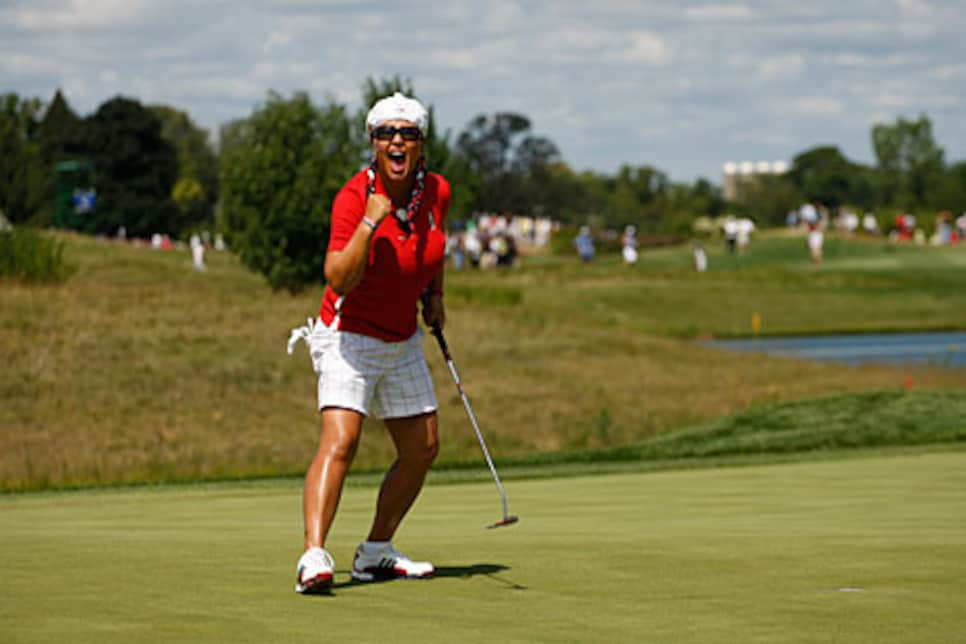 The competition began Friday—with thousands of spectators, among the Solheim Cup record 120,000 for the week, sitting in their motionless vehicles on U.S. Route 30—amid much talk Europe needed to win (something it has never done on U.S. soil) to keep the Cup relevant. It was noted that 12 of the top 20 on the Rolex Rankings were from regions not eligible for the Solheim Cup—Australia, Asia and Latin America—and that the U.S. team had won the last two competitions rather easily.
While this edition of the Solheim Cup did not dismiss all concerns about American domination, it did make a strong case for not tinkering with the format because of the passion of the fans. What some players came away discussing was the creation of a second team event (the First Lady's Cup?) that gets the top players—and the corporate money from their homelands—involved in a team competition.
The Americans won Friday's four better-ball matches—which took a mind-numbing six hours to complete—2½-1½, with Paula Creamer's 45-foot sweeper for birdie on No. 16 (pacing she and Cristie Kerr to a 1-up win over Pettersen and Gustafson) making all the highlight shows. The four afternoon alternate-shot matches were split, giving the Americans a one-point lead after day one.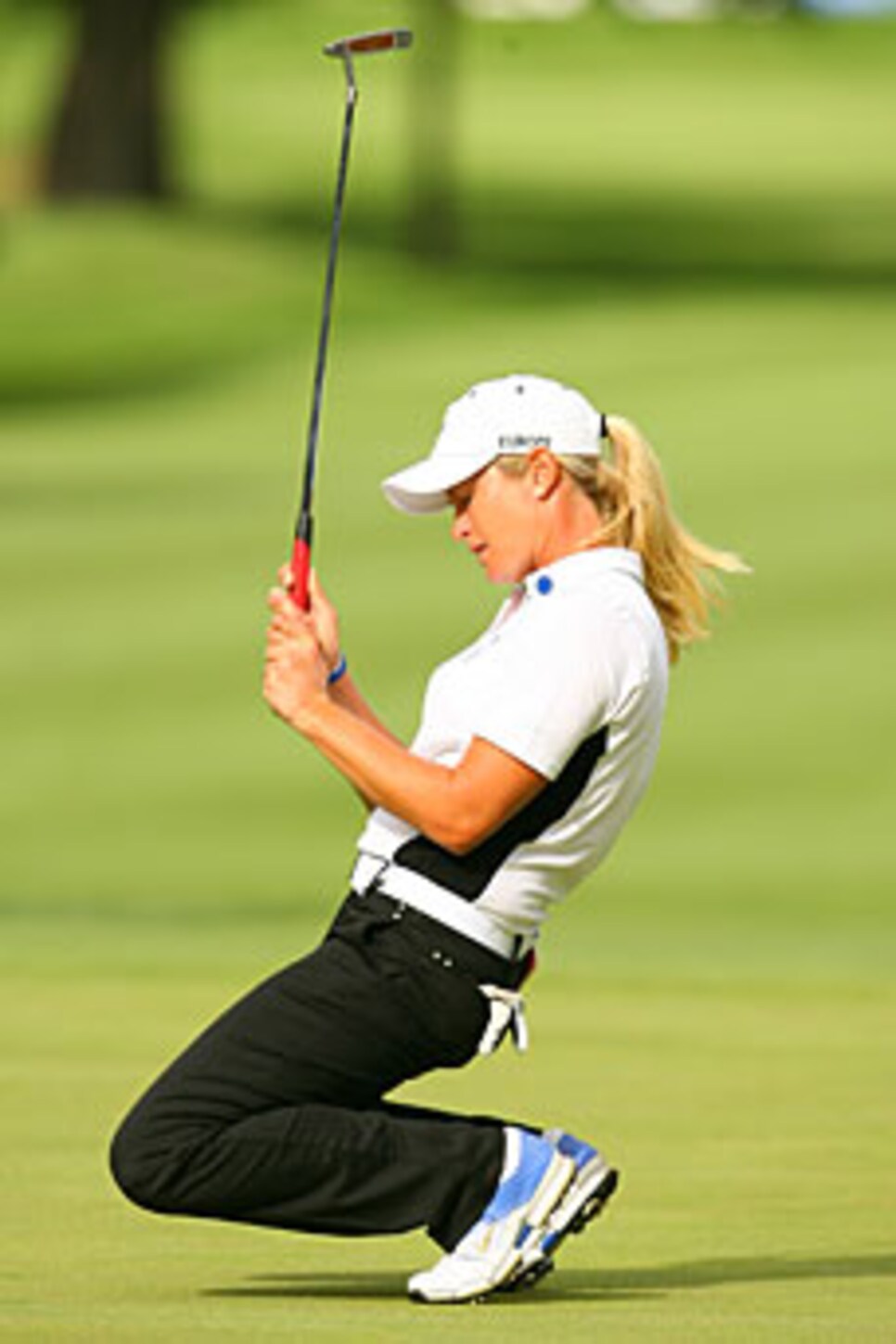 Europe rallied Saturday morning, taking 2½ of the four four-ball points—Wie made five birdies in a 10-hole stretch as she and Christina Kim defeated Alfredsson and Elosegui, 5 and 4—and split the four foursomes points in the afternoon. Wie and Kerr combined to win a crucial point from Anna Nordqvist and Maria Hjorth, 1 up, in the last match of the day.
The fact the score was tied 8-8 when singles play started was ominous for Europe, which, in the present format, has never won with fewer than 9½ points going into the last session. The Americans traditionally dominate singles, and the same was true this time, with Europe winning only two matches. The tone was set early when Creamer beat Pettersen, 3 and 2; Angela Stanford handled Brewerton, 5 and 4; Wie took Alfredsson, 1 up; Brittany Lang halved with Laura
Davies; and Inkster halved with Nocera in the first five matches.
That gave the Americans a 12-9 lead, and they needed only two points to keep the Cup. The clincher came when Morgan Pressel closed out Nordqvist, 3 and 2.
"I think one reason why it was our goodluck corner is so many of the holes are so close to one another that every four minutes it seemed you heard another roar, and based on the volume of it, you could tell it was an American," Kim, who was her usual over-the-top self all week, said about that noisy trio of back-nine holes. "It starts off with one, and it was just contagious. It just went all the way around, and you just get a little bit of that momentum, and you ride it out."
That's exactly what happened. For Europe, leads rode into that noisy corner of the back nine and they didn't come out. The American team was simply too deep and too talented, a reality Europe refused to accept as it extended the drama deep into Sunday. Europe almost overcame a better team, but it couldn't overcome the emotion of the home crowd. That's the extra player Europe will have at Killeen Castle in Ireland in 2011 when it will once again try to make this competition competitive.