News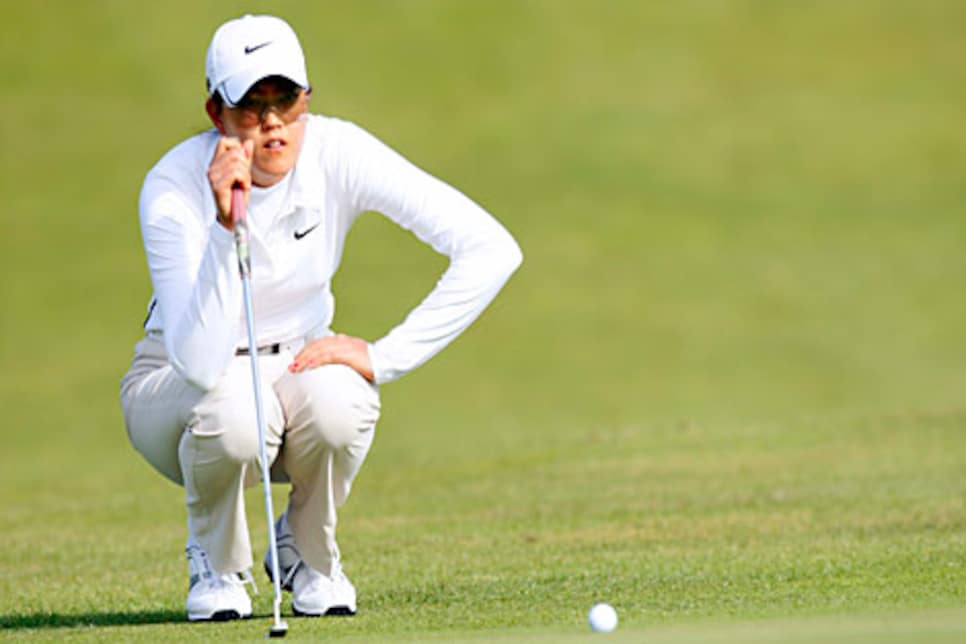 Wie has shown steadiness and confidence that will boost the U.S. team.
LYTHAM ST. ANNES, ENGLAND -- Beth Daniel made 49-year-old Juli Inkster and 19-year-old rookie Michelle Wie her captain's picks for the Solheim Cup while Alison Nicholas rounded out her squad by adding Anna Nordqvist, Janice Moodie and Becky Brewerton. The U.S. had 10 players qualify off a points list with two wild cards while Europe had nine earn spots off points with three captain's selections.
"I'll start the rivalry right now," Moodie said with a smile. "I've been on two and I've won two." When she got the microphone, Paula Creamer shot back: "OK Janice, I've been on two and won two, also." The competition, which the U.S. leads 7-3, a record that includes a decisive win in the last two matches, is August 21-23 at Rich Harvest Farms in Illinois.
"I think we have a very strong team here for Rich Harvest Farms," Daniel said Sunday at Royal Lytham St. Annes after the Ricoh Women's British Open. "But we have to watch out for those guys over there. Anytime you are faced with a decision where you have to basically leave people out of it is difficult," she said about passing over several players to pick Wie and Inkster.
Wie finished No. 13 in the Solheim Cup points list, behind Laura Diaz and Stacy Prammanadush, and Inkster was No. 16 behind Pat Hurst and Jane Park.
"Pairings were a consideration and match play records were a consideration," said Nicholas about her picks. "We feel we have a balance of youth and experience." Both teams have three rookies. Davies is playing in her eleventh Solhiem Cup, which is all of them, and Inkster is in her eighth. Alfredsson becomes the first player to appear as a competitor after being a captain, which she was in 2007.
The 10 automatic qualifiers for the U.S. team were, in order: Paula Creamer, Cristie Kerr, Angela Stanford, Kristy McPherson, Nicole Castrale, Christina Kim, Brittany Lang, Morgan Pressel, Brittany Lincicome and Natalie Gulbis. Lang, McPherson and Wie are Solheim Cup rookies.
The nine qualifiers for Europe were Gwladys Nocera, Tania Elosegui, Diana Luna, Laura Davies and Sophie Gustafson off the LET list and Suzann Pettersen, Helen Alfredsson, British Open winner Catriona Matthew and Maria Hjorth off the Rolex Rankings. Elosegui, Luna and Nordqvist are Solheim rookies for Europe.
Wie, who has played steady all year, not missing a cut and finishing in the top-three three times, bolstered her case with a closing 69 at Royal Lytham to finish T-11. Although she finished 13th, she accumulated her point total in less than a full season while the other players had nearly two years.
Inkster, who was No. 16 on the Solheim Cup points list, has struggled this year but she is one of the all-time best Solheim Cup players, tied with Meg Mallon for most points by an American, and will be a huge benefit in the team room keeping a young squad that is going to be a strong favorite focused on the task at hand.
"I'm disappointed I didn't play my way onto the team," Inkster said. "But I'm going to do all I can to help these guys keep the cup."
Diaz and Prammanasudh both accumulated most of their points last year and had missed 16 cuts between them in 2009. Hurst won in Mexico earlier this year but had done little beyond that to make her a choice over Inkster, who almost certainly will be playing her last Solheim Cup.
The Americans, who have two weeks without an LPGA event, leave Monday for some practice in Illinois.