News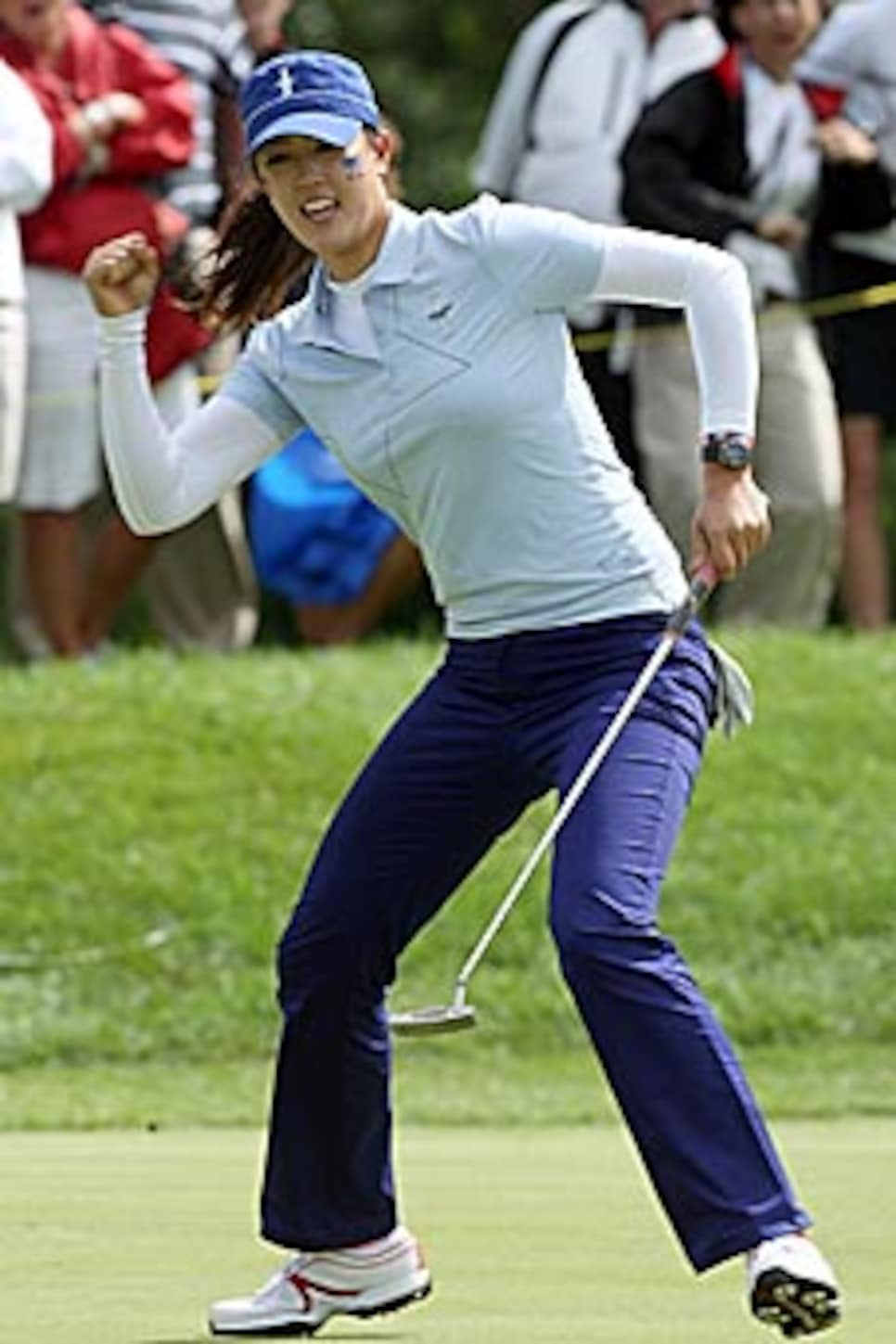 Michelle Wie enjoyed her Solheim Cup debut, earning a half point in the morning with Morgan Pressel.
SUGAR GROVE, Ill. (AP) -- Instead of dancing, Juli Inkster dropped to her knees.
Paula Creamer made a 20-footer late Friday afternoon to give the United States a 4½-3½ lead at the Solheim Cup, and make Inkster the highest-scoring U.S. player in the event's history. The 49-year-old has scored 17½ points, one more than Meg Mallon, now an assistant captain for the U.S. team.
"About time my partner made a putt," Inkster joked after her and Creamer's 2-and-1 foursome victory over Catriona Matthew and Janice Moodie. "No, it was good. We had some sloppy play in the middle -- I did. The thing with alternate shot, is you've just got to ham-and-egg it, do the best you can and ride it out. We were fortunate enough to throw a few birdies in there and Paula had a phenomenal putt on 17."
Inkster hasn't won since 2006, and her best finish this year is a tie for 11th. But U.S. captain Beth Daniel didn't hesitate to make her a captain's pick, and the seven-time major champion reinforced the decision with a critical point against Matthew and Moodie.
The Americans were 3-up after 12 holes, only to see the lead dwindle when Inkster missed par putts on the next two holes. But Inkster is quite possibly the most competitive person on the team, and she responded with a spectacular chip on the par-5 15th, running it a foot past the hole from 120 yards.
After splitting the 16th hole, the worst the Americans could do was a half-point for the match. That would have left them tied with the Europeans, however, and the last thing the U.S. team wanted to do was lose any of their momentum. There are another eight doubles matches Saturday, and the Americans need 14 points to win their third straight Solheim Cup. Europe needs 14½ points to win its first on U.S. soil.
Matthew missed a long putt to win the hole, leaving Creamer with that 20-footer. Make it, and the Americans finish the day ahead.
Miss, and at least there was still a hole to play.
But Creamer struck the ball perfectly, and was pumping her fist before it even dropped in the hole. Inkster, standing at the side of the green, threw back her head and dropped to her knees. The rest of the U.S. team quickly surrounded the two on the green, with Michelle Wie -- only a few months older than Inkster's oldest daughter -- giving Inkster a big hug.
Only Europe's Annika Sorenstam (24 points) and Laura Davies (23) have scored more points than Inkster in Solheim Cup play.