News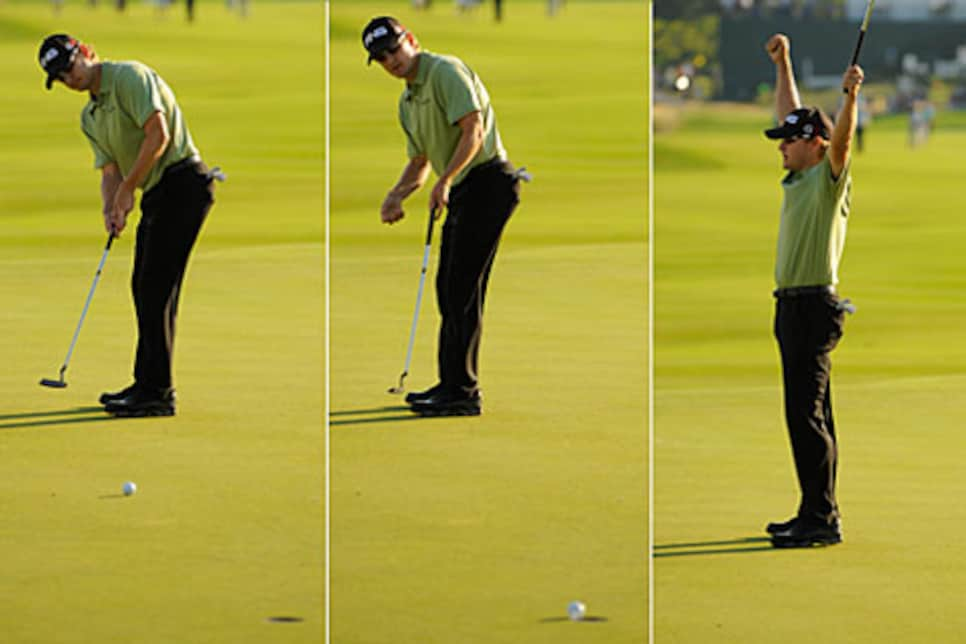 magical moment: Slocum made a lasting memory for himself when he sank a 20-foot par putt on the 18th hole at Liberty National to finish at nine-under 275 and secure his third career PGA Tour victory.
In the Year of the Cockeyed Storyline, Heath Slocum's victory at the FedEx Cup postseason opener should have produced a shock no greater than a mid-winter spark of static electricity. A 20-foot par-save on Liberty National's 18th hole left Slocum one stroke ahead of a quartet with 20 major championships and a severe case of 20/20 hindsight, which obviously served no useful purpose on the same green Slocum clinched his third PGA Tour triumph.
Confused? So are the golf gods. As a pleasant Sunday afternoon churned out a highly entertaining homestretch, Slocum, who squeaked into the Barclays because Matt Jones shot a 74 instead of 72 in the final round of the regular-season finale a week earlier, seemed unlikely to withstand the presence of those gathering just below him on the leader board, a group headlined by the Dude in the Red Shirt.
No, not Steve Marino. "If I'd hit it poorly, I would have been pissed," Tiger Woods said of his seven-foot miss for birdie at the 18th, a burned left edge that served as a fitting end to another week of putting woes. Woods said he couldn't remember a tournament when he relied so heavily on caddie Steve Williams to help read greens, a dependency that only proved four eyes aren't necessarily better than two.
"We had it either right-center with a little pace, or inside-right," Tiger added. "We missed it by almost a cup. It's frustrating when you misread a putt that bad."
And unusual, especially with a trophy just begging to be held, if not totally ironic. Slocum's game-winner one group later was on a very similar line to Woods' miss, just three times longer. So the guy who qualified for the FedEx derby by two whole points, a guy whose last whiff of the hunt occurred six months ago at an opposite-field event in Mexico—Slocum finished T-3 while the world's top 64 players were beating on each other at the WGC-Accenture Match Play—out-clutched Tiger, who has only been holing must-makes since the mid-1990s.
Until Hazeltine, anyway. If the PGA Championship revealed Woods as slightly human, Slocum assumed the role of Y.E. Yang with a bit less bang. He swished that 20-footer after driving his ball into a fairway bunker, moving a 6-iron about 70 yards, then hitting a below-average wedge that left him a longer par attempt than he should have had.
When Steve Stricker, who eats 10-footers for breakfast, missed from that distance on basically the same line as Woods and Slocum, nine under was good enough and only one guy was on it. "An incredible day, incredible experience," Slocum proclaimed. "I was kind of lucky to come out on top. A lot of good players. The putt on the last hole was magical. I'll remember that for the rest of my life."
Ernie Els and Padraig Harrington rounded out the decorated runner-up foursome, Harrington with a birdie to finish, but neither stood over a putt to force a playoff—or in Tiger's case, a decent chance to win in regulation. The funny thing about it is, the eight playoff events in the two postseasons prior to this have all been won by name players. That is, if you consider Camilo Villegas as something other than a player with more syllables in his name than victories in his career.
Slocum is the FedEx Cup's first upset champion, and thus, he moves from 124th to third in the updated standings, trailing only Woods and Stricker. Given the tour's latest version of playoff math, which raises the volume on volatility to eardrum-shattering levels, Slocum would have a hard time improving his timing.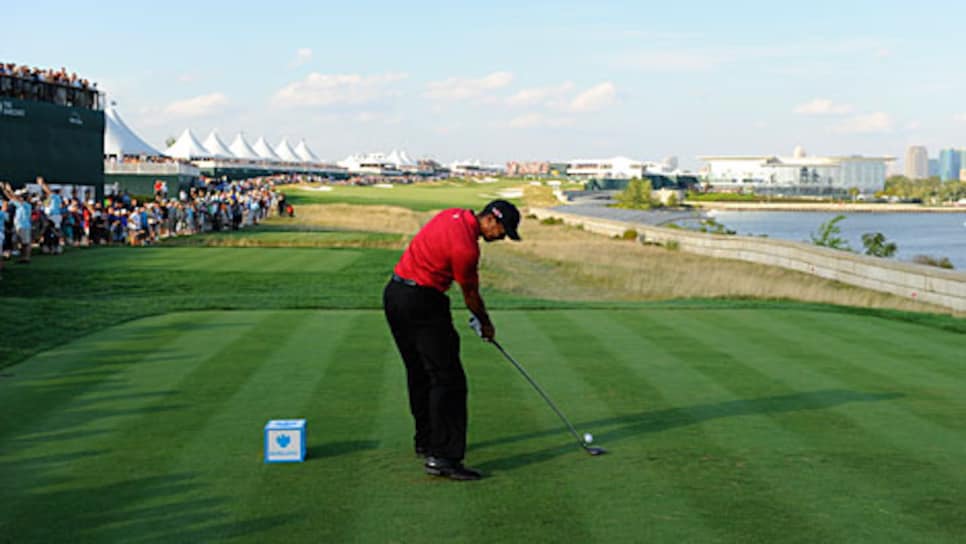 A week earlier in North Carolina, he missed his 10th cut in 23 starts and was contemplating a trip to Switzerland, where he might find a spot in the Omega European Masters. If not, Heath, his wife Vicky, and their only child, Stella, would enjoy a nice little vacation, or as Vicky put it, "as much vacation as you can have with a 20-month-old daughter."
You just never know in this crazy game, however, so Vicky spent the fourth Sunday afternoon in August scoreboard-watching while her husband practiced near their home in Atlanta. "He got back and said to me, 'I don't want to know what's going on,' then took Stella down to her play room in the basement," Vicky said. "At that point I was basically on the computer the whole time. When I was pretty sure what had happened, I ran down and told him we might have good news, then ran upstairs and started doing laundry."
What had happened was that Slocum, who entered the Wyndham Championship 117th before missing the cut, fell only to 124th because Jones, 119th, earned just two FedEx points for a solo 69th, which dropped him to 126th. Slocum and Troy Matteson, who landed on 125, would live for another week. Or two. Or four.
"Troy and I played together Thursday and Friday [at Liberty National]," Slocum said. "He was watching it pretty close, and it was just crazy, people making birdies and bogeys, moving all up and down the board." (Matteson finished T-20 and moved to 83rd in the FedEx Cup standings.)
Through 54 holes, the top of the Barclays board had been claimed, then held, by three guys only slightly less surprising than Slocum: rookie Webb Simpson, short-hitting veteran Paul Goydos and the enigmatic Marino, who showed up Sunday in Tiger attire—crimson shirt, black trousers and a share of the lead. Sunday that trio would amass a grand total of one birdie on the first 12 holes, combining to go eight over on a day when moving in the opposite direction was strongly advised.
Liberty National had been ridiculed all week for its various design flaws, most notably the putting surfaces, which are small in size but severe in slope and tilt. "There's just way too much going on with everything here," is how one multiple major champion put it. "[Co-designer] Bob Cupp asked me for my honest opinion, and I told him: You've got wide fairways but hardly any room between the fairways and the fescue. You've got greens with contours that would be much more suitable if they were twice the size, which they aren't. For three or four holes, it feels like a links, then three or four more where it's very much a parkland course. It's just way too much."
By Sunday afternoon several of the big boys had set aside their differences with the architecture and were making moves. Despite missing a three-footer for par at the fourth, despite missing mid-range putts all week, Woods worked himself into the mix with birdies at the 14th and 16th. So did Els, whose bogey-free final round featured five birdies on the first 14 holes but none on the last four.
"I told [caddie] Ricci [Roberts], 'Let's go shoot 65 today and see what happens,' " Els said of his best finish since winning the Honda Classic almost 18 months ago. "We came close to that, and I had quite a few chances, but I really liked the way I played today. My emotions were really under control."
Slocum grabbed his first share of the lead after holing out a 7-iron from 158 yards for an eagle at the par-4 fifth. After that, he barely yielded any ground—his only bogey of the day coming at the seventh, and his only birdie on the back nine came at the par-5 13th. A ton of guys had a chance to catch him, but no one did.
So the winner had it right. Slocum got a little lucky, but he was also pretty good, and it never hurts to be both. "Even though I didn't care for some of the holes, I thought I could play well here," said Stricker, whose bogey at the 18th had begun, like Slocum's final journey, with a drive into a fairway bunker.
"I thought it was a great championship," said Stricker, "thought there was a lot of excitement. I see Ernie got in there. Didn't Padraig finish at eight [under], too? Tiger got himself up there. It must be a good course if all those guys were there at the end, I guess."