News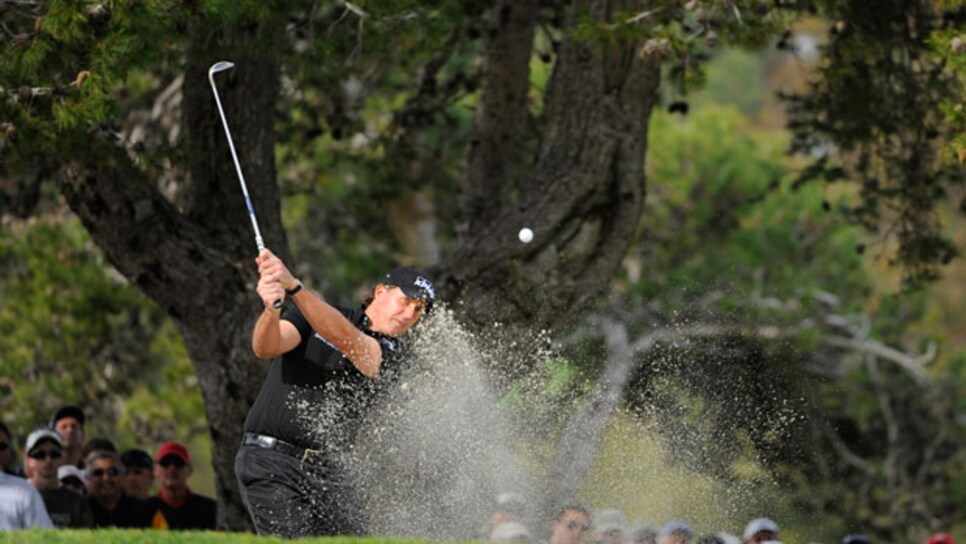 Blasting Back: Mickelson, who finished 19th in his 2010 debut, defended himself against criticism by McCarron that his use of an old wedge at Torrey Pines was "cheating."
Forgive Tim Finchem if he wants to hit the reset button. For the last 12 months the PGA Tour commissioner must feel as though he has been playing a high-speed game of Whac-A-Mole, forced to deal with new problems just as existing ones are put down. On the one-year anniversary of a harsh -- and flawed -- rebuke by Rep. Barney Frank of the Northern Trust Open because the bank entertained clients at the tournament after receiving bailout money, Finchem found himself back in Los Angeles talking to players at Riviera CC in an effort to ease new tensions that flared down the Pacific Coast Highway at the Farmers Insurance Open.
As if political attacks, economic uncertainty (highlighted by the recent sponsor-less Bob Hope Classic) and the Tiger Woods situation weren't enough, the most toxic of all words in golf -- "cheating" -- was hurled at Phil Mickelson by Scott McCarron because the left-hander took advantage of a loophole in the new USGA groove rule. Mickelson responded with an incendiary word of his own: "slander." And just when the tour was hoping the spotlight would turn from the personal woes of its No. 1 player to the return of its No. 2, once again the attention shifted from competition to containment.
The hugely popular Mickelson had showed up at Torrey Pines with a 20-year-old wedge in his bag that is a grandfathered exception to the newly imposed groove rule -- a move that was as much a comment on his distaste for the USGA's new regulation as it was a strategic maneuver -- and the club became the focus of Lefty's 2010 debut.
At one point Sunday afternoon, as Ben Crane was making putts from outside the San Diego zip code to hold on for a one-stroke victory over Michael Sim, Brandt Snedeker and Marc Leishman (See Tour Talk, page 40), a Google search for "Mickelson" and "cheat" produced a number of hits that rose to several hundred thousand within hours. An issue that was misunderstood by just about everyone outside the golf community, as well as many within it, had taken on a life of its own, as is frequently the case in the Internet information age in which accuracy often takes a backseat to urgency. "It's cheating, and I'm appalled Phil has put it into play," McCarron was quoted as saying in Friday's San Francisco Chronicle, giving headline writers all the ammo they needed. In all, nine players at the Farmers Insurance Open had Ping Eye 2s in play, but only three used pre-1990 Eye 2s with the old grooves. And only Mickelson was singled out for criticism.
Several other players joined McCarron in complaining. "I'm surprised Phil would do that," said two-time U.S. Open champion Lee Janzen. "I would actually expect him to be one of the guys [asking] the tour to get the clubs banned for our competition. Guys shouldn't be using those clubs."
And Rocco Mediate, who waged a memorable battle at Torrey Pines in the 2008 U.S. Open before losing a playoff to Woods, said, "They need to get rid of them all. Grandfather rules are total bull. You look for a loophole? Why? Use the grooves we are supposed to use."
The tour reacted slowly to the McCarron quotes, leaving Mickelson twisting in the wind for a day before issuing a statement after Saturday's third round that said, in part, that comments questioning the integrity of players who used the Eye 2 wedges "are inappropriate at best." The statement also said Finchem would address the matter Feb. 2 "during a regularly scheduled player meeting" at the Northern Trust Open.
On Monday McCarron reiterated his stance in a statement and said he was "still appalled" that "any player" would play with the grandfathered wedge.
"I think it is fair to say that the topic of the pre-1990 Ping Eye 2 irons will be brought up during the player meeting and an off-shoot of those discussions will be what should and should not be said in public about that topic," a source familiar with the tour's thinking told Golf World. "As far as the 'grandfathering' of the Ping Eye 2s being changed, there are steps that would have to be taken before that could happen." Indeed, the tour is bound by the legal agreement it signed with Ping in 1993.
Saturday, Mickelson fought back. "We all have our opinions on the matter, but a line was crossed," he said. "I just was publicly slandered, and because of that I'll have to let other people handle that." Those "other people" are likely folks who get paid by the billable hour and have law-school diplomas hanging on their office walls. Of the three options that would likely mollify Mickelson -- a suspension of McCarron, a fine or an apology -- the latter was the most likely, with a fine probably attached. Monday, McCarron issued a statement reiterating his stance and clarifying his Mickelson comment, i.e., the act is cheating, but he did not specifically call his colleague "a cheater."
On Monday McCarron reiterated his stance in a statement and said he was "still appalled" that "any player" would play with the grandfathered wedge.
Said McCarron in the statement, "Instead of focusing on the handful of players who made the choice to use the Ping Eye 2 wedge, I think we should focus on the overwhelming majority of PGA Tour professionals who chose to do the right thing and play clubs with legal grooves. I applaud them. I am still appalled by the fact that any player would make the choice to put this controversial wedge in play, and I stand by my previous comments."
There was added frustration for the tour that this matter arose at this tournament. Barely a week before it was held, Farmers Insurance Group stepped in as the title sponsor for the Torrey Pines tournament, which in the last year has had four names: the Buick Invitational; the Century Club of San Diego Invitational; the San Diego Open; and, finally, the Farmers Insurance Open. While the tournament went off smoothly (thanks to the expertise of the Century Club, which has been running the event since 1961) and the charities will get their contributions (thanks to Farmers Insurance), there were signs of haste. The white blimp adorned only by red letters spelling "Farmers" on one side was clearly thrown together quickly. It floated over Torrey Pines like a faceless whale that had levitated from the Pacific, especially when glimpsed from the side lacking writing. In the pro-am staging area a few "Buick Invitational" signs remained.
The week got off to an unusual start when Mickelson opened his pre-tournament interview by saying he was going to make a statement on three subjects and then not take any questions on those matters. One was Woods, of whom Mickelson said the game needs his return "but right now he's got a lot more important things going on in his life." Another was the health of his wife, Amy, and mother, Mary, both of whom are being treated for breast cancer. He said they were both doing well but because of scheduling conflicts created by medical procedures, he would skip the WGC-Accenture Match Play later this month.
And then there was the one that would dominate the week. "The groove issue is going to be an interesting issue this year, how that will play out, the Eye 2 wedges from 20 years ago, whether those are legal or what not," Mickelson said, hinting he was playing the club in part to protest the USGA rule.
"I feel like the Eye 2 grooves are not legal or don't conform, but they are approved for play," Mickelson said. "And after talking about the tour and the USGA, the only thing that matters is, 'Are they approved for play?' So I don't feel that there's any problem if I were to play those clubs or if anybody else were. All that matters is that [using them] is OK under the rules of golf."
By the end of play Sunday, players were choosing their words with greater caution, creating the sense tour officials have urged players to chill out. "I think I've said enough," Mickelson said after finishing 19th, five strokes behind Crane. Earlier he said the club could very well be missing from his bag this week. "It's very likely I'll switch [at Riveria]," Mickelson explained, "but not because I think I'm doing anything wrong."
Ernie Els tried to serve as peacemaker. "We've got to all think about it," he said. "All the players have come out and blasted each other -- and blasted the rule. We know what the rule is now. It's up to the players now to do what they want to do. [Finchem] sent me a text last night. We'll talk. We'll find a solution for the thing. I think everybody wants conformity. We've just got to get to whatever all the players are happy with."
Perhaps then the focus can get back to competitive golf, instead of everything but. Except right about the time things cool down, it could be time for you-know-who to return. And that will make everyone forget Groovegate ever happened.