News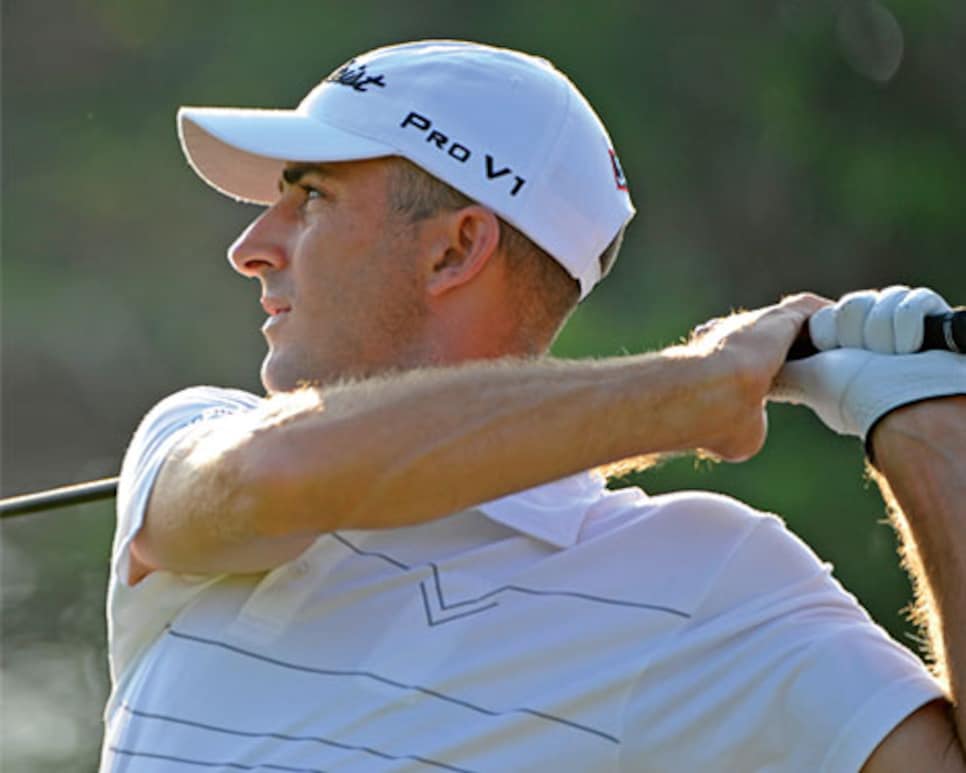 Geoff Ogilvy won for the second consecutive year at Kapalua
Irony is an elusive animal, a linguistic device difficult to define, dripping with double meaning and messages seemingly contradicted by reality. It's hard to explain, but you know it when you see it. So it was with a certain irony that Tiger talk dominated the SBS Championship, a tournament he hasn't played in five years and wouldn't have been at even if he weren't on an indefinite break, not to mention the future of PGA Tour sponsorships was questioned at an event in the first year of a 10-year deal -- the longest on tour. Talk about the tail wagging the dog.
Those wishing to bury the PGA Tour gleefully grabbed a shovel heavy with Woods' absence and dumped it upon the dirt of a down economy. Still, the SBS Championship effortlessly steered the conversation back to golf as a talented field and entertaining course teamed to put on a great show in Hawaii as the new season began. It turned out to be all about who was here, not who wasn't. Is that irony, coincidence or merely the truth winning out?
Certainly, Geoff Ogilvy had $1,120,000 worth of reasons to think all is well after he overcame Rory Sabbatini's 10-birdies-in-15-holes 63 Sunday to win by one stroke at 22-under 270 for his second consecutive victory in the event formerly known as the Mercedes-Benz Championship. Matt Kuchar was third at 273, one better than Sean O'Hair and Martin Laird. Third-round leader Lucas Glover fell back to T-14 with a closing 76 low-lighted by hitting into hazards on Nos. 6 and 7.
Such is the joy of the Plantation Course at the Kapalua Resort on Maui -- it giveth and it taketh away. The home of this tournament since 1999 is a roller-coaster ride of hills and thrills, buffeted by fickle winds, that on this week was challenged by 28 winners from 2009, including all four major champions.
"It's such a great place to start the season," Ogilvy said after securing his seventh PGA Tour trophy, most prominently the 2006 U.S. Open. "You've got par 4s you can try to go for, and par 4s where you can lay up," he said about a course with six par 4s less than 400 yards, a rarity these days. "It's really fun to play."
And it's really fun to watch. After all that has gone on since Woods' car accident Nov. 27, it was a relief for many just to get back to golf. The compelling conclusion -- Ogilvy birdied Nos. 14 and 15 immediately after Sabbatini finished, then protected his one-stroke lead with three textbook pars -- almost made you forget what has happened since Thanksgiving. Almost.
Make no mistake about it: There is no good news for golf in Woods' indefinite leave. But it is also not the death knell some make it out to be. A U.S. tour existed long before Woods turned pro in 1996 -- Jim Barnes and Walter Hagen each won three times in 1916. As for stars, they are inevitable. After Jack Nicklaus won the 1986 Masters at 46, it was said the game would never see another player as dominating. Only a decade later, Woods came along.
"There was golf after Bobby Jones, Arnold Palmer, Gary Player, Jack Nicklaus," Nicklaus said in a conference call during the SBS in advance of his 70th birthday Jan. 21. "The game has always survived us, and the game will continue to go forward. Tiger is a big influence and probably the largest we have ever had, and I certainly hope he comes back and plays. But the tour is not all about one person."
While that is true, Woods does give golf something it has never had -- one of the most famous athletes in the world. Even when Jones was being honored with ticker-tape parades, he was still in the shadows of Babe Ruth, Red Grange and Jack Dempsey, much bigger stars from baseball, football and boxing. But as Palmer told Woods, then 22, when he handed him the award for leading the 1997 PGA Tour money list: "Never forget that golf made you, you didn't make golf."
Woods, however, has made other golfers rich by driving up purses four-fold through increased TV money, and that is not lost on his fellow players. "The tour is better and sports are better when he is here," Glover said. "I hope he comes back tomorrow." Steve Stricker added, "We need him out here, and the tour wants him out here. Corporate sponsors want him out here."
Still, experts say that while Woods brings in casual fans, the real marketing strength of pro golf is the avid spectator who is not going away just because Woods has. "The core golfer is still clearly a valuable demographic," said Casey Alexander, who analyzes golf stocks for Guilford Securities. "It is a targeted and well-defined consumer." David Carter, executive director of the USC Sports Business Institute, says the golf fan "is the most desirable audience in sports from a marketing standpoint."
Because of that, and even in a difficult economy, Accenture, Zurich, Bridgestone, Travelers and BMW extended their contracts with the tour through 2014, and John Deere through 2016. Waste Management (2015), The Greenbrier Resort (2015) and SBS (2019) come on board with long-term contracts this year. While in Hawaii, PGA Tour commissioner Tim Finchem was wooed by locals who want to keep the tour in the state with a helicopter tour of the islands, whale watching and deep-sea fishing. The contract for the Sony Open expires next year, and while SBS is signed past 2011, the Kapalua Resort is not. Finchem had a rocky pre-tournament session with reporters Tuesday as they peppered him with questions about Woods, sponsors and drug testing.
"I think I am entitled to one testy news conference every 15 years," Finchem told Golf World with a laugh after returning to the mainland. "People keep predicting that we are going to implode. Why don't they just wait for us to implode and then talk about it? It's almost as if there are some who are rooting for us to implode, and then when the Tiger thing came along, they were saying, 'Ah, this will do it.' "
Certainly, the tour does have challenges that would exist even if Woods were playing. Nine tournament contracts expire this year and four other events -- Bob Hope, San Diego, Memphis and Reno -- are without sponsors in 2010. Finchem says renewal or replacement of about 25 percent in a year is typical. Atypical, however, is the current economic climate in which new contracts must be worked out.
"The business model of the tour is solid," said Alexander. "They will delay some contracts until [Tiger] comes back. And when he comes back, the ratings will be enormous, and then they can start the TV [contract] talks." Present deals with CBS and NBC expire after the 2012 season. The tour says about 25 million people watch a PGA Tour event cumulatively over a four-day tournament.
"We sell the size of that cumulative audience, and we sell its quality," said Finchem. He also said the Valero Texas Open, AT&T Pebble Beach National Pro-Am, Crowne Plaza Invitational at Colonial, John Deere Classic, HP Byron Nelson Championship and FBR Open generated the most money for charity in 2009, and Woods played in none of them.
Meanwhile, the new season began in fine fashion. Sabbatini's 63 was one stroke off the tournament record. But the putt he will likely remember is the 10-footer for birdie that lipped out on No. 18. "I swear, some day I'm going to make a putt on 18," he said, a reference to a 3½-footer he missed on the same green in 2001 that would have gotten him into a playoff.
When Sabbatini finished, Ogilvy, Kuchar, O'Hair and Laird still had a chance to catch him. Ogilvy was the only one who capitalized, making a birdie from four feet on No. 14 after he chose not to try to drive the 305-yard hole and a two-putt birdie from 19 feet on the next hole when he reached the par 5 with a gorgeous 5-wood second shot from 239 yards. "It's hard to make birdies when you have to make birdies," Ogilvy said. "But with Sabbo finished, we knew what we had to do."
Now it's the tour's turn to do what it has to do. Finchem says one goal is to get charitable giving, which fell from $125 million in 2008 to $109 million last year, back to at least $115 million. And then there is the matter of 13 tournaments out of 47 without sponsors for next year. "We are not overly concerned about 2011," says Finchem. "We have our work to do, but we always do." But never has the work had to be done under such a large cloud of confusion as that cast by the questions surrounding Woods.