News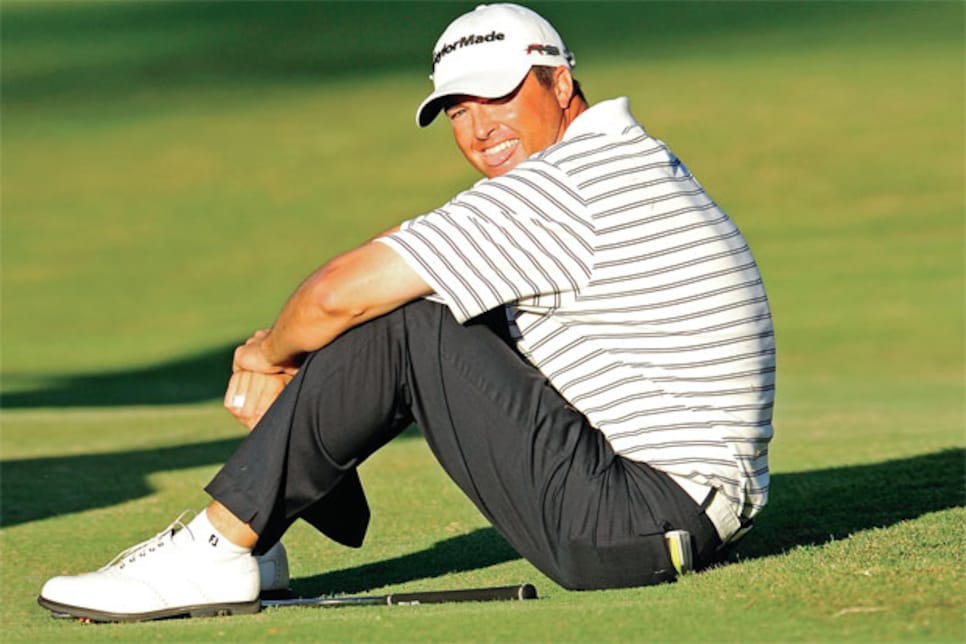 PIN TO WIN: After his chip on No. 18 Sunday struck the flagstick, Palmer reacted with a pre-triumph tumble, which was followed by his short winning birdie putt.
"Ryan Palmer from Amarillo, Texas, beats two of the hottest players in the world and wins the first full-field event of the year. I mean, wow, it's great. It's a story that writes itself."
So proclaimed Ryan Palmer from Amarillo, Texas, who did beat two of the hottest players in the world and won the first full-field event of the year on the PGA Tour. But if the story would have written itself, more reporters would have joined Palmer in the dining room at Waialae CC in Honolulu Sunday night for champagne and red wine and dispensed with the task of buttoning down the pertinent details to a certifiably entertaining tournament.
Golf seeps with paradox (you know, swing slow to hit it hard, etc.), which best helps begin to explain how the affable Palmer, who arrived on Oahu a distinctly cold golfer, out-dueled Australia's Robert Allenby, winner of his last two starts, and Steve Stricker, the No. 3 player in the world, to capture the Sony Open in Hawaii for his third tour title and first in a season other than fall.
By clanking a 52-foot chip shot off the flagstick at the 72nd hole to set up a kick-in birdie, Palmer defeated playing partner Allenby by one shot and Stricker by two, earning cash ($990,000) and prizes (Masters, Players and PGA Championship invitations) that seemed rather valuable. At least until the second glass of the Roy Estate red kicked in and Palmer, 33, showed off the real goods. Nothing glitters like confidence.
"To win this early, a FedEx Cup event, against this field, this does wonders for my mindset," said Palmer, who posted a closing four-under 66 for a 15-under 265 total. "To go head-to-head, shot-for-shot against Steve Stricker and Robert Allenby ... I knew I could play out here, but now I really feel like I'm a good player. It sets in my head that I can go win anywhere. There's no reason I can't win next week. There's no reason I couldn't go win the Masters. I'm going to take this momentum and run with it."
Allenby might warn him to be careful where he steps. Seeking his first tour title since 2001, Allenby arrived in Honolulu pumped up after stuffing wins at the Nedbank Challenge and Australian PGA in his holiday stocking. But his first day in Hawaii was a downer, literally. He stepped awkwardly off a curb outside the club, sprained his right ankle, and grimaced for 72 holes on the taped appendage while manufacturing a reverse-pivot swing that eventually started to give him a backache. Undaunted, he persevered using reserves of confidence mixed with guile to remain in the hunt to the last agonizing step.
"To go from not knowing on Wednesday if I could even play to this spot, all in all, that's not bad," said Allenby, who shot three straight 67s after an opening 65. "It's so easy to say, 'I could have done this, or I could have done that.' But when it comes down to it, Ryan played fantastic."
The Aussie, who feared all week that one false step could end his tournament, pondered hitting a 6-iron into the green from 218 yards on the par-5 closing hole, but a funky lie in the Bermuda grass rough made him opt for a 5-iron. The ball went screaming through the green into the back fringe, the first time the new groove rule directly impacted the outcome. Allenby had to forgo his square-grooved irons this season for conforming V-grooves and saw his victory prospects depart on Flyer Airlines.
"That's the beauty of the grooves today: it's changed the game of golf, which I think is for the better," Allenby, 38, said. "I think it's great because now we have to all of a sudden manufacture our way around the golf course."
Allenby and Palmer weren't the only protagonists. Trailing by three at the start of the final round, Stricker, who has a way with birds, insinuated himself into the proceedings. He birdied three of the first four and briefly held a share of the lead after capitalizing on his approach to 17 feet from a fairway bunker at the long par-4 13th. He ran out of holes in carding 65 -- 267.
"I thought at the start of the day 14 [under] might do it," Stricker said, "but then I saw what Retief was shooting, and felt I had to get to 15. I tried hard to get there."
Right. Retief Goosen was this week's South African rabbit -- following compatriot Rory Sabbatini's sprint to second place the week prior at Kapalua -- closing with a furious eight-under 62 to place fourth at 268. Nice work, even after a mundane par at the home hole when he pushed his 6-iron second into a greenside bunker.
"I am not disappointed at all. It's been a long time since I had that much fun on the golf course," said Goosen, who also climbed into a share of first place for a short stretch. "It was a great test today. The fairways were really firm; greens were hard and fast. You had to really hit it good, control the ball -- and I did."
Hmmm, sounds a little like U.S. Open conditions. The two-time U.S. Open champion just grinned.
Reading Goosen's remarks should put an even bigger smile on Palmer's face, if that's possible. Now a resident of Colleyville, Texas, who plays out of storied Colonial CC, Palmer couldn't stop smiling as he signed autographs and posed for pictures with Waialae denizens nearly two hours after his wire-to-wire win.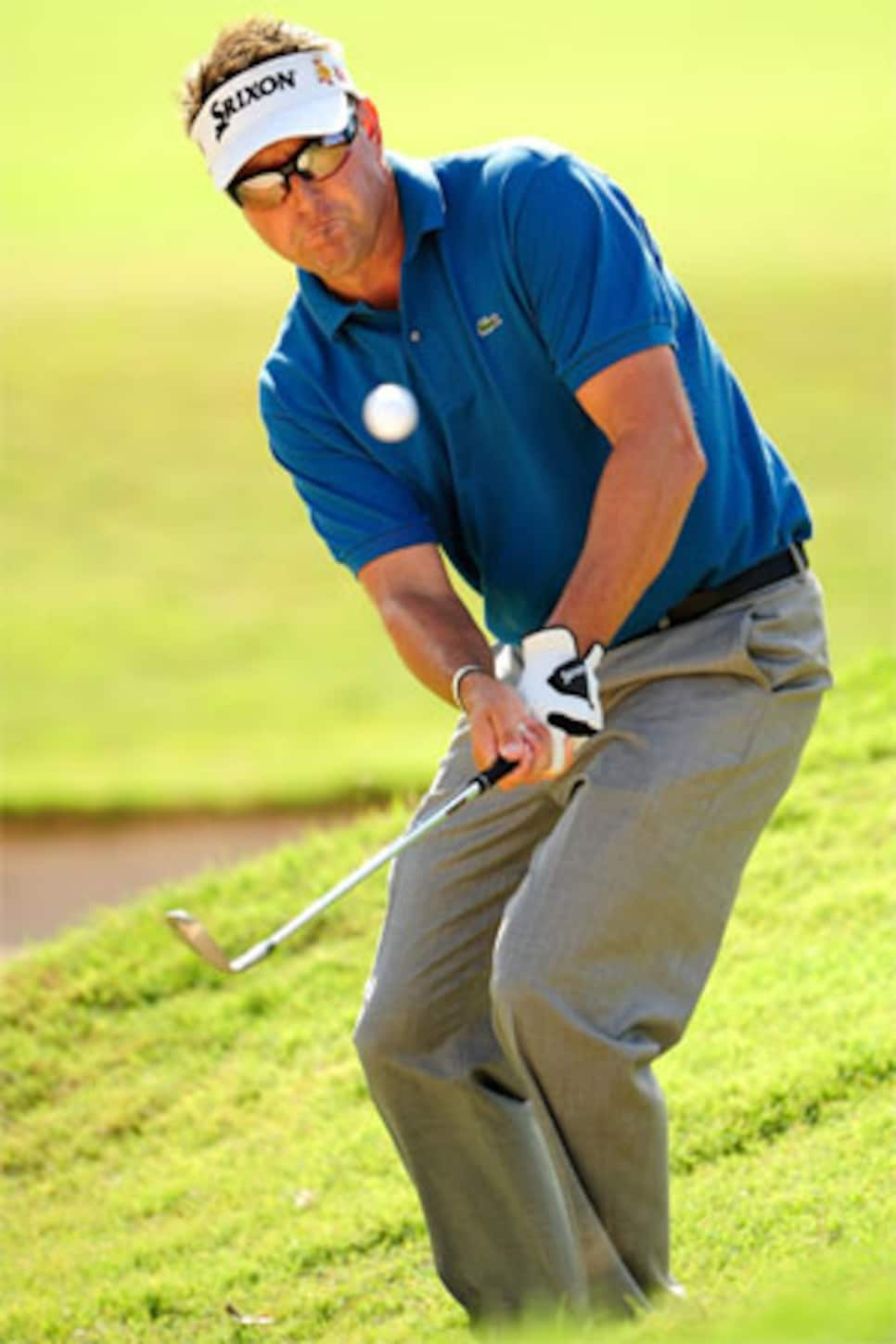 Members said they couldn't remember a champion hanging around so long following a victory toast, but patience was a distinct hallmark of Palmer's performance. He claimed to have gained inspiration for remaining calm and resolute after reading a newspaper story on defending champion Zach Johnson, whose defense fizzled with a pair of weekend 70s.
But that was merely a crowning touch to a rejuvenated game that had been under construction for months.
Palmer would like to say that a desultory 2009 season, in which he finished 150th on the money list, was the result of arthroscopic shoulder surgery following his 2008 Ginn sur Mer Classic title. But the truth, he said, was, "I sat back on the exemption." That stopped this past off-season when he shored up his swing with instructor Randy Smith and then subjected himself to a complete physical evaluation. Doctors recommended Yoga-type exercises to strengthen his hips.
A more stable base prevents him from buckling on the downswing, which was causing hard hooks and blocks. Palmer (26 of 56 fairways) didn't always keep it in play off the tee at Waialae, but his iron game was never better. He hit no fewer than 13 greens a day.
"This week I never got tired or fatigued. And I just had command of my swing," said the man who moved from 282nd to 92nd on the World Ranking. "Really, for the first time in my career, I could feel the clubhead during the swing, from start to finish. I could hit shots I never could hit before."
As with Allenby, Palmer also chose 5-iron from the rough for his approach into 18, but his ball stopped in a better spot in front of the green. After a free drop away from the grandstands, Allenby flopped out of the cabbage to nine feet and knew he needed to convert. Palmer had skipped his wedge shot a little too aggressively but the ball checked inches away after the flagstick blocked its path. The Texan, buckled by an emotional elixir of nerves, happiness and relief, fell to the ground.
"I got a good break, which you need to win," Palmer said. "At least I read it right."
So let's recap: The guy with the bum ankle never falls down and stands tall in defeat while the healthy player crumbles to the ground after a fortuitous bounce helps lift him to victory.
"We're all psychos out here," Allenby had said earlier in the week. So true. Which is a story that practically writes itself ... over and over and over again.