News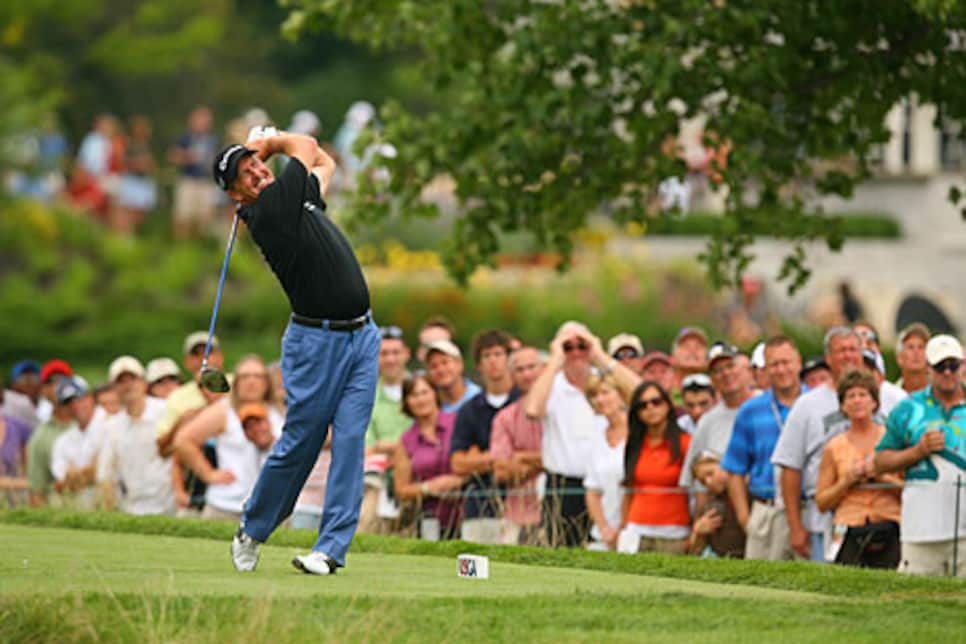 MAJOR IMPROVEMENT: Weeks after wondering if he'd have to give up the game because of debilitating injuries, Funk was extra straight at Crooked Stick.
For a guy with a right knee that will need some major help from medical science before long, a joint void of cartilage that also developed a potentially life-threatening staph infection late last year, Fred Funk is doing OK. For a guy with a torn labrum in his left shoulder that keeps him from making any practice swings, he's all right. For a guy who has to be pulled and stretched like salt-water taffy for nearly two hours before every round he plays, he's hanging in there.
Funk is doing so well, in fact, that he made a laugher of the serious business of the 30th U.S. Senior Open at Crooked Stick GC in Carmel, Ind. It was a record-setting performance that would have been impressive even had it not been authored by someone who, sooner rather than later, will be shopping for an artificial knee that might jeopardize the career of a late-blooming Little Big Man whose $470,000 first-place check enabled him to surpass $25 million in career earnings on the PGA and Champions tours.
If urgency can inspire excellence, perhaps that had something to do with Funk's 20-under 268 at Crooked Stick. It is the lowest 72-hole aggregate in relation to par in USGA history, surpassing Hale Irwin's 17 under in winning the 2000 U.S. Senior Open at Saucon Valley, and gave Funk, who had a few hitches in his gait but no glitches in his game, a six-stroke victory over Joey Sindelar. Left-hander Russ Cochran was third at 12 under, with Greg Norman and Loren Roberts (who matched Cochran's course-record third-round 64 with one of his own Sunday) another stroke behind at T-4.
"The biggest thing is getting that name on that trophy, and all the great names that are on there," Funk said, sitting with the Francis Ouimet Trophy within arm's reach. "This might be a notch higher than the [2005 Players Championship] because it is a national championship."
Eighteen years ago, when Crooked Stick hosted its first major, it was the domain of Long John Daly, whose length overwhelmed the then-longest course ever used for the PGA Championship. Pete Dye's 1964 creation measured 7,316 yards on the scorecard for the seniors, the longest in the event's history, but it played a bit shorter than that each day (No. 12 was shortened from 419 yards to a drivable 307 in the fourth round). Moreover, firm fairways that did a good imitation of the Indianapolis Motor Speedway equalized the field by hyping driving distances for all.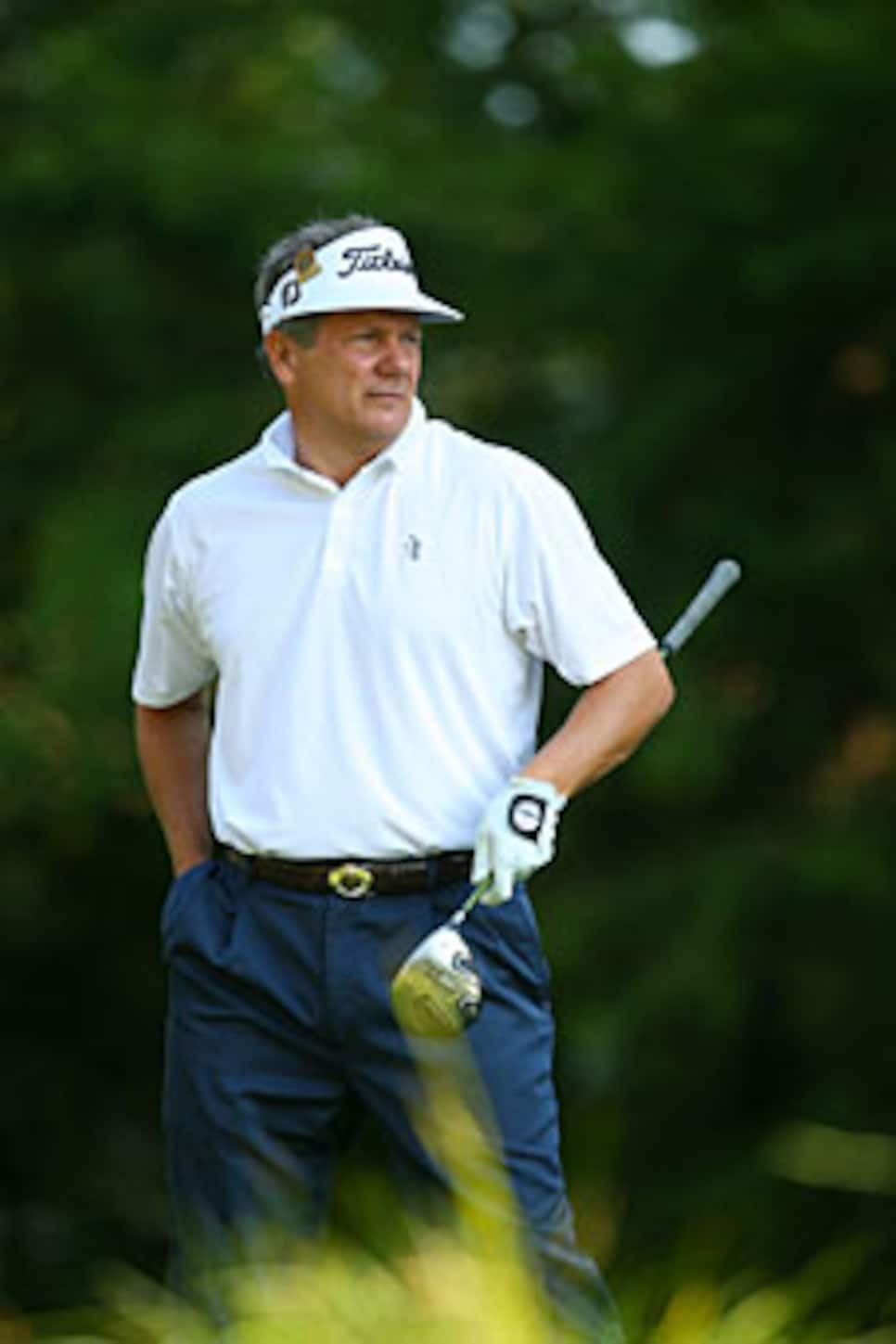 Funk not only hit the most fairways of anyone (47 of 56), he averaged 291.38 yards in driving distance, 20 yards more than his 2009 average. "They were rolling forever," said Scott Simpson, who was T-6 while averaging 291.12 yards off the tee, more than 20 yards longer than his best season average as a senior. "It was kind of fun for me. I was long, for a week."
For two days the story was Tim Jackson, a 50-year-old amateur from Germantown, Tenn., who had tried 14 times without success to qualify for the U.S. Open, but made it into the senior version on his first crack with a 67 at a sectional qualifier. The 1994 and 2001 U.S. Mid-Amateur champion and two-time U.S. Walker Cupper had dialed back his national play in recent years, but he tuned up for the Open by playing against the young bucks in the Southern Amateur (T-18) and Porter Cup (T-36). "Realistically, I was shooting to make the cut," Jackson said of his aspirations at Crooked Stick. "I've got guys at home saying, 'You know, if you play your game, you can win.' I'm thinking, 'Yeah, right. I can beat Greg Norman.' "
But Jackson kept pace with the Shark, Dan Forsman and Joey Sindelar in the first round, shooting a six-under 66, sharing the lead with the lowest score by two strokes for an amateur in the championship's history. The first of four amateurs to card the old mark of 68 was William C. Campbell in the second round of the inaugural U.S. Senior Open at Winged Foot in 1980 en route to a second-place finish to Roberto De Vicenzo.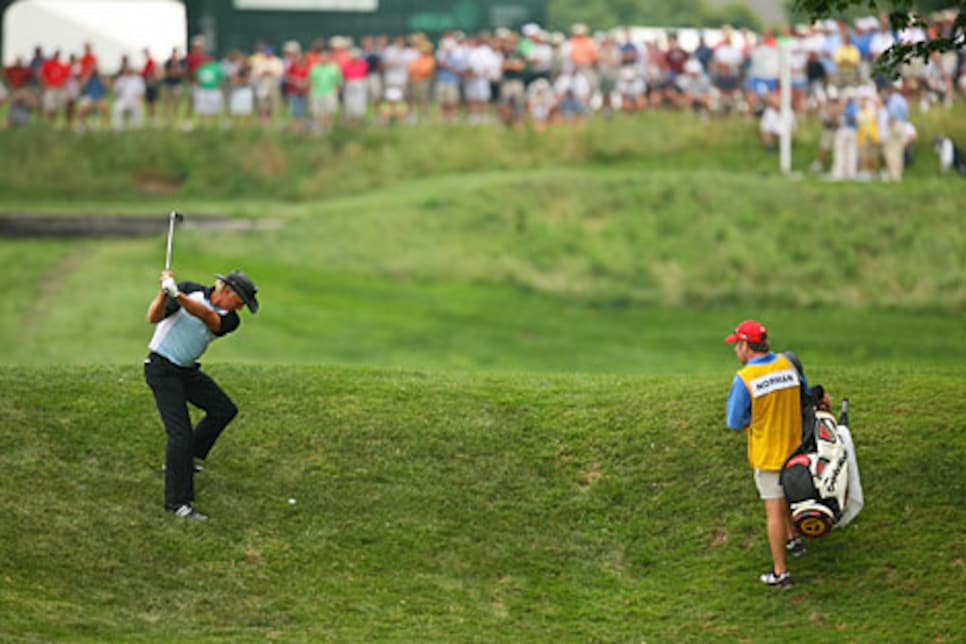 Austin Jackson, Tim's 15-year-old son and caddie, said he had never seen his father so nervous on the course as he was in the second round, but his score belied the jitters as he shot a 67 to take the halfway lead at 11-under 133 by one shot over Sindelar and two over Funk. Norman was another shot behind in fourth place. Jackson's strong encore put him in the spotlight and in position to become the first amateur to win the championship.
Eligible to play at Champions Tour Q school last fall since he was going to turn 50 on Feb. 16, Jackson printed out an application and kept it in his real-estate development office. "It sat on the corner of my desk for three months, and I picked it up the day before it was due, read the first page and threw it in the garbage can," said Jackson, who is president-elect of the Tennessee GA and will be inducted into his state's golf hall of fame this fall. "I don't think it's for me."
Jackson had been erratic on the greens for several years, switching techniques and putters, but committed this season to a cross-handed style that, like the rest of him, got tested as never before on the weekend. "I can't imagine what he's feeling," said Sindelar Saturday. "[It would be] nerve-racking for a veteran. There are big-time crowds and television cameras all over the place. It's the real deal, and that's what we do, and it's not what he does. I think he handled himself incredibly well, and not only that, he played great golf. You can hear the self-talk from guys, and he didn't have that—he didn't start moaning and groaning."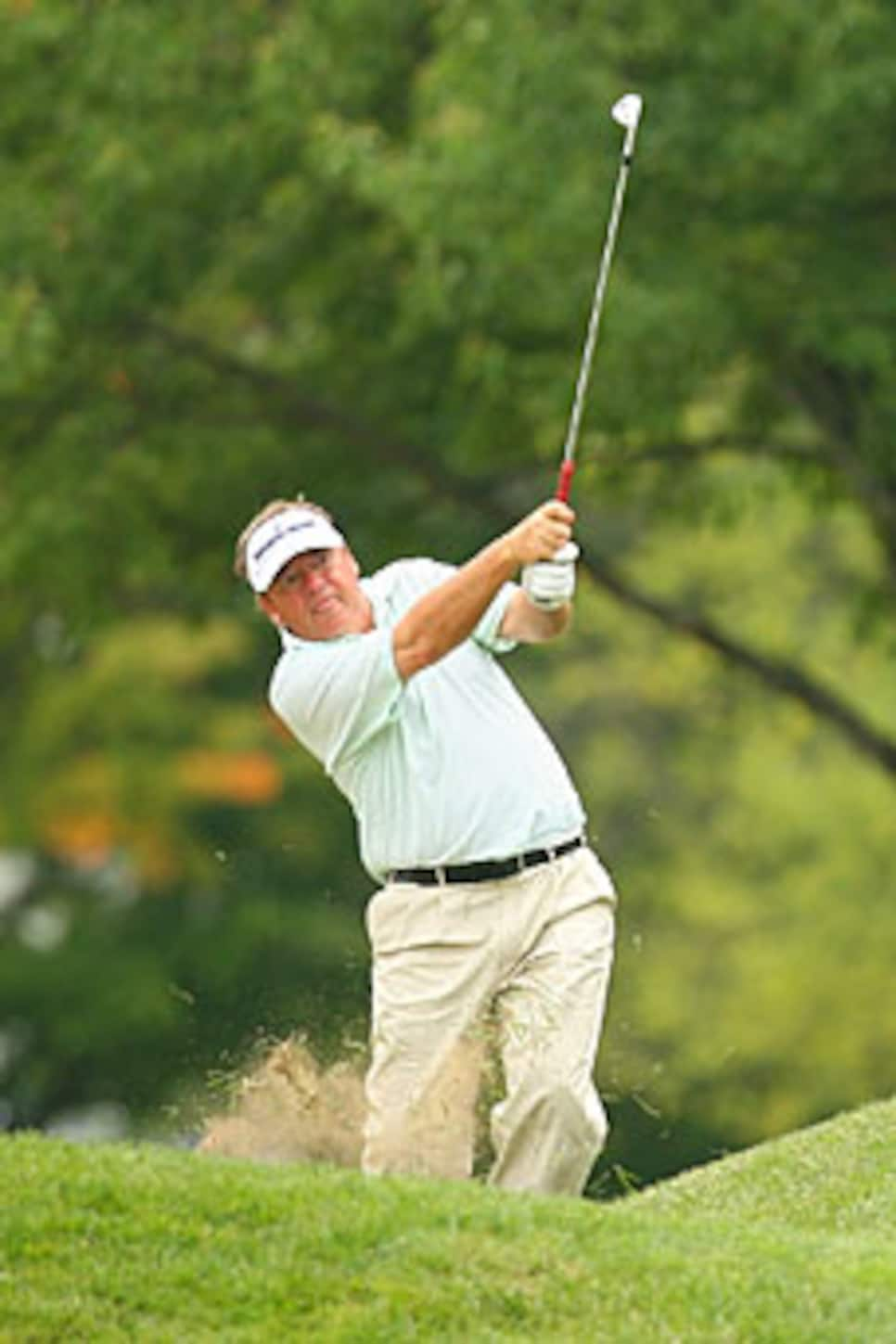 Jackson showed his touch—which he developed relatively late after concentrating on baseball as a teen—plenty of times in a scrambling third-round 73, from clipping a chip expertly off a tight lie over a tongue of fringe on No. 3, to a pitch on the 18th which skirted two ridges to set up another par save. Jackson's tenacity kept him in contention, but Funk seized control with a 68 to stand at 13-under 203, with Norman and Sindelar at 12 under and Jackson two more strokes back.
Sunday attendance reached 30,565 and the large, enthusiastic galleries that showed up throughout the week—even for the practice rounds, reminiscent of the rousing support the Senior Open received in 1999 at another midwest venue, Des Moines GCC—made everyone from superstars to journeymen feel they were part of something special. "It has the feel of a major golf tournament," said Tom Watson. Added Cochran: "Every single fairway you walked down, they were applauding and wishing you well. It kind of felt like Arnie or Jack at Augusta."
While Jackson, who closed with a 76 to finish T-11, also got his share of support, most eyes Sunday were on the final pairing of Funk and Norman, who both came to Indiana after frustrating endings at the Senior British Open at Sunningdale—Funk losing in a playoff to Roberts, Norman failing to capitalize on the 54-hole lead and finishing T-6. That both Funk, 53, and Norman, 54, were where they were after three rounds was no surprise. Funk arrived at Crooked Stick having been in the top five in his last six senior majors, including a win in the 2008 Jeld-Wen Tradition, while Norman had six top-six finishes in seven majors on the Champions Tour in his limited play since turning 50 in 2005.
It was clear from the early going in the final round that Norman didn't have the mojo and that Funk did. Funk birdied two of the first four holes to build a three-stroke lead over the Shark, then Norman's 6-iron on the par-3 sixth hole caught part of the huge oak that guards the right side of the green. The ball fell into the creek, leading to a double bogey that put Norman five back. "A couple of his good shots didn't turn out good, and it started eating at him a little bit," observed Funk. "And I think it gets irritating when your playing partner hits a couple of scruffys and ends up making pars. It can eat at you pretty good."
One of those occasions was the par-4 eighth, where Norman sank a five-footer for birdie after Funk saved par with a 20-footer. "Nothing was going my way," Norman said afterward. "The momentum wasn't on my side. No matter what I did, it always seemed like it was the wrong thing instead of the right thing."
After his closing 65 and having gone 72 holes without a three-putt, Funk did the classy thing on NBC, remembering several hurting members of the golf family: Ken Green, badly hurt in an RV accident; Chris Smith, whose wife was killed and daughter critically injured in a car crash; and Phil Mickelson, whose wife and mother are dealing with breast cancer. "I felt it was a good opportunity to say something," said Funk, "and I wanted to take that opportunity to think of them, and have the focus on the people that need it."
As for Funk's own problems, a new knee brace he got in June has taken some stress off the degenerative joint. "But, eventually, I'm going to need a new knee, there's no question," Funk said following the third round. "I just don't want to be in a hurry to do it. If you asked me a month ago, I was ready to go. Six weeks ago, I was just ready to hang 'em up. I was going to go to the end of the year as best I could then get it [replaced]. Right now, I'm hoping I can go a little longer."
A day later Funk was enjoying the anti-inflammatory effects of winning a big one, something a laboratory can't make and money can't buy.