News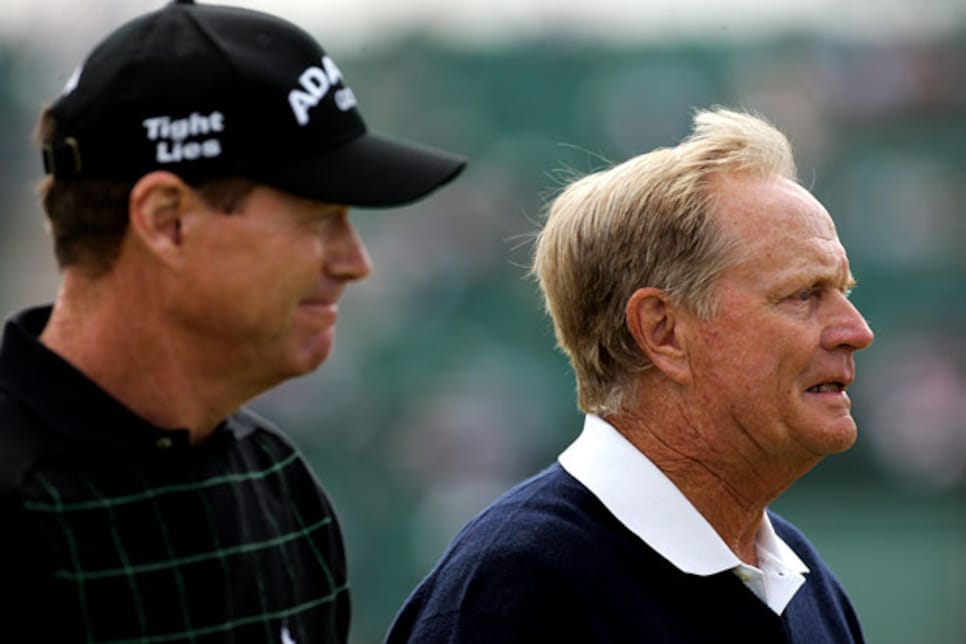 Jack Nicklaus and Tom Watson held off defending champions Fuzzy Zoeller and Ben Crenshaw to win the Champions Skins Game
KAANAPALI, Hawaii (AP) -- Old guys still rule on Maui.
Jack Nicklaus and Tom Watson held off defending champions Fuzzy Zoeller and Ben Crenshaw to win the Champions Skins Game on Sunday.
"Who played? I don't remember," said Nicklaus, who will be 70 on Thursday. "That's part of being old, isn't it? You don't have to remember what happened 5 minutes ago."
He won't forget this one.
Nicklaus and the 60-year-old Watson birdied two holes to win three skins and $130,000 on the back nine. The Hall of Fame duo and the oldest team in the tournament finished with 10 skins and $350,000 for their second victory in the event in four years.
It was an early birthday present for Nicklaus and a little redemption for the team after being blanked last year. The victory means Nicklaus will be back next year.
"If Tom will put up with me, we'll be back," said Nicklaus, wearing a golden orchid lei.
On a balmy day, Zoeller-Crenshaw took five straight skins for $230,000 to finish second in the alternate-shot, made-for-TV event. They were trying to become the first team to repeat after winning a record $530,000 last year.
Fred Couples, making his Champions Tour debut, and Nick Price sank a 4-footer for birdie on the playoff hole with two skins and $150,000 on the line -- including the 18th-hole, $100,000 "Superskin" -- to finish third with $190,000.
Gary Player and Loren Roberts were shutout.
Couples, who turned 50 in October, was the biggest hitter by far. But he struggled finding his range and with his short game. He also missed a 7-foot putt on the big-money 18 that sent it to a playoff.
For the "King of Skins," Couples felt more like a prince among kings.
"For me personally, I'm going to see Fuzzy, Crenshaw, Watson and Loren Roberts for a long, long time," Couples said. "But I don't know that I'll ever, ever be in the same group with Jack Nicklaus or Gary Player."
After taking seven skins and $220,000 the first day, team Nicklaus-Watson looked to put it away early by taking the par-5 10th worth $80,000 and two skins. After a high-arching wedge shot by Watson, Nicklaus made the 8-foot birdie putt to push his team's take to $300,000 and nine skins on the first 10 holes.
"We're about to get skinned by the two older guys," Zoeller commented.
"I guess we felt sorry for those guys after that," Nicklaus said.
That's when the defending champs made a move, winning the next five skins.
Zoeller, who kept his partner and the crowd entertained all day with one-liners, sparked the rally on par-3 11th by draining a 25-foot putt to halve the hole after Watson made a 40-footer that drew a roar from the gallery of several thousand.
Zoeller sank 3-foot birdie putts on Nos. 12 and 15 before Watson ended the run by crawling in a 25-foot putt for birdie on the par-4 16th for a $50,000 skin.
The players were loose, signed hundreds of autographs and even walked behind the ropes with the fans on several holes. The fans were so enamored with the players, they didn't even notice the humpback whales a few hundred yards away in the Pacific.
Nicklaus made his 20th appearance in the Champions Skins Game, which will be televised next month, and added to his record for skins (114) and money ($2.6 million).
"Nothing shocks us. We've seen it. I've seen it for 34 years, it doesn't shock us when he makes it," Zoeller said.
Watson and Nicklaus spent Saturday afternoon studying and playing the back nine, which they said gave them an advantage over the others, including newcomers Couples and Price.
"They were the team to beat with their length, but they're inexperienced," Watson said. "With Kaanapali, you need experience."
Watson said the home-field advantage was similar to what he had at Turnburry last year where he lost in a four-hole playoff to Stewart Cink.
"I had local knowledge. I knew where to hit it, where not to hit it, how the course was going to play in the wind," Watson said. "The rest of the kids, yeah, they had the length, but there's situations that came up when they said, 'What club do I hit?' I kind of knew. Same thing here."
Watson didn't win the British last year, but between Nicklaus and Watson, they still own 112 PGA Tour titles and 26 majors.
For Nicklaus, the Skins Game was his only event of the year. So he's beginning and finishing 2010 as a winner.
"It's always fun to win. Good gracious, I play one tournament a year," he said. "That's a 100 percent a year. That's pretty good isn't it?"