News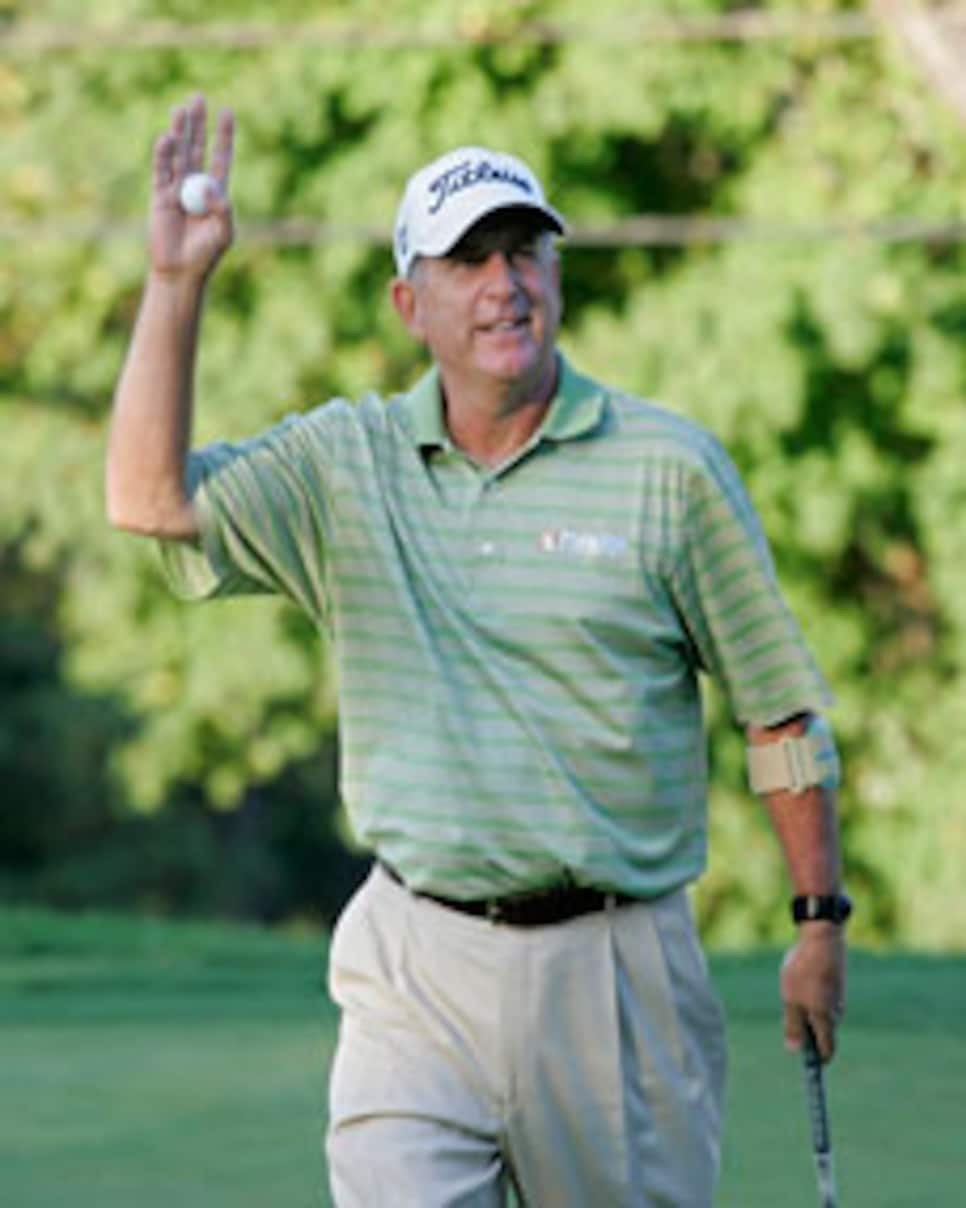 Jay Haas' third senior major championship came at the expense of Tom Watson, who was looking to become the oldest winner of a Champions Tour major.
TIMONIUM, Md. -- Golfers get old, but The Back Nine On Sunday doesn't.
Not a good one, anyway. Not when leader boards and collars tighten simultaneously, not when the long shadows of the gallery might as well be shaped like question marks.
At the Constellation Energy Senior Players Championship, on a gorgeous fall afternoon with enough puffy clouds to make the sky interesting and enough wind to do the same for the golf, the prelude, as it often does, made way for the punch line.
If careers are polished instead of made on the Champions Tour, Jay Haas just buffed his to a higher gloss than the sheen on any classic car he ever owned. Trailing Tom Watson by five strokes after 54 holes, Haas shot a course-record tying 64 at Baltimore CC's Five Farms course, with a back-nine 31 that included birdies on the last two holes.
Haas' final one, from 3 feet on the stingy 496-yard par-4 18th hole after a glorious 6-iron from 195 yards, gave him a 13-under 267 and a one-shot victory over Watson. It is Haas' 14th career senior title and third major championship, adding to his Senior PGA victories in 2006 and 2008.
"It never gets old," the 55-year-old Haas said of the feeling of being in contention. "Obviously, the money's great [he earned $405,000] and the titles and all that stuff. But to put it on the line and to hit good shots when it matters most, there's no greater feeling for a golfer than to perform when the heat is on."
Watson, who flirted with a historic victory at this year's British Open at Turnberry before losing in a playoff to Stewart Cink, led Loren Roberts and John Cook by four shots starting the day. With nine holes to play, Watson's advantage had been reduced to two strokes over Roberts and Haas. Roberts struggled on the final nine, but one group in front Haas was keeping the pressure on Watson, who at 60 was bidding to become the oldest winner of a major in Champions Tour history.
This wasn't as grand a stage as Turnberry, but the chance to win is why Watson still competes. "Frankly, it's not a lot different," Watson said of being in the hunt against his senior peers compared to a Grand Slam event. "Honestly, I'm a golfer. That's what I do. When I have a chance to win a tournament, it doesn't matter whether it's the British Open or this championship. It doesn't matter a hill of beans. It's the same thing. I'm trying my darnedest no matter what the circumstances are."
The Back Nine On Sunday sure looked as if it would be kind to Watson after he holed a 35-foot birdie putt on No. 15 to regain the lead over Haas. "I thought so, too," Watson said, "but Jay had other ideas."
"All day I was right there," said Haas, whose season was in jeopardy when he was sidelined with tendinitis in his left elbow in August. "I made some putts on the front nine and I felt like I was going to get some more. The way I was hitting it, and the way I felt today, I just had a nice calm about me. Just so long as Tom didn't go nuts behind me and shoot three, four or five under himself, then I had an opportunity."
Following Watson's theatrics at the 15th hole, Haas pulled back into a tie with Watson by making a "slippery slider" from 15 feet at the par-4 17th. Although he had struggled to hit the 18th fairway the three years the Senior Players has been at Baltimore CC, he hit a pure drive to put him in position to make the birdie he needed.
"I was nervous as I could be [on the 18th tee], but I felt under control," said Haas, who won nine times on the PGA Tour but no majors despite possessing a game that always was admired by his peers. "I felt like I was going to hit a good shot. I think 20 or 30 years ago I probably had more negative [thoughts] and more apprehension in my game for some reason or another. I just didn't trust myself as much as I do now."
Watson drove the ball beautifully throughout the week -- hitting 11 of 14 fairways every round -- but needing a birdie at No. 18 to tie he hit his tee shot into a nasty lie in the right rough and scrambled to make a par and close with a 70. "We've got players that can flat play on the Champions Tour, and Jay Haas is one of them," Watson said. "Your lead's not safe unless you do something, and I just didn't do that 'something' today."
The Back Nine On Sunday wasn't always Haas' friend, but life has been different during his competitive epilogue. "I wish I could have done it on the PGA Tour as well as I've done it out here," Haas admitted. "I really don't have an answer for why. I'd like to say I'm playing the best golf of my career -- I don't know if that's true or not. I'm feeling more and more comfortable in the situation of leading the tournament or being near the lead. I was kind of surprising myself, actually."
Haas left Baltimore CC to catch a flight from Dulles International Airport to San Francisco, where he will be one of Fred Couples' assistant captains for the United States Presidents Cup team. Haas is one of the sport's humble gentlemen, but if any of the American players need any tips on how to get the job done, he is well-versed in the topic.
"That was the best I got," Haas said of his closing round. He didn't say it, but could have, that it also ranks with the best ever shot on the Champions Tour. "As they say, you get into the zone. I really didn't know what I was shooting. I was just trying to make another birdie and trying to keep the heat on Tom."