News
Sloping Greens Pose Major Challenge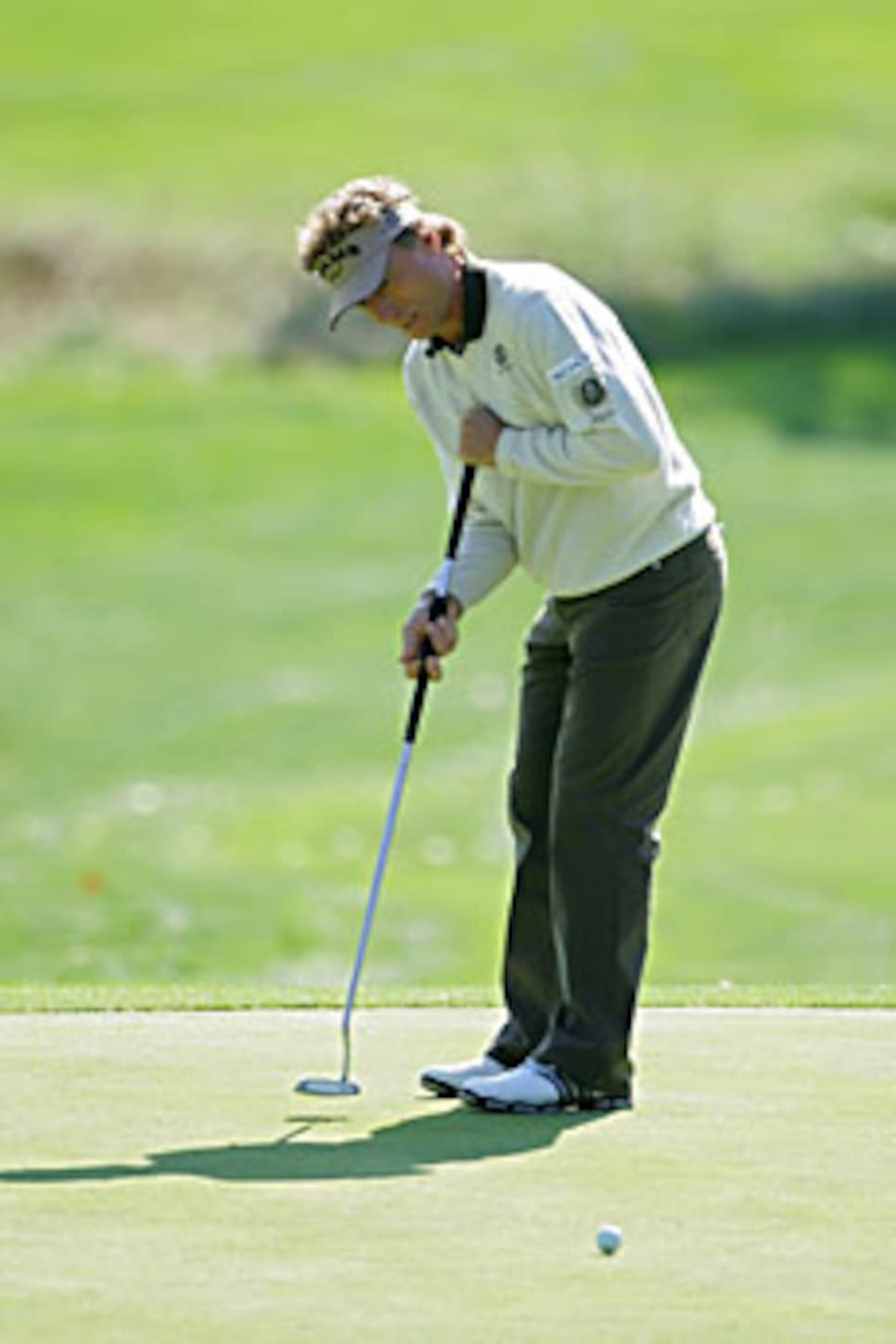 Langer, long known as one of the best putters on any tour is averaging 29 putts per round and 1.725 putts per GIR.
TIMONIUM, Md. -- Golfers on the Champions Tour are of a vintage to be familiar with pinball machines. That might not help them figure out the tilt in the severely pitched, old-school greens on the east course at Baltimore CC Five Farms, but it sure can't hurt.
At this week's Constellation Energy Senior Players Championship, good distance control doesn't translate into pin-high on the 1926 A.W. Tillinghast-designed layout, which was restored by Keith Foster earlier this decade. "Pin-high is not good here," said Morris Hatalsky, long known as one of the most reliable putters in the game. "These are incomparable to anything we play because of the tilt."
On these putting surfaces that are sloped a lot from back to front, if you're not under the hole with your approach, you're often in over your head.
"You can have some breaking putts on this course, even your short ones," said Tom Watson, who has handled the greens skillfully in building a four-stroke lead after 54 holes. "You don't want to be pin-high – it's going to break two or three inches even from two feet."
Longer putts can be an adventure, burdening players with putts recalling Oakland Hils or Oakmont or Augusta National. "Fred's putt on 18 today probably broke 15 or 20 feet," Fred Funk's longtime caddie Mark Long said Saturday afternoon. "You can definitely get some 20-foot breaks if a putt is long enough. These are probably the most challenging greens the seniors play."
The greens are a conundrum not only on severely sidehill putts. "You have a huge discrepancy between how fast downhill putts are and how slow uphill putts are," said Hatalsky, who reckoned the difference to be about five feet on a Stimpmeter reading. Long guessed the disparity was even greater. "I bet it's as much as a 10-foot difference," Long said, "It could read seven on an uphill putt and 17 going downhill."
Many of the approaches play uphill, which makes judicious irons shots that much harder to execute. As Nick Price said: "You'd rather be 25 feet short than 10 feet behind the hole. At the end of the day, you feel like you've hit a lot of good shots but you haven't had any short putts for birdie. On the green, sometimes it's so hard to get yourself to hit it 20 feet straight up a hill. And if you happen to be past the hole five holes in a row and then you've got a 10-footer uphill, it's a huge adjustment. It makes things very tricky."
That Roberts -- a master putter who has always stressed the right speed over the right line, would be in contention -- is no surprise. When Roberts won the Senior Players title by six shots over Watson two years ago, he was the only player in the field without a three-putt green. Last year, no one was able to complete 72 holes without one. Still, Roberts has to grind like everyone else. During the third round, at No. 13, on a 40-footer from the fringe with about 15 feet of right-to-left break, Roberts studied the putt about twice as long as he normally does before cozying it within 18 inches. "You really have to try to make sure you know what you want to do before you hit it," Roberts said of his machinations on the 13th. "You really have to pay attention." Even Roberts got tripped up Saturday, missing a four-footer for par on the last hole.
"But," said Roberts' caddie Graeme Courts, "unquestionably these greens play to his strength. The main thing with Loren is speed control, and when he gets that correct, he's going to be running it right up by the hole. The fact that no one got through without a three-putt last year is a testament to how hard the greens are."
When Ben Crenshaw is challenged, you know they're difficult. "You've got to picture an unbelievable combination of line and speed," said the two-time Masters champion. "I think most of us are tentative, coming up short a lot of times because we're trying to play so much break."
Watson came up short Saturday on three birdie putts that could have sweetened his round and broadened his advantage, but he generally was rock-solid on the greens because his crisp iron play put him in great position. And an eight-foot par save on No. 11 kept his momentum going.
None of Watson's six birdies was from longer than 12 feet. On No. 10 he carved a beautifully faded driver followed by a three-quarter pitching wedge approach that danced around the cup before stopping.
Even at Baltimore CC, even pin-high, a four-inch putt is pretty straight.