News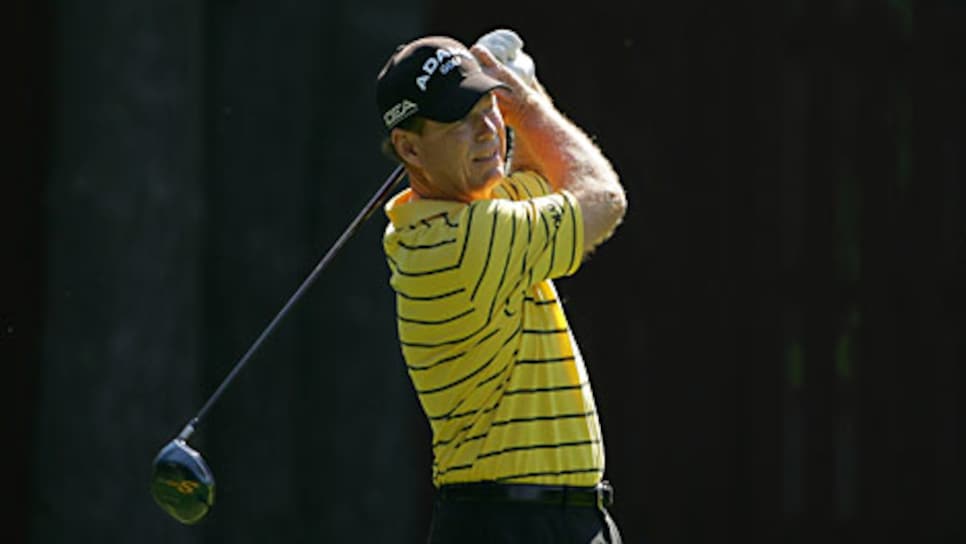 Through 54 holes Watson is averaging 274 yards off the tee and has 13 birdies.
TIMONIUM, Md. (AP) -- Tom Watson is feeling good and likes his golf game these days.
The 60-year-old Watson celebrated his one-year anniversary from successful left hip surgery by shooting a 6-under 64 and building a four-stroke lead Saturday at the Senior Players Championship.
Watson, bidding to become the oldest major winner on the Champions Tour, attacked the Baltimore Country Club course and put together a bogey-free round -- he's made only one during the tournament -- with six birdies to finish at 12-under 198 and four shots clear of Loren Roberts (65), John Cook (65) and Mark Wiebe (66).
Watson nearly won the British Open back in July, but a balky putter on the 72nd hole cost him the Claret jug. Now, Watson said he's more confident on the greens and, three months removed from his dramatic performance at Turnberry, happy about his play.
He's also healthier. Last season, Watson walked with a limp and had trouble sleeping because of pain in his hip. After the surgery, Watson said he immediately saw results.
"I heard a lot of good things about hip replacement, people getting great results and having more flexibility, more range of motion," he said. "I can get up on a horse, over a fence, all kinds of things now. It is something, to think you've got this metal, ceramic piece of merchandise in there. It works so well, I hope it lasts a long time."
Watson started the round with a two-shot lead over Wiebe and Jay Haas (7-under 203) and birdied three holes on the front nine to get to 9 under. Three more birdies and a key par save on the par-3 11th hole put Watson into the lead. It also drew praise from his competitors.
"Tom's played three great rounds," said Cook, who carded six birdies and one bogey to stay close. "We've got our work cut out for us, no doubt."
Cook's lone blemish came on No. 18, one of the most difficult holes on the course.
"I didn't lose a lot to the field by making bogey there, although you don't want to give Tom Watson four shots," he said. "That's a pretty tall order."
Cook, Wiebe and Roberts are in contention thanks to good putting days, too. Wiebe made five birdies and a par on 18 to give him a chance in the final round. As for Roberts, the 2007 Senior Players champion, he credited a solid third round to the notion of playing in the final group once again.
Two years ago Roberts, paired with Watson and Fred Funk, crafted a 5-under 30 on the front nine and pulled away from the field to win his third career Champions Tour major title.
"We're going to have to really go hard the first six holes tomorrow. It's going to be the pedal to the metal on that one," said Roberts, who birdied 10, 11 and 12 to finish with six on the day. "Tom will be really hard to catch. He's got a healthy hip now and obviously he's playing really good."
Watson seemed relaxed Saturday, chatting off and on with playing partner Wiebe about non-golf related topics such as college football and his hometown pro team, the Kansas City Chiefs.
Afterward, Wiebe told a television reporter that Watson had just played one of the best rounds he'd ever seen. If Watson puts together another quality performance Sunday, it could add up to his sixth major title on the Champions Tour.
"If I drive the ball in the fairway, I should do OK," Watson said. "I'm pretty happy with the way I'm putting, and that's the first time I can say that in a long time. That's what I've been looking for."